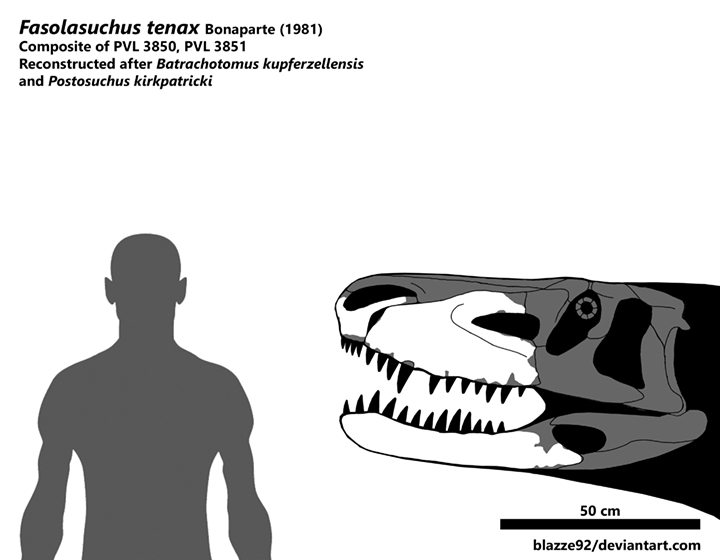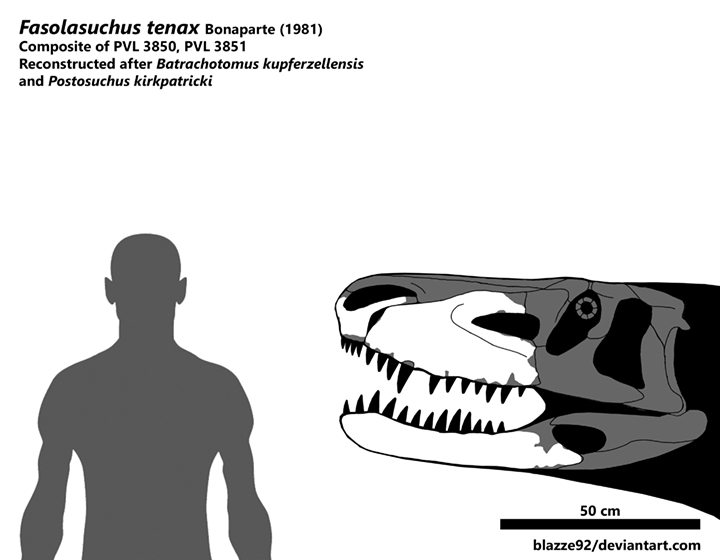 Reconstruction of the skull of Fasolasuchus tenax, is a composite of the known cranial bones, the premaxilla of the holotype (PVL 3850) and the maxilla and dentary from the referred specimen PVL 3851. Based on photos and drawings in Nesbitt et al. (2013) and Bonaparte (1981), other than the length of the maxilla no other measurement is mentioned so for the dentary I had to go with the scalebar alone. The scale of the premaxilla is based on the proportions of Postosuchus kirkpatricki, the rest of the skull is reconstructed after Batrachotomus kupferzenllensis with a bit of Postosuchus here and there to reflect its phylogenetic position.
Total skull length estimated at ~91cm.
Reconstrucción del cráneo de Fasolasuchus tenax, compuesto de los huesos craneales conocidos, el premaxilar del holotipo (PVL 3850) y el maxilar y dentario del espécimen referido PVL 3851. Basado en fotos y dibujos en Nesbitt et al. (2013) y Bonaparte (1981), a excepción del largo del maxilar no se menciona ninguna otra medida así que en el caso del dentario tuve que confiar en la barra de escala. La escala del premaxilar está basada en las proporciones de Postosuchus kirkpatricki, el resto del cráneo fue reconstruido en base a Batrachotomus kupferzenllensis con un poco de Postosuchus por aquí y por allá para reflejar su posición filogenética.
Largo total del cráneo estimado en ~91cm.
Updated 2/2/2014.