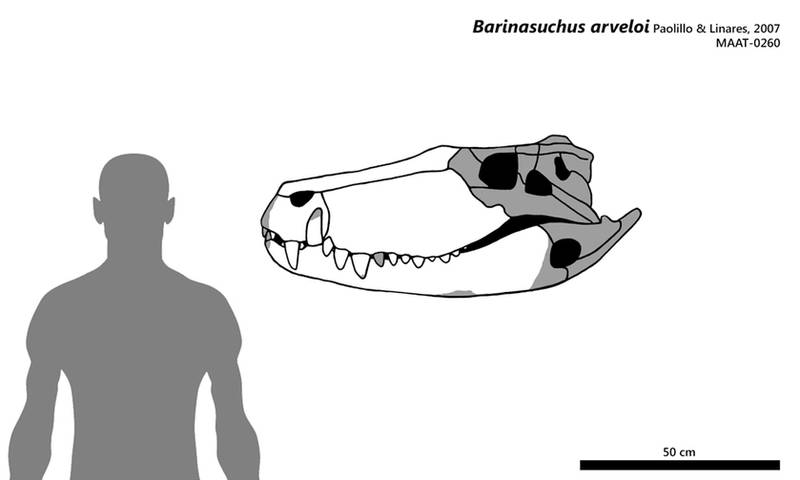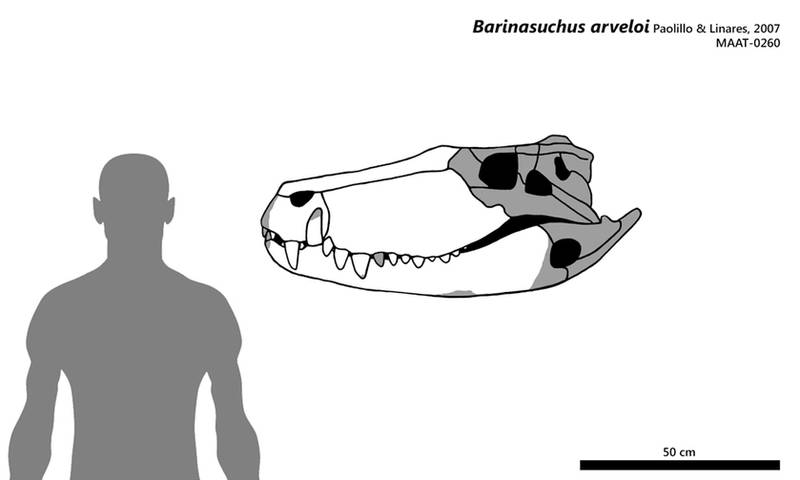 This is all that is known of Barinasuchus arveloi, a big terrestrial crocodile relative (sebecid sebecosuchian to be precise) from the Miocene of Venezuela, Peru and supposeddly, also from the Eocene of Argentina.

I've completed the missing bones of the skull based on Sebecus icaeorhinus, though, the shape of the mandibular fenestra is all hocus pocus, Sebecus doesn't preserve it and that of Bretesuchus appears to be different, anyway, this are the measurements I got, a dorsal length of 77cm, greatest length of 85cm and mandible length of 94cm, this measurements rival those of the largest saltwater crocodile skull on record.

im just gonna side with everyone and say we appriciate your detailed descriptions on these animals
Reply

According to wiki, the largest recorded saltie had a skull length of 76cm (I presume they meant dorsal and not greatest) at the upper jaw and mandible length of 98cm, though it's much less deep than this is, and that creature was at least 6.1m long (though I imagine this had a larger head proportionally). The terrestrial habit is probably the dorsal and mandible length are closer to each other, I reckon. A heavier skull would certainly need a lot of strength to keep up, especially given its more active lifestyle.

Given its teeth and design, what kind of bite force could we be looking at here? Has anyone done a study for Sebechisuchian bite mechanics?
Reply

Thanks!

Reply

Just a question: how massive would it then be?
Reply

I'm not sure, if it was build like a normal croc it could definitely have approached 1 tonne but I don't know if sebecids had proportionally bigger heads, or narrow bodies like rauisuchids.
Reply

and how would i take its total body length (assuming it has a 1:8 head to body ratio)? do i measure for the end of the mandible or from the back of the skull? anyway i don't care if it isnt a monstrous 9-meter goliath, this thing can still crush my little face in its mouth!
Reply

Amazing! It is very good to see a bit of study on this animal, it's absolutely fascinating. Kind of a "rausisuchian" resurrected into the miocene tocompete with phorusrhacids...
Reply

Very well made.

Do you, by any chance, happen to know something more about the so-called Ítaborai-crocodylomorph, a sebecid that was supposedly even bigger than Barinasuchus?
Reply

Thank you (: and no, saddly, I've never heard of it but your question lead to me to search for it, I found a paper from 2007, saying it was still undescribed, it's by one of the authors of a conference abstract that dealt with it (which I can't get) though, that same abstract is cited after saying that they were medium sized, terrestrial crocodyloformes so who knows, and 2007 was 6 years ago so maybe is described already? I searched for "crocs" from the Itaboraí basin and the only recently described I could find Eocaiman. Damn
Reply

You're pretty good at this stuff.

Maybe you can do some dinocephalians to clear up the mistaken notion of most of them being ~4-5 meters long.
Reply

There's so many things that I want to do haha, I still haven't gotten around to make ones of Inostrancevia and Titanophoneus, I have several started skeletals that I haven't finished and I have no idea when I'll do but it is in my interest to do some dinocephalians.
Reply

Hey, that is a great restoration.
Reply

Thank you

Reply

Could you try a full body restauration based on other Sebeccids? I remember when I tried to draw one I did not have any reference ad ended up mostly guessing its proportions. These were absolutely awsome animals, especially given their young age coupled with triassic flair and I would ove to have people draw more of those.
Reply

Awesome work, is really good see this thing in context (I mean, in scale)

Reply

Son impresionantes esos cráneos, veo que estás muy bien informado

Reply

Y yo veo que ya viste que también hablo español jaja se puede decir, estoy seguro que aun hay muchas especies que desconozco o cosas en general que no sé sobre los cocodrilos pero trato de mantenerme informado al menos en las especies grandes /o inusuales jaja.
Reply