Ursus "maritimus tyrannus"
Described and named in Kurten (1964), it consist of a lone ulna found near Kew Bridge, London, catalogued as BM 24361. The ulna is missing the distal epiphysis which Kurten (1964) interpreted as a sign of the specimen being sub-adult, even with said piece missing the ulna is about 440mm long and it was estimated that it would have been 485mm long when complete. On plate 2 of his paper, Kurten compared BM 24361 with a large sub-adult polar bear (UZI 3) and here I do the same.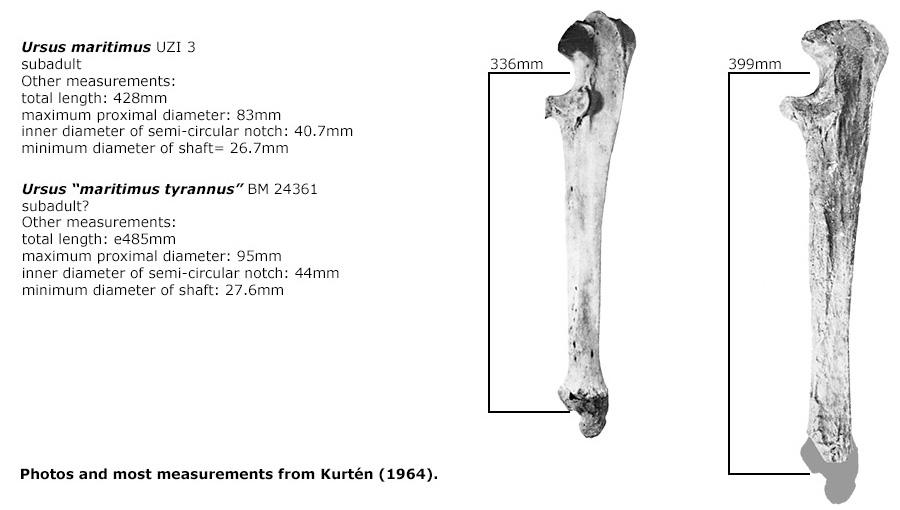 On the face of it BM 24361 is a giant, 13.3% longer than UZI 3 and the maximum proximal diameter corroborates that measurement but looking at the rest of the measurements something does not add up, the notch that articulates with the humerus is only 8% greater while the minimum diameter of the shaft is only 3% greater, in fact, in table 3 of Kurten (1954) we find a recent polar bear that has a thicker ulnar shaft than that of BM 24361 and this ulna was even shorter in length than that of UZI 3 (410mm) there is also an ulna of a cave bear, 383mm long, that not only has diameter of its semicircular notch 14% greater than that of BM 24361, its ulnar shaft is 14% thicker too. We can also compare this ulna with those from Indarctos spp., the ulna of the I. atticus from Pikermi has a shaft 5% thicker and while it doesn't beat it in maximum proximal diameter, I. oregonensis does and by 5% too.

Comparing the measurements between UZI 3 and BM 24361 we find that that of the later appears to have a shaft that is from 2% to 7% longer proportionally speaking depending if we are comparing their total or their functional lengths, why the difference? because UZI 3 has a considerably more developed olecranon process that is greater even in absolute terms (~55mm vs ~65mm, measured from Kurten 1964 figures following Sorkin 2006), the olecranon process of BM 24361 is also less developed both in relative and absolute terms than that of FMNH 63802 (Sorkin, 2006) the big brown bear I mentioned in the first part, the implications of this is something I will not touch in here.
I don't know if you noticed that I wrote maritimus tyrannus with quotation marks, this is because while not necessary intended as a taxonomic revision, Ingolfsson & Wigg (2008) mention that scientists at London's Natural History Museum have restudied the fossil of U. m. tyrannus and are confident that it is not a polar bear but a brown bear, citing a personal communication with Andy Currant in 2008. To estimate the body dimensions of of U. m. tyrannus and don't let the length of the ulna alone produce an overestimation I'll use the geometric mean of all the measurements between it and UZI 3 which I chose because of the measurements and figures of it in Kurten (1964), unknown measurements will be scaled from UAM 16545 (Matheus, 2003), at last I'll tweak the resulting limb lengths to the proportions of brown bears. Why such a convoluted procedure? because I couldn't find any paper that has photos and more than two measurements of an ulna of a brown bear along with measurements of the rest of its bones, still, I'll too only scale up using just the functional length of the ulna compared to a big brown bear.
The geometric mean of how much larger is BM 24361 than UZI 3 is 5.1%, in the end the functional lengths of the scapula, humerus and radius I estimated are 340mm, 430mm and 389mm respectively, this amounts to 115.9cm which means in a shoulder height of 122cm for the bones in articulation plus flesh and skin based on the ratios of this measurement in my Arctodus skeletal. The upper estimate is just an isometric scaling of how much longer is the functional length of BM 24361 than the ulna of FMNH 63802, estimated functional lengths for the scapula, humerus and radius of this version are 392mm, 495mm and 389mm, respectively, this amounts to 127.6cm and to a shoulder height of 134cm estimated in the same way as before.
The shoulder height range I estimated (122-134cm) represent a massive animal but they are a far cry from those 180cm+ shoulder heights floating in the internet, of course there's also the question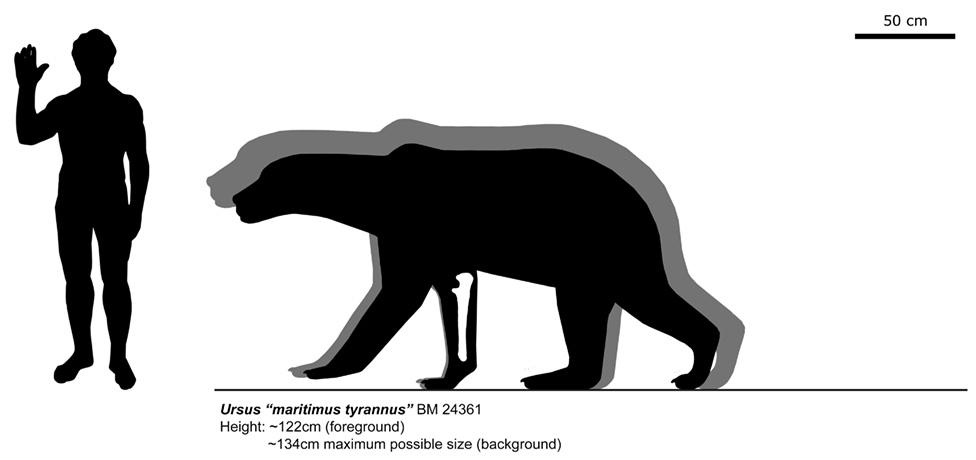 of what are the implications of a sub-adult being this big, could this bone still indicate the existence of giant population of Pleistocene brown bears? I'm inclined to say no, I'm not aware of any other true giant Pleistocene brown bear fossils.


Notes:
I didn't take almost 3 weeks to do this, I just didn't had time.
References
Ingólfsson, Ó. and Wiig, Ø. (2008). Late Pleistocene fossil find in Svalbard: the oldest remains of a polar bear (Ursus maritimus Phipps, 1744) ever discovered. Polar Research 28 (3): 455-466
Kurtén, B. (1964). The evolution of the polar bear, Ursus maritimus (Phipps). Acta Zoologica Fennica 108: 1–26.
Matheus, P. E. 2003. Locomotor adaptations and ecomorphology of short-faced bears (Arctodus simus) in eastern Beringia. Occasional Papers in Earth Sciences No. 7.
Merriam, J. C., Stock, C. and Moody, C. L. (1916). An American Pliocene bear. University of California Publications Bulletin of the Department of Geology, 10 (7): 87-109.
Roussiakis, S. J. (2001). Postcranial remains of lndarctos atticus (Ursidae, Mammalia) from the classical locality of Pikermi (Attica, Greece), with a description of the front limb. Senckenbergiana lethaea 81(2), 347-358.
Sorkin, B. 2006. Ecomorphology of the giant short-faced bears Agriotherium and Arctodus. Historical Biology 18:1–20.