Commission for Arteaus

Rare is the weapon that is consecrated for a sacred ordnance, rarer still is a blade of such purity and power as that of Ascalon -- the Sword of of the Garden, the Flaming Sword and Slayer of Dragons. The weapon gained its name from the backdrop of one of St. George's most dire battles against the outer dark and it gains its signature power from that of Uriel, Archangel of the Cherubim -- the Fire of God. It has since been blessed by three other patron beings: Michael, Raphael and Gabriel.

The sword has nary left the saint's side in nearly the two millennia of his preternatural life, but in one of the horrors to come. In a battle against a foe that St. George's dwindling power was unable to curb, Vlad Dracul's emaciated bloodline could not forestall and the Once and Future King nearly became the Once and Future Once King -- the sword sensed that there were those around that sought to use it for wicked gain and so, as such a blessed item is wont to do, passed to the hands of one who was worthy, to wield for a time. But that is a story. . . for a later time . . .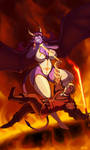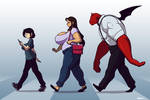 EDIT: I wasn't satisfied with the shading on her legs and the angel's wings, so here we are.


TWITTER:
twitter.com/Blazbaros
PATREON:
www.patreon.com/blazbaros
INSTAGRAM:
www.instagram.com/blazbaros/
Image details
Image size
900x1400px 814.1 KB