Came across this old file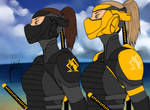 and felt the need to update it. More to come hopefully!
Btw, I am available for commissions, BUT, I cannot start anything for another 10 days as I am self-isolating with my GF due to my sister showing signs of a fever and dry cough. She will get tested tomorrow, meanwhile I am staying with my GF as I have been doing since the last time I was with my sister. Fingers crossed. Good luck out there guys, and stay safe!
--
Follow me on:
Instagram:
instagram.com/bl4sian89
Facebook:
www.facebook.com/blasian89
Youtube:
www.youtube.com/channel/UCubJ_…
Website:
www.ikolingba.com
DesignbyHumans:
www.designbyhumans.com/shop/bl…
Image details
Image size
2094x1500px 735.83 KB