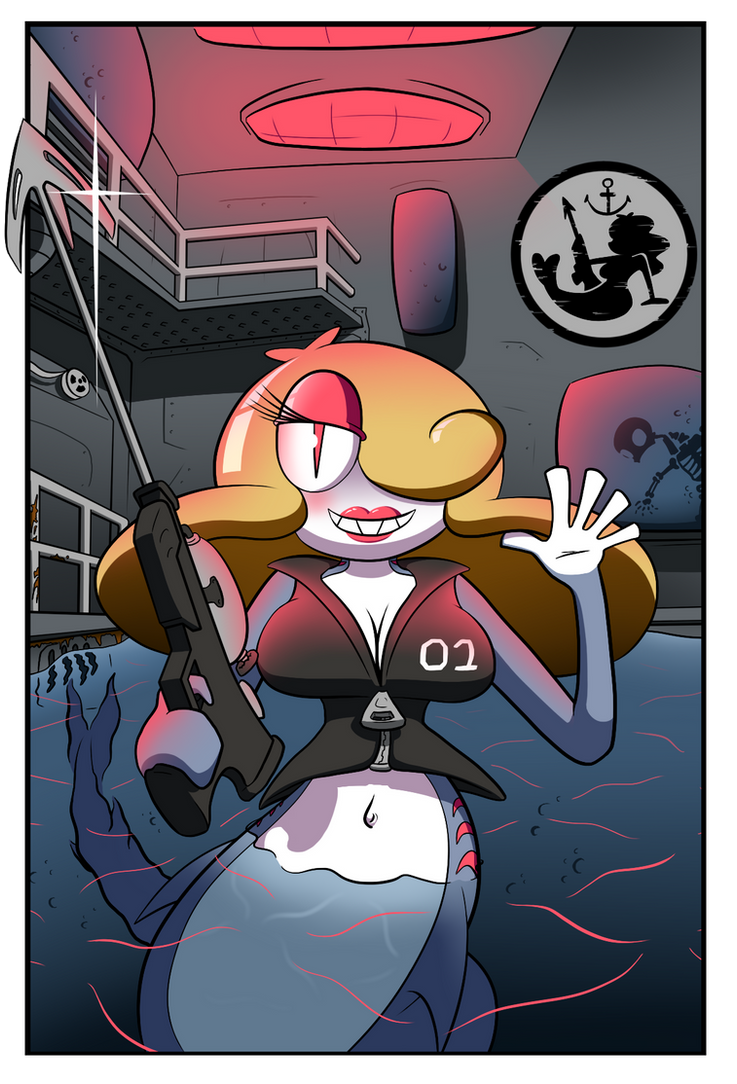 Mutants are no new concept to Astronautical's universe. Militarized human-animal hybrids, up til now you've seen just human-insect hybrids like Molly or Annie. That's because the only animals ever used for hybrid projects were insects, at least, that's what we were led to think...
If the Mutant projects were kept under wraps then their true origins are even more-so, most are under the assumption that the first hybrids were created around the late 1970s and didn't truly become 'successful' until the mid 80s. The truth is the project dates back far further. Late 1950s America; the U.S. Navy was dabbling into new submarine-defense systems to combat the Soviets. Trained dolphins were helpful in matters like naval mine removal, but they were looking for more, specifically offensive capabilities as opposed to purely defensive. Dolphins could only go so far. Something new would need to be made...
The plan was concocted after spy intelligence showed the Soviets were attempting to create human-fish hybrids for this very purpose modeled after the Humanzee experiments of Ilya Ivanovich Ivanov, not a single Soviet attempt had yet worked but American pride made us assume we could do better. Short answer, we didn't.
Four initial Mermaids were made in the lab from four women abducted through various means, the mermaids were different from the Soviet experiments in that they were not just human dna fused with aquatic animal dna; alien DNA collected from the Roswell and other such crashes supplied a new twist to their line. The results were, not as expected... The girls were both intended to be for military usage but they were also to be unveiled to the American public as a new mascot for the Navy as a means of recruiting young men through sex appeal. The emblem for the Mermaid Corps. can even be seen in the picture here. Unfortunately the girls were all considered abject failures, each one becoming more of a disaster than the last until the project was scrapped, and the girls were to be euthanized. They escaped out into the open ocean however, and the US covered the project and incident up to the best of their abilities.
--
Suzy is a fusion of Shark and Carcosmodon DNA, she is the most successful and arguably only truly successful hybrid of the group. She's very beautiful and uses this to her advantage, acting as a siren she loves to lure men with her looks then shoot them directly in the heart with her harpoon gun. She calls it her Cupid's Arrow. If you are lucky enough to be lured in by Suz' and not shot don't flatter yourself, it means she's going to get head tonight and by that I mean yours is coming off. When she leans in for the kiss those jaws open wide and then everything goes dark. Her jaws are detachable and can open almost three feet wide revealing her incredibly sharp rows of teeth, you won't see them unless you're either about to be eaten, or you made her mad enough to start yelling, and really that pretty much falls under about to be eaten as well.
Suzy is the key reason the girls are even alive today, though it was the leader's plan to escape, it wouldn't have been possible without Suzy's.. Assets. A day before they were to be euthanized she lured two sailors to her tank with the promise of loving, one was beheaded in an instant and the other dragged into the water, with the other's blood clouding the already dark tank a dark red it was impossible to see what happened to him and security rushed to try to save him. Abandoning their posts, this allowed Carol (who will be shown soon) to sneak past their guard-posts and open the four girl's tanks allowing access to the open ocean.
Being considered the pretty one even by humans, Suzy feels very bad for her 'sisters' sometimes. She works harder than the rest and is second in command, she's tactical and likes to plan things out in advance, using intelligence to get through problems rather than brute force. At least that's what she
LIKES
and wishes she could do... It isn't what happens. Suzy's patience is very minimal and if a single thing goes wrong in a plan or a single thing sets her off she goes bombastic and frenzies turning into a complete vicious monster, when she enters a rage nothing barring her sisters are safe. Outside of rages though she's very quiet and reserved, making the outbursts all the more surprising.
Suzy loves to spend her time being a jerk and a floozy, she's picked off many men from boats who return to shore with one missing crewman never to be found again. She cares deeply for her pet sharks of which she has one of nearly every species, and feeds them only the finest foods she can deliver. Unlike her sisters, Suzy doesn't ever use her fish friends to fight with/for her, showing that she truly does have an affection and not just affinity for them.
____
I have been very excited to share these girls, as they are very new! *v* I will post the rest of them in the coming days~
____________________________
© 2013 by Christian Tyroch
All rights reserved. Materials by Christian Tyroch may not be reproduced or transmitted in any form, including but not limited to: mechanical or electronic means, photocopying, recording, or otherwise, without prior written permission of Christian Tyroch.


Commissions are open check it out below!!