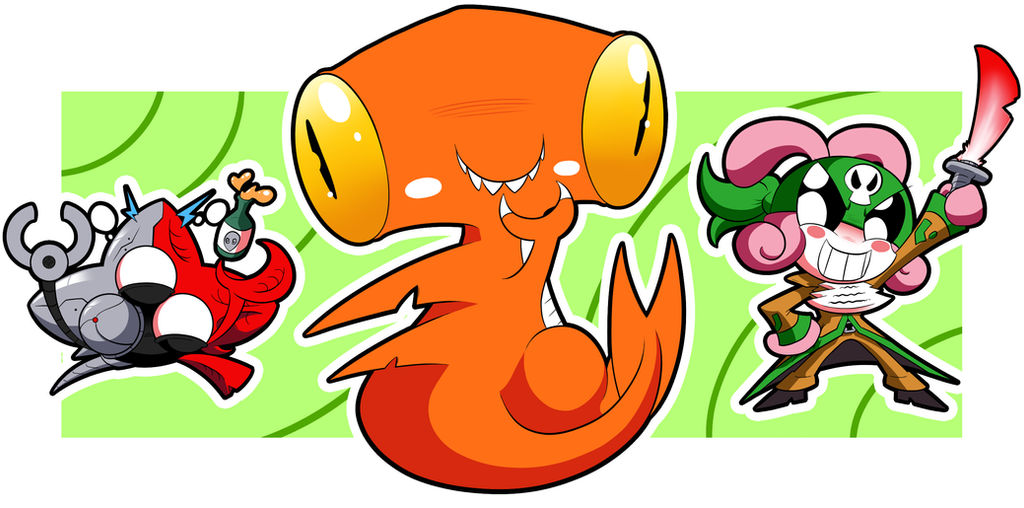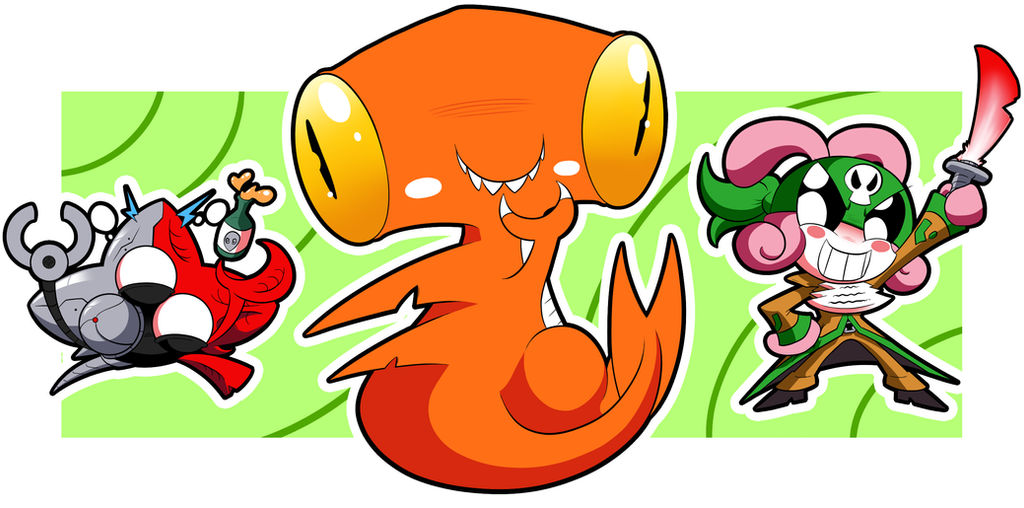 Watch
Some more Chibis I made a couple of weeks ago, it's really fun making tiny sheets like these and the Takeshi one and I totally wanna make more in the future! We've got an Astronautical set this time; Cici Buzz and Finn!! Very very old characters many of my long-time watchers probably recognize, who haven't gotten a good piece to themselves in a while. The coolest and
CUTEST
space pirates in the universe~
An intergalactic band of space pirates led by Captain Cici. The trio keep themselves constantly busy with a life of crime, robbery, illegal drug trafficking, public disturbance, and just being big bullies...
And one can't help but ask if Finn is a case of public nudity as well?
They show no mercy to those around them and seem cruel and heartless... However in actuality they share a bond and love with each other that is immeasurable, even pirates have soft sides. Even if they show it to one another in the oddest of ways. They can be seen terrorizing others in their stolen Crabulon aircraft with a white skull adorned on it's side. Infamous because no one is safe from their foul play. Even their customers potentially..

~*~*~*~*~*~*~*Captain Cici*~*~*~*~*~*~*~

Captain Cici is a pink colored member of the Manta Ray Girls race. Obviously, she's the leader of the crew. Cici is also the coldest and meanest of the bunch, arguably the most violent and unpredictable of the trio. She is horribly temperamental and must always get things her way. Cici is horribly rude to all, including the rest of her crew. Not only does she treat them badly but she also likes to abuse them physically and emotionally, however they surprisingly do not seem to mind her constant beatings and screaming. Although she might appear psychotic and mentally unstable, in actuality Cici is a cunning, tactical and intelligent individual. In addition she has prior military training, she was a recruit in the Manta Ray Girl Army in her youth, trained by Prawn Mambo. She was a rare case, she actually learned through training and did not goof around like her fellow girls. She became a great soldier, adept at hand to hand combat as well as swordsmanship, and Cici is considered outstanding with a laser pistol, in addition she has vast knowledge in the medical field for many alien races. Unfortunately she utilized these assets for a life of piracy and meanness, thus Mambo considers her his "greatest, and worst work". These traits have made her become the fiercest and most infamous pirate the stars have come to know. Don't let her fool you though, she may sound like a hardass but she's anything but. She still has all the trademark signature giddiness and excitement that all Rays possess... Unfortunately, she has a very morbid sense of humor and gets her joy out of doing terrible things. Cici's a wild card an extremely dangerous with her unpredictability, people let their guards down around her because of her playful nature and the minute you do you've already lost.

~*~*~*~*~*~*~*Buzz*~*~*~*~*~*~*~

Buzz is a member of the Crabulon race. He also was the first to join the crew. Buzz' original designated birth name was R-110211 when he was in the Crabulon Empire. He was a regular expendable and relatively weak trooper for the Empire's forces. Service in the military was not to his liking, and often found himself dreaming of more. He wished to break off from his servitude to the Empire and pursue a new life, many Crabulon soldiers go through a phase of despair but never make anything of it... He, however... Became an exception. He came across Cici one fateful day at a cantina, the two got to meet each other and hit it off well treating the waiters like trash, drinking heavily and eventually inciting a large bar-fight. The two made regular routines of this, however his servitude to the Empire made meeting Cici hard for him... The two discussed his predicament and his aspiration for more in life, and they both formulated a plan. Cici and Buzz (as she had come to call him) staged a daring robbery of a Crabulon space-craft and succeeded... However Buzz was heavily injured by weapon fire during the robbery, he was split in two pieces. Cici's advanced medical knowledge helped keep him alive long enough to get him to a cybernetic implant surgeon, where he was fitted with a new half of his body. Given a new robotic eye, titanium alloy carapace, a robotic leg and lastly his most impressive feature... A mechanical claw with high crushing force as well as a built in sword. The accident seemed to be an enhancement for Buzz. After his procedure Cici and Buzz began their life of piracy, and would forever be known as the worst pirates the stars had ever known.
Buzz, like Cici takes enjoyment in the sadness of others. He however seems to be more violent in his shenanigans than Cici is. His sense of humor is more grim too. His voice is highly distorted and mechanical due to his mechanized vocal chord implants. His rampant alcoholism has caused problems with his cybernetic parts, rendering him extremely jittery and always malfunctioning, fidgeting and producing sparks.

~*~*~*~*~*~*~*Finn Flynn*~*~*~*~*~*~*~

The "softie" of the pirate crew. Finn is an orange colored individual of the Hamma race. Not much is known about Finn's past... For he doesn't like to talk about it with Cici or Buzz. All that is known is that his life has been all but enjoyable, he has constantly been picked upon and brutalized by others as well as taken advantage of. It is true even after joining Cici and Buzz to become a pirate he still is treated horribly, constantly being the butt of jokes and taunting by the other two, yet he loves them nonetheless. He is very kind-hearted for a pirate and does not always agree with the actions of Cici and Buzz and is the polar opposite of them in every way. One would wonder why he, a sweetheart, would even bother being a part of their crew.. His answer is most likely that he believe he has nowhere else to turn to. But he sees them as family and loves them. Finn is routinely used to do heavy lifting work and anything requiring a large amount of strength.
Finn is not all that bright, he like most members of his species have very small brains. He also has the vision impairment his species possesses wherein he cannot see ahead of himself and can only see to the sides. This has gotten him in many bad situations, most notably the origin of the large scar on his chest. He was at a bar once, ironically, one attended by Buzz and Cici at the time and accidentally grabbed a fellow patron's drink without realizing it, after drinking it the other alien drunk and in a fit of rage "cut his drink" out of Finn. Luckily he survived the injury when Cici feeling sorry for the creature helped suture and save his life. He became eternally grateful after that and is when they joined paths. Oh, and Cici prompty beat the sh*t out of the dude who gutted Finn, see she's not... ALL BAD!!!
Finn is a very kind-hearted fellow who just took a wrong path in life.
____________________________


© 2013 by Christian Tyroch



All rights reserved. Materials by Christian Tyroch may not be reproduced or transmitted in any form, including but not limited to: mechanical or electronic means, photocopying, recording, or otherwise, without prior written permission of Christian Tyroch.



I love their color schemes!! I'd join their crew!
Reply

Thank you so much! Out of all of the oldest characters I've got (these dudes are some of the first villains I made for this series) I think they've definitely got the most solid schemes.

PLEASE JOIN, they can use an Octopus member
Reply

Captain Cici loos so nice! *A*
try to guess why :3
Reply

OH I CAN'T IMAGINE WHY
But bunny ears and a pink aesthetic might have something to do with it XD

GOD how have I never made the connection I want to draw Wallter and Celeste encountering her so bad now! KASDMASKLD
Reply

Hehe, I was wondering when we'd see these guys again. Such a pleasant suprise to see you chibify them lol

Reply

I'm really glad someone remembers them cause these three are my babies! They may not get drawn enough to reflect it but they actually have so many Episodes written with them as the main antags haha. I'm really happy you like how they came out! It was a weird choice, a lot of the Astronautical characters I want to do chibis with will be interesting experiences because so many of them are like Finn or Buzz and don't exactly fit the look very well so I have to find different ways to make them still match the rest of the Chibis in style XD
Reply

Yeah, I've read about nearly, if not, all of your characters. As I said before, they're always so interesting since you put so much into them.

Had realized not too long ago that there hadn't been art of them in quite some time. Seems kinda like how I am with Morbid, he is my BABY, I've been developing him for years (still am), but I don't seem to actually DRAW him much.

Lol it may seem like those two don't fit the styles, but you sure pulled it off wonderfully. It's been said by others, but Finn is absolutely adorable btw~
Reply

I want to the pet the ORANGE SHARK
Reply

How can these be so bad when they're so adorable looking?! ;A; BLARGEN please, you're tearing me apart. ;w;
Reply

One thing I love about these three is I make it a thing in all Episodes we'll deal with them in that even though they're pretty nasty terrible people (2/3 at least xD) they have a weird love and friendship for each other so they aren't ALL bad... Just.. Some, families are OUT THERE I guess is what we can take away from them ahaha!

oh and cause you left the opening;

YOU ARE TEEEEEEEEEARING ME APAAART CICI!
Reply

You're just using your cuteness factor against me you saucy sue~ You always have me looking forward to whatever you're doing! <3
Reply

so tiny would fit in a teacup
Reply

This must become a webtoon someday!
Reply

I wish I had the time or talent! XD For now, comics comics COMICS! I have more fun with that anyways haha
Reply

Well I like your comics right now! Maybe you could add these chibis to Astronautical(?)
Reply

Do you mean the characters??? They are! Don't worry, there are already many many scripts for episodes written that have these three as the main characters we will reach eventually! The first one is not that far away actually *u* Their first appearance will be a single digit numbered episode it's so soon~
Reply

Well, now you know that I haven't caught up with the story yet.
Reply

Haha don't worry they aren't here yet! But soon!
Reply

Just read episode 1. Holy crap! You use to draw traditionally? Me too!!

But you were way more skilled than I was at the time.>
commanderbronyvideo.tumblr.com…
Reply

Reply

THANK YOU SO MUCH!!!!! I knew you were gonna love this especially the minute I finished it haha I feel like the Finn might be my best Chibi yet
Reply

Finn is always a cute, but Cici steals the show here! haha no prob man!
Reply

You are luck in my friend because I have another Cici piece coming in the horizon, with a cute alt outfit~ adslkfmldskf because I just love doing that too much lately haha
Reply

DLC ALTERNATE COSTUME DEVIATION COMING SOON!
Actually that's a neat idea, maybe I can do something like that or we could make a collab some time, like, for halloween idk if you want
Reply

OMG... I would love to do that!!! I've been wanting to make a Halloween drawing so bad again this year but worried I would be too busy, making it a collab though could make it actually doable and doing that with you would mean the drawing would come out ten times better than if I did it alone!! WE HAVE TO!!! What was it you had in mind???
Reply

Ahh really? I was thinking in something to do with the alternative costumes for some of our characters,
maybe halloween themed or just references that could fit, they could be surprise from each of us!
I don't know what you had in mind, but it could be a halloween party, how can we organize it? I wanna to hear your orginal idea.
Reply

Another idea that just came to mind we could maybe do is have hem dress up as each OTHER for their Halloween costumes? Like you dress some of my characters up as some of yours, and I do the same with yours in mine etc.?? OH GOSH there's so much we can do this is hard haha!
Reply

Gosh Halloween or reference ones would be really fun, I guess it could be just a mix-and-match sorta thing ahha if you get a cool idea just go with it for a costume! Stuff like all the cosplays we've put them in in our birthday gifts to each other in the past XD

Where you thinking of doing this in a way where I draw your characters and you draw mine and surprise each other with the costumes?? Cause I think that would be really neat! The only thing we'd need to figure out if we do that, is how we go about putting them together, like if we make them have a party like you mentioned or how they'd interact with each other. I guess we could figure that out in the sketch and we could pass the sketch back and forth to each other til we think it looks good enough to line and finish? Hmm.

I really like the costumes idea!!
Reply