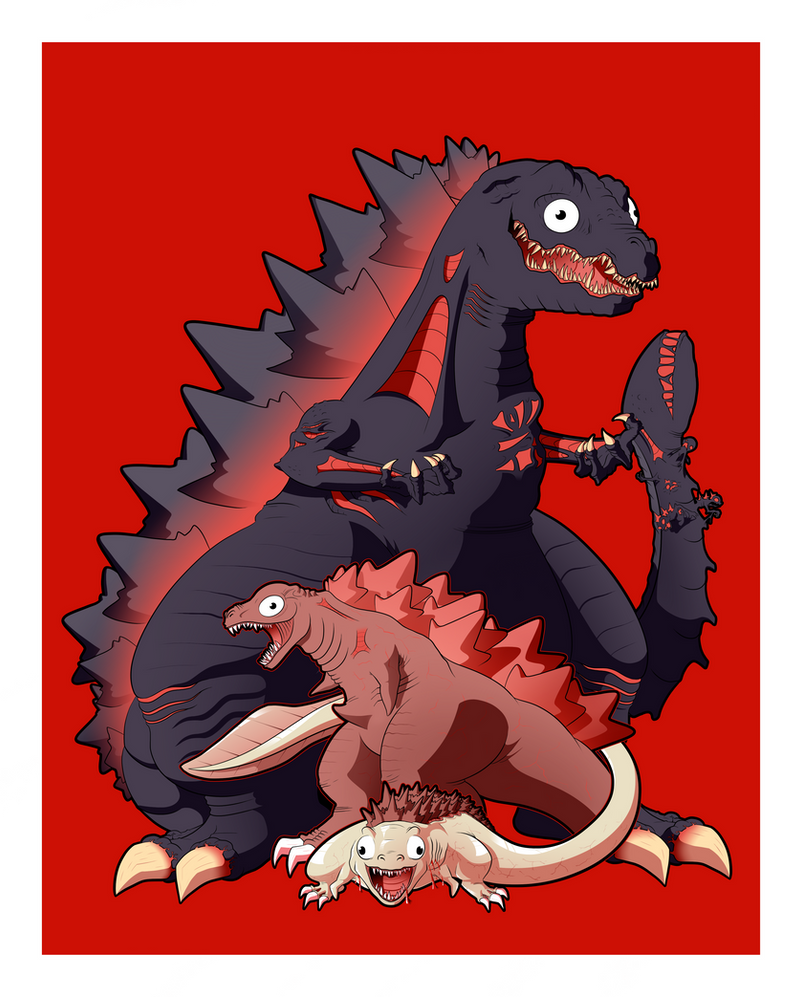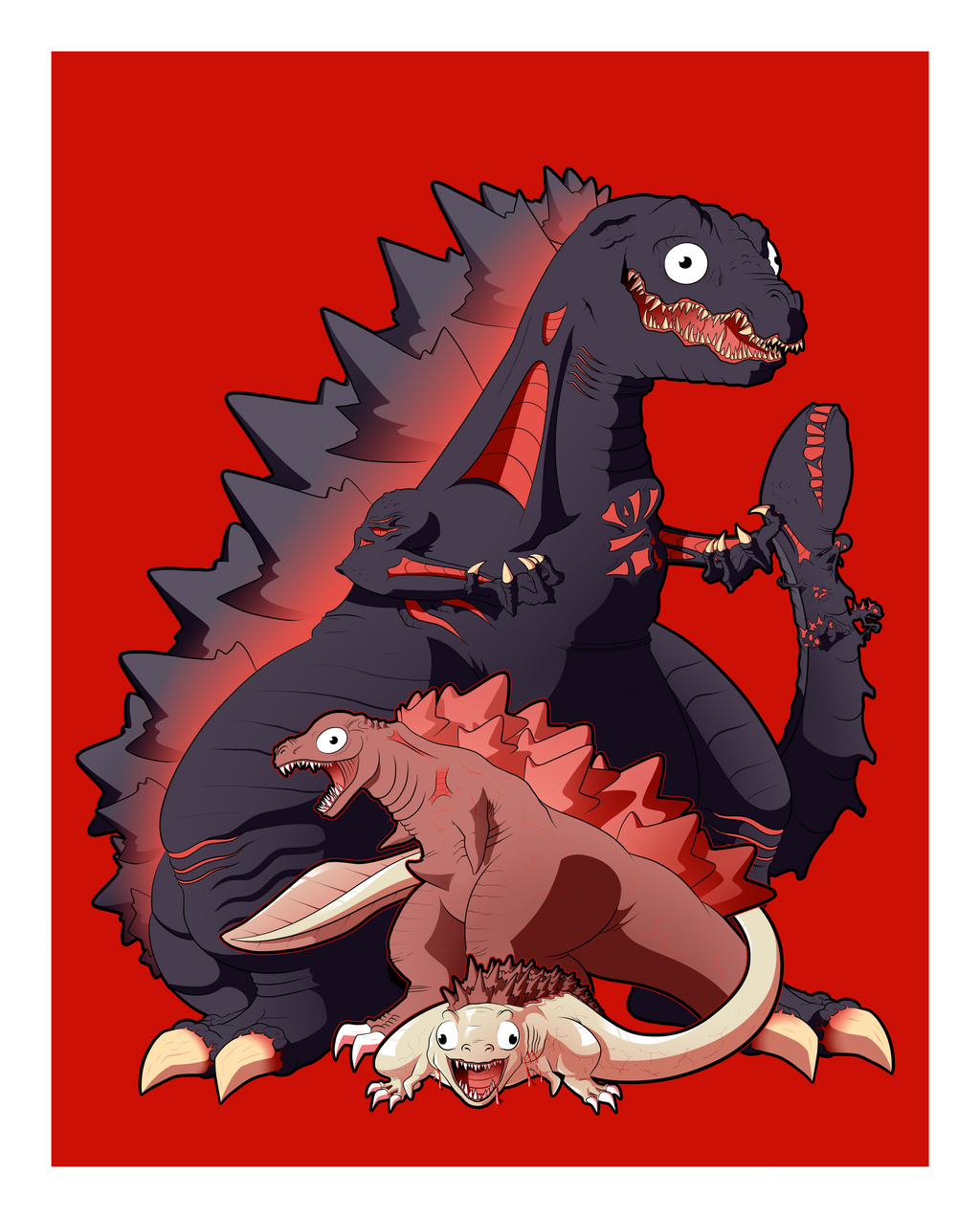 Watch
A God incarnate. A city doomed
I finally got to watch
Shin Gojira
in theaters earlier this week.......
IT WAS EVERYTHING I'VE DREAMED OF
and so much more. Seriously, I am beyond happy with how it turned out, and think it's easily one of the best in the series now in my eyes. Bless you Anno for breathing new life into things and bringing one my most franchises back from a ten year grave. You surpassed expectation.
First off I can't praise him enough for finding such a unique spin on things. I feared from the get-go that ShinGoji was going to feel very derivative and possibly bland if it took the route '84 did and just went back to the basics of the military and Japan vs Godzilla and finding a way to defeat him, you know the formula. It seemed that's Toho's way of playing it safe when rebooting ever. When we finally saw the new design my hopes were raised, and I knew Anno was doing something really different, but I still worried it might not be enough especially after Edwards started the American reboot with a VS film. But I couldn't have been more wrong, Anno's revision and re-imagining of Godizilla in this is just insanely creative and downright horrifying. There were multiple times I found myself cursing aloud or my mouth agape at each surprise he threw at us, and turning things upside down making his Godzilla completely disinct. The build-up to seeing it emerge from the bay and river was crazy well done and finally seeing that outrageously adorable fetal chicken tadpole... THING shambling down the street is easily cemented as one of my favorite scenes ever in a Godzilla film, it hits such a perfect chord of balancing humor and horror. Not just with the appearance of the first form juvenile Godzilla, but the way it's directed too, with the Prime Minister's speech and surprise then cut to creature. And that right there leads me to what I love the most about the movie and what surprised me the most.
I didn't expect to laugh as much as I did!!! Obviously I mean with not at. Maybe it's because I have such a morbid and dark sense of humor but watching the Japanese Government fail repeatedly at even the simplest tasks and their pure incompetence in all levels to deal with a constantly escalating situation was hilarious, and i know it had to be intentional. That one moment when so much of the government as well as the PM have been murdered in the Tokyo attack that the Department of Agricultural Affairs became the highest power in the country had me on the floor. I think the biggest congrats to Anno's handling of the movie should go the human component regardless of how amazingly he directed all the action and Godzilla scenes because even the best Godzilla movie can become a slog if you have boring human characters. But he made probably one of the best. It was such a fresh and creative way to structure a Godzilla movie and I can't believe it's taken over six decades to do it. We've seen military incompetence countless times but seeing the inner workings of the government fighting amongst themselves through red tape is a whole new level. That component alone is what made it one of my new favorites. The special team that builds themselves up to research and combat him too was a perfect party. There really wasn't a single boring character in the film, which is a big achievement.
And wow, I know I said already how he brought horror to Godzilla again, but I really can't believe how much he did so. It goes well beyond just making the suit look like a shambling zombie, but in what it can do I was legitimately freaked out at multiple times. The military offensive against him was probably the best I've ever seen a film showcase how impossibly indestructible Godzilla is. And how hopeless we are against him, it was such a neat idea, seeing every single possible military option sans nukes thrown at him in one scene because after that the sense of hopelessness is just cemented perfectly and you legitimately ask yourself repeatedly, wtf can they do at this point. Even when nukes are brought in by the United Nations, I just found myself asking no one is even thinking that it feeding off nuclear energy might just make it stronger through this option?? Probably because they knew themselves that's a possibility and didn't want to even think about it so kept quiet to maintain optimism. And holy crap that first usage of the atomic breath was just, insane. I don't think a kaiju's ever shown it's innate power at such a destructive level since the flashback in
Gamera 3
. That entire Tokyo attack was just haunting.
That ending too, like god dang. I honestly don't think there's a single real flaw I have with the film outside of a few questionable cgi shots (that train jfc) but that's probably entirely budgetary so I can't fault it. Aside from that, the only real issues i have with the film are minor complaints about what I personally wish they'd done, but they don't affect that quality of the film at all. For example I was in the camp that thought he was going to be the reanimated corpse of the original '54 Godzilla that reconstituted itself through further nuclear activity and absorbing oceanic bio-mass, I'm sad that it wasn't, especially since it would only further highlight the government's incompetence in the situation if they already have dealt with Godzilla before and yet are still entirely useless against him. But it's fine, nothing's lost really making it it's own timeline.
And in regards to that timeline, I'm beyond excited to see what Toho does next. It's a GOOD time to be a kaiju fan I tell you, like wow. Two continuities now between American and Japanese Godzilla films?? The kind of thing I dreamed of as a kid is now a reality, not to mention other films from others eries on the horizon. I'm just so happy. And especially more-so because I legitimately have no idea what will come next from Toho at least. I personally don't think Shin Gojira will get a direct sequel at all, I know I've seen some people say that the ending is a cliffhanger but I myself saw it as an illustrative metaphor, being if Godzilla in this film is a constantly evolving God of Destruction, and it's final form it takes is that of mankind?? Well what does that say about us.. Creepy, and nihilistic, despite the presence of optimism for a future even if shortlived, that's what makes Godzilla Godzilla, and Anno really knew what he was doing here.
Thanks again for that, and thank you as well Funimation for putting out a sub into theaters, I was worried we wouldn't get one at all and if we did I'd have to wait a year or more, you guys are real life savers and fast workers too. If any of you guys are reading this and found my thoughts interesting and haven't seen it yet
GO RIGHT NOW!!!
Check to see if your local theaters are showing because it will still be screening until the 18th, there's still time! I hope you love it as much as I have.
At the very least... GO SEE IT JUST FOR THAT BABY GODZILLA because he's the cutest thing I've ever seen in my life!!
AKLDMLASDKL I NEED A PLUSH SO BAD
Watch the
SPEEDPAINT
here!!
____________________________


© 2016 by Christian Tyroch


GODZILLA
© Toho