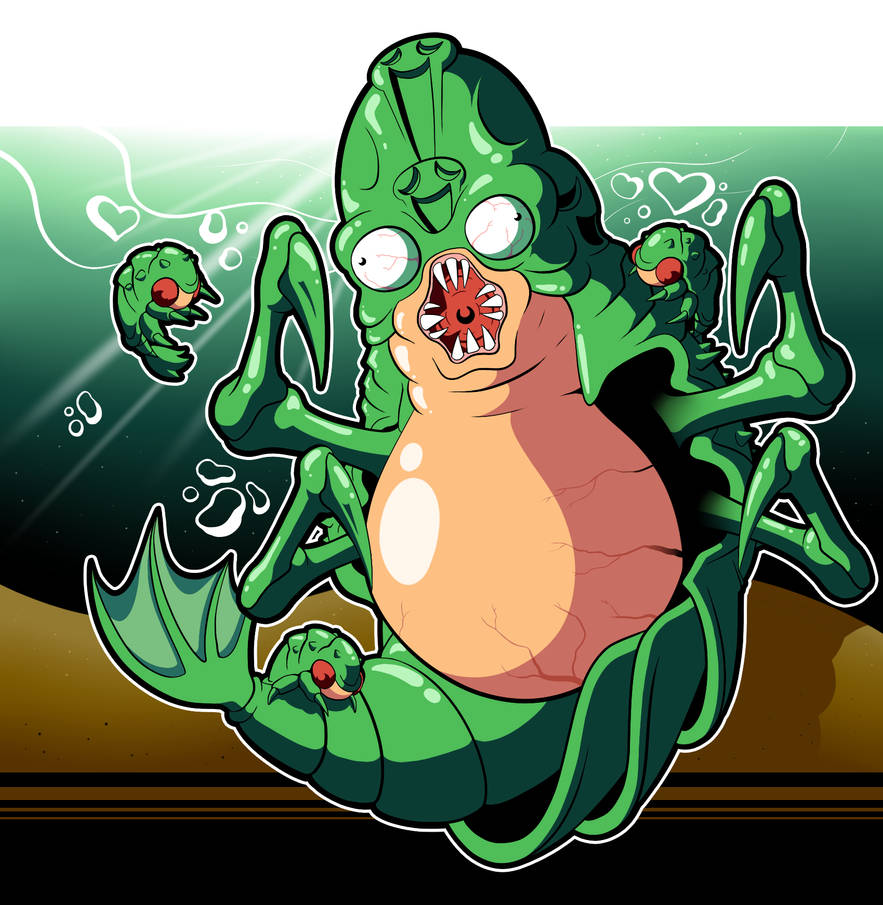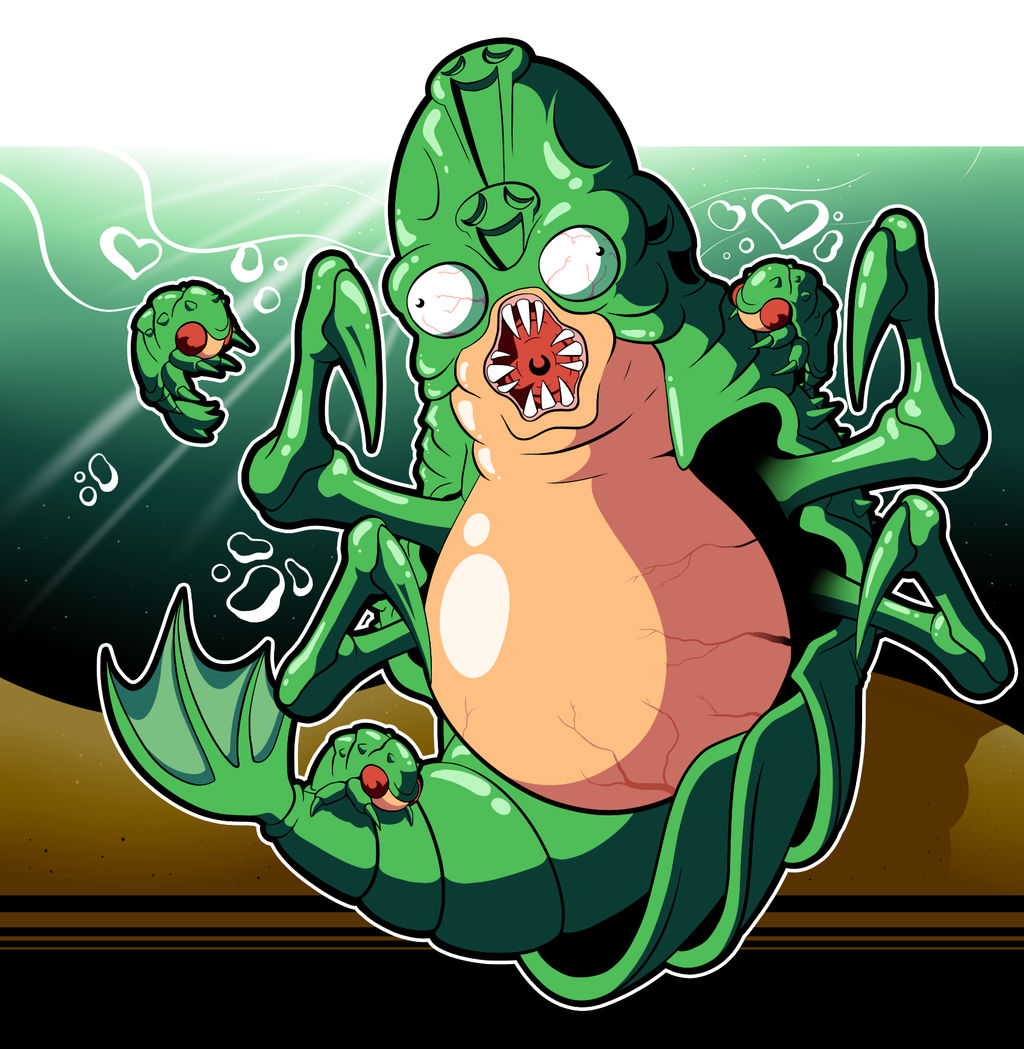 Watch
Otherwise known as, Maridia!!!
AH!! Eighth piece for
Metroid March!!
Maridia is my favorite part of
Super Metroid
! Sometimes it's easy to forget, but it's the first water level in the series! And I don't believe they could have done a better job, so many memorable sequences environments and rooms! And my favorite boss fight in the game after Crocomire. Plus some darn good music. In a series filled with tons of cute alien Moms I think Draygon might just be the cutest. Yes, I am in the camp that says the Evir after the Draygon battle are her children burying their mother and
NOT!
scavengers looking for a quick meal!! I don't really believe the ones in her lair would have been given special color pallets if the devs were not going for this. It's so sweet, yet sad! But more-so sweet to me thinking of the good times that Draygon had with the babies.
THEY HAVE HER FACE...... Well, not, really but, MAYBE SOME DAY....
I like to imagine Samus after slaying Draygon and seeing it's kinship with the babies only made her value the life and her relationship with the baby Metroid even more, only pushing her drive to succeed the mission. At this point, maybe more for it than herself. The subversiveness of accomplishments is something Super Metroid really seems to excel at and probably a reason it's highlights are so memorable.
Watch the
SPEEDPAINT
here!!
____________________________

I'm pretty sure Draygon was pregnant and when you blast that hole into its stomach, the babies came out :3
Reply

Dat Draygon MOMMY FACE tho! Love the cute little heart bubbles

Draygon's design scared me as a kid due to the skulls on her head and her EYES N TEETH! I used to think killing her with grappling beam was a lie until I tried it... BLEW MY MIND haha!
I tend to not like Maridia as much because I get lost a lot. HOWEVER the main reason why I like going there is the music which PERFECTLY captures the lonely and lost atmosphere. Lower Maridia's music is a personal favorite. This
REMIX
of it is just wonderful... (so sad too)
Reply

She's got such an eery looking sprite!! I think she sticks with us well cause the thing looks like it's in constant PAIN... Her eyes are a big reason, the constant bloodshotness. It's like... It looks like it's not entirely suited to be an aquatic creature and the saline in Maridia is just killing her and driving her insane! XD

Oh man that's a great remix!!! It's so eerie and captures the solitude perfectly, I wish I'd used it in my speedpaint gyah!
Reply

Reply

Awesome art blargen

Reply

I see another "Excited to see BLARGEN" post emote coming on~ "BLAAAAAAAAAAR-GEN!"

May or may not just make silly emotes out of all the fun chibi art you make for Metroid. ;3
Reply

I FEEL LIKE this one practically makes itself! XD
Reply

"FLARBLEBLABLRLABALR!"

Don't mind me, I've been making all kinds of noises to go with the face since I saw it. You have such a fun way of making expressions, I totally envy you. <3
Reply

The cutest freaky mother of adorable aliens period!
Reply

If I ever saw her, I'd not be able to resist asking if there's a Mr. Draygon.
Reply

Dude, I love the Maridia music. And Draygon is an interesting boss, to be sure. The only one in-game where you have to hurt yourself intentionally to beat it efficiently. Unless you wanna Super Missile it to death (good luck). Super Metroid, man. It more than deserves its place as one of the best video games ever made.
Reply

YEAH I didn't even mention the fact that she's got alternative means of being defeated that are actually well thought out in a development perspective, gosh Draygon's just so cool!!! I'm always kind of glad she's never reappeared in any game since, as it keeps her place in Super much more meaningful and memorable.
Reply

Yeah, although you
do
fight off mini-Draygons in
Fusion
in the underwater section of AQA (Sector 4). And they're a pain in the butt.

Reply

It's still under contention if those things are even truly baby Draygons or not considering they have a totally different species name from her. But I will always be in the camp they're hers and not just trying to eat her corpse.... XD

Draygon raises so many questions haha. Is it sentient too!!! WHY DOES NOTHING leading the Pirates seem even remotely sentient no wonder they're so inept they put animals in their leadership positions.
Reply

Yeah, because as we've seen, there are species crossovers between both Zebes and SR388. So I'm in the camp that they are baby Draygons.

And Lord knows why the Pirates can't hardly ever get any big beasts to do more than just become trophies for Samus to hunt down on her pathway to glory, man...

Ridley's by far one of my favorite
Metroid
series bosses, even if a bit unoriginal, just for how intense his theme is and how fast he is.
Reply