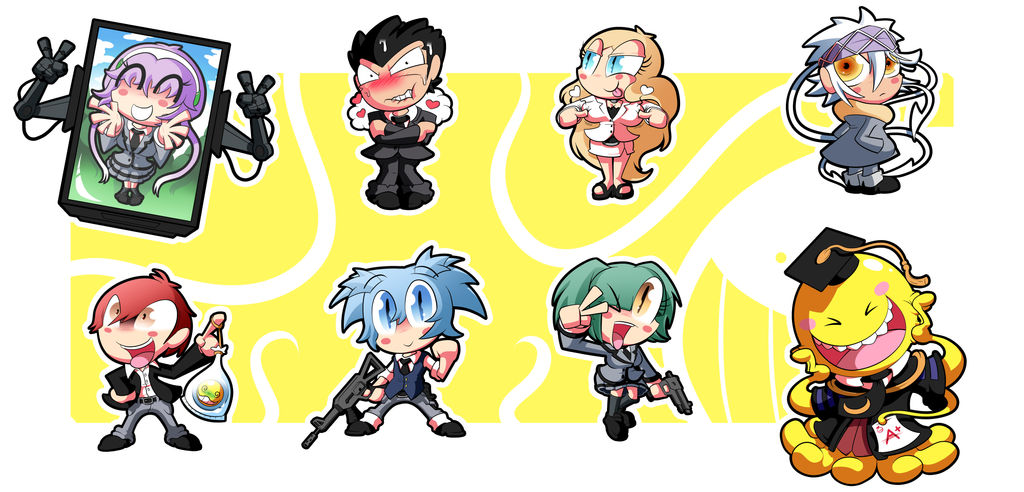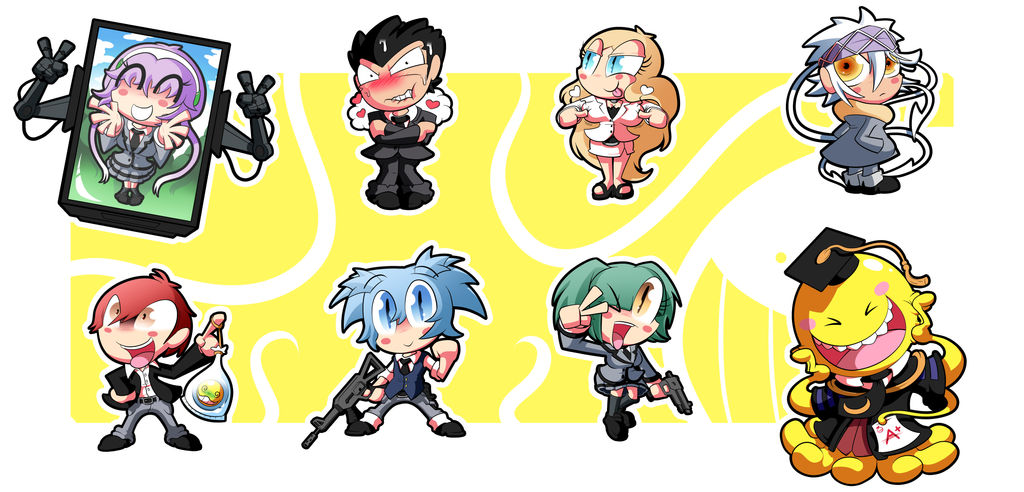 Watch
I felt bad that I somehow went
months
abandoning that first print piece
Procrastination of the highest degree!!! The likes of which even Spongebob can't reach. So figured I would score some extra credit with Sensei and make a few little Chibis!~

Ritsu


Karasuma Sensei


Irina 'B*tch' Jelavic Sensei


Itona Horibe


Karma Akabane


Nagisa Shiota


Kaede Kayano


Korosensei!



Watch the
SPEEDPAINT
here!!
____________________________



Karma looks like Cuphead.
Reply

Reply

I love this also the name is suprisingly fitting XD
Reply

OHH you actually finished this!!!
Damn, Ritsu and this koro are the best, I love them so much,
hope you make some pins or prints out of these!
Reply

Ahaha this was actually made in like one night this week the thing that's been sitting around for MONTHS was the other drawing! x'D And of course, I end up liking this more haha why does that always happen!ladfmlakds

Thank you dude!!!!!!! Korosensei is just a blast to draw, and I'm thankful I'm actually somewhat decent at doing it. I actually was considering making another Chibi Sheet of nothing but Senseis in different colors/moods and stuff? AND OMFG I'm so happy you like the Ritsu because she's my favorite one on here too!!! She's also one of my favorite characters from the series period but x'D sklfmadsklfds Who can blame me. I was planning to make sticker sheets out of these, but I really like your idea of pins actually! I gotta see if I can find a way to go about doing that!! As for prints, do you really think Chibis like these together in a set would make for a good print? I never even thought about it before, but if you think they'd be worth it I'll print some cause I was just about to order more prints in like two weeks! I really appreciate your comment. Thank you!
Reply

Oh haha I guess you had more inspiration after finishing the other one, but I like the way you drew koro in both!
omg that idea of different koros sounds pretty good, hope you do something like that!
Oh and yeah, pins would look pretty good, stickers definitely, not sure about the print now that I think about it, but it could work!
Reply

This show. <3 Didn't know you were a fan of it! =O
Reply

I love Assassination Classroom so much!!! It's literally in my top three favorite manga with Keroro and Jojo!!!
Reply

>AssClass

Im sorry, but did you make that one up or is that just how the series is refered to?

IT BETTER BE THE LATTER FOR YOUR OWN SAKE.
Reply

I can't say I made it up XD It's what the fans call it, whether or not Matsui realized that this was naturally going to happen to the name when shortened though is anyone elses guess. HOPEFULLY NOT and it's just a stroke of accidental genius at play like Astronaughtycal asmfsk
Reply

"AssClass". XD I should really start watching this one.
Reply

Honestly it's gotta be the best abbreviated name for a series ever pfft-
Yeah you definitely should! I've only read the manga, so I can't attest to the quality of the anime adaptation but if it's anywhere near as good as the manga is then you definitely need to. It's literally in my top three favorite series.
Reply

Nagisa's pigtail things will always confuse me lol.
Reply

Dude I always thought they were so cute and simple til i had to draw him. Oh my GOD I am not exaggerating I spent almost forty minutes figuring out how to even get a single bit of him right and even still I am not proud of the results haha. His eyes are hard, his hair is hard!!! I don't think I got either remotely right haha. But at least I can draw Sensei alright and... What more does one need in life.
Reply