Finally, i'm putting together some serious pages for the Sun Knights project... (more info on
blaquesmith.deviantart.com/jou…
)
Truth is, i really want this to go on, and i want to try publishing it, in E.U. or U.S.A., or both... But, i can't present it without a decent color, i think.
I already have offered the job to some people, many of them not really interested in coloring a not-inked job, but truth is, i'd like to keep it this way, since my lines are not very messy, it's not so difficult...
Of course my lines are clear, so there is needed quite a color work (i'd like to have a finish like many european comics, with smooth gradients, nothing to do with cell-shading or bad japanese animation.
Since the project is not already sold, i can't pay yet, nor talk about money yet, but i can promise that, if you apply for the job and your pages are published, i will pay you the 30% of the total earnings for each page you color.
If you're interested in the job, you can try coloring one of this pages: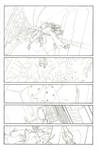 hi-res version here:
crupc.upc.edu/~oriolfm/SunKnig…
hi res version here:
crupc.upc.edu/~oriolfm/SunKnig…
If i like it, You're in!
Some considerations:
- The cyborg is firing an energy weapon, the trails are lightning-like and done in direct color.
- The 3 weird bands inside the collar of the girl's trenchcoat are self-lighted (LED-like) so that affects the illlumination of the character's face.
- Girl's shades are green
- The "M" logo in the doors is Blue
Oriol.
I'm a Son Of Ether, in

I'm a Crazy Chef for