2. Post 8 facts about your Character.

3. Tag 8 other people along with the characters you want them to write about (which leads to rule 4)

4. Post their avatars and write the character names next to them.

5. NO TAG BACK! (I'm ignoring this rule XD Tag back if you want!)
Takoda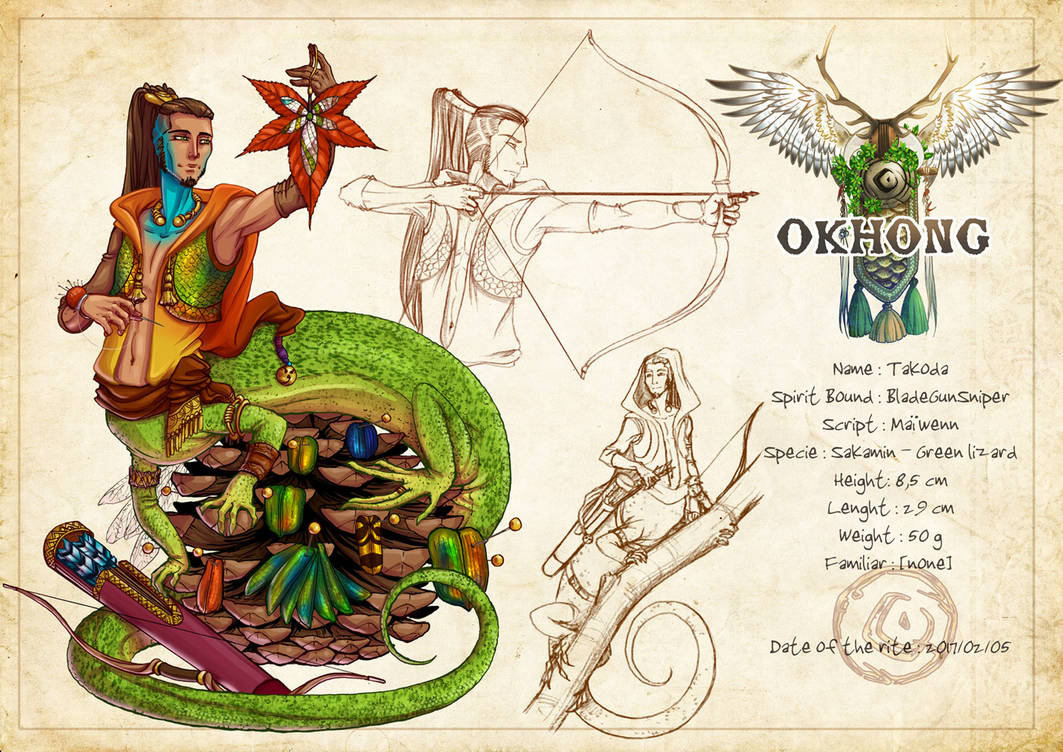 Takoda can effortlessly lick his eyes with his tongue. Yes, he has a long tongue (which explains the accent and slight lisp).

When Takoda is focused on something his tongue sticks out a bit. Primarily when he is working on a very delicate project, but he has been known to do it occasionally when firing his bow. He is normally unaware of this habit.

Takoda loves story telling, but not as good at it himself. He bases a lot of his crafts on stories he has heard, but finds it almost impossible to come up with a story himself. At least he never feels inspired by his own stories. He will always say "I prefer to listen to others, they all have wonderful details to add."

To continue the last one... Takoda is a terrible lair. He just has a hard time coming up with stories. And finds is even harder to be dishonest to someone. Even the simple "white lies" are difficult.

Takoda sleeps way more in the winter. The cold zaps him of his energy so most of the winter he is incredibly tired.

Takoda has a pine-cone collection. I can't say where he keeps it, but he loves to collect them as they make good holding racks for his hunts. Kaga would be about the only one in camp who would know where this "treasure trove" would be. Most of the ones he has are decorated with tiny pins and multi-colored shells and wings.

The sound of bells bring him comfort. He has his reasons. Whenever he hears the soft jingle he feels at peace, no matter the situation.

Takoda can play the violin. A random hobby that people rarely get to hear... but if ever anyone needs a tiny violin played for a sad story, Takoda's your guy!

Walker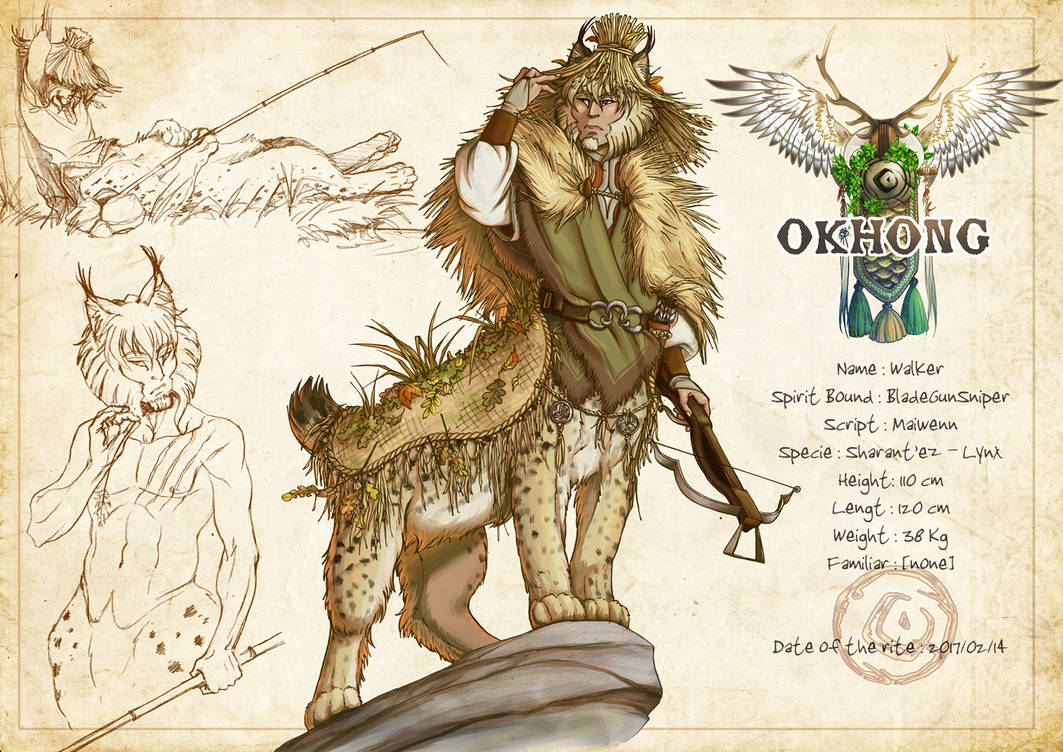 Walker gets his personality from his adopted father and mentor. The human who raised him and taught him all he knows was his hero. Walker feels he will never fill the shoes of that great man, but he vows to do his best.

Despite being lazy outwardly, Walker is an incredibly hard worker. He prefers his naps and sunbathing, but he keeps his own cave spotless and never leaves a kill to rot. Actually, he is a very clean fellow.

Walker crafts his own bolts, and will never pass on the trade. He learned from his mentor, and had hopes of one day teaching his own pupil, but after certain events he completely discarded the idea. The decision to never pass on his trade was difficult...

Out of respect for Boursin, Walker will always say the "shaman's blessing" over a kill. The blessing is something he made up completely, but he felt that he owed the softie "somethin' ta respect the gentle ombre". Walker doesn't agree with Bour on some things, but he respects Bour too much to not say a little prayer. Even if it's made up.

Walker keeps a trunk filled with items from his past. He doesn't look at it too much, but he occasionally he'll reminisce about his past. Good and Bad. Just don't ask him to have a look yourself. Actually, not too many people knows he has it (Takoda and very likely Bour ( but who knows)).

Walker likes boxes... True to the tradition of cats, he likes to play/sit in boxes. No one has really seen this though.

Walker is quite romantic. Walker knows how to treat a lady, this one isn't as much of a secret. However, he will do all he can to make a girl feel special when courting her... sadly this is likely a trait that no lady will get to see. Because of previous heartbreak Walker has distanced himself from even the idea of courting anyone. He will still treat a lady as a gentleman should, but he will not go in with the intent to court one.

Walker was married. Yup, Walker eloped with a young woman bobcat beeghuh, whom he had originally hunted for a bounty. The two fell in love during the chase. She was the only one he willingly let go on several occasions. After catching her the seventh time they confessed their love. Unfortunately due to the events around McDougal's gang, his wife 'betrayed' him and ultimately he ended up killing her. This was what lead to the decision to retire (and the one hunt before he ran into Bour on his last bounty). What Walker did not know was her 'betrayal' and her coaxing him to kill her was to save Walker's life. Walker still does not know the truth and to this day believes she completely betrayed him (but still cares for and misses her deeply). Walker never speaks of this to anyone. Not even his closest friends are aware. (Easter-egg: In the "Sydney Badger and the Thunderegg" case, Walker avoided seeing the remains of his wife whom Crazy Coyote (McDougal's little brother) used to "guard" the egg under the idea it would be Walker who tried to retrieve it. Thankfully the task was given to Sydney who had no idea who she was face to face with, and thus not stunned by emotion. As a symbol that Walker wanted to move on, he gave Sydney his wife's old Stetson (cowboy hat) before embarking on the journey to recover the thunder egg. )


______________________________________________________________________________
I have more to do, but for now I will do them in twos. <: If anyone is curious, tag me again!




(

I would love to know more about this amazing individual )