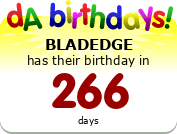 Current Residence: In a small suburb in Illinois
Favourite genre of music: I have a paticular pallete
Favourite photographer: ?????
Favourite style of art: Photoshop made
Operating System: Microsoft XD
MP3 player of choice: Zune
Shell of choice: none
Wallpaper of choice: Anything blank
Skin of choice: dose not compute
Favourite cartoon character: Raimundo of XS (dont know why)
Personal Quote: HUGGBEES!/BeansBurger is family fun warm and juicy between your buns (passing gas) BeansBurger!/IT'S NOT POP-TARTS!!!!
Chop, chop, chop the squid
Chop, chop, chop the squid
Chop, chop, chop the squid
Disappoint my father
done mihi dono tibi
and introducing Weena Mercator as The Hopping Woma
Farewell and adieu, all you cankled young ladies, farewell and adieu, though my song is quite lame, for we've received orders to sail to Pomona, and then nevermore will we eat cheese again!
#DraftMeBecause
I got tackled by a Drunk Naked Guy at Lake Ontario who also got drunk in a drugstore and passed out in Aisle 3 @ midnight
"By the way Kenny, did you see Saw?"
"Yeah, I saw Saw. Did I tell you how many times I saw Saw?"
"No, how many times did you see Saw?"
"I saw Saw 25 times."
"Did you see Saw 2?"
"Yeah, I saw Saw 2 too. You should see Saw and see Saw 2 too."
"Ah, I can't really see myself seeing that."
"I see."