Ok...Anyone getting a Kyoryuger vibe from this?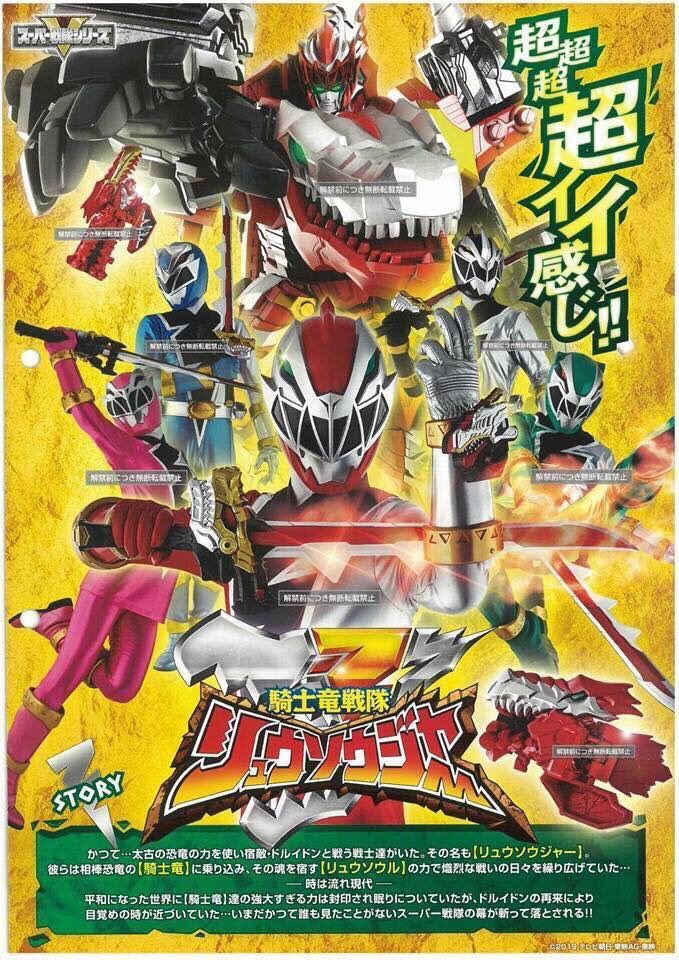 anyway, here's their info (Via Power Rangers NOW!
www.powerrangersnow.com/sentai…
):
The 2019 season of Super Sentai has been revealed – Kishiryu Sentai Ryuusouger!
The season will bring the franchise back to a dinosaur theme, with five core heroes:
•Red Ranger
•Blue Ranger
•Pink Ranger (Female)
•Green Ranger
•Black Ranger
This will mark Toei's first return to a dinosaur theme since Zyuden Sentai Kyoryuger, which became adapted as Power Rangers Dino Charge overseas by Saban Brands.
The team of Rangers will follow the same color scheme as Kyoryuger, and the second season not to feature a Yellow Ranger on its core team. Additional Ranger colors could include a Yellow Ranger, but have yet to be revealed.
Each Ranger suit features a silver arm, with a black and white colored torso.
The Zords/Mecha will be based on the following dinosaurs:
•Red Ranger – Tyrannosaurus Rex
•Blue Ranger – Triceratops (HEY! THAT'S GREAT!)
•Pink Ranger – Ankylosaurus
•Green Ranger – Sabertooth Tiger (Wait...what?)
•Black Ranger – Stegosaurus
Should Ryuusouger be adapted overseas into a season of Power Rangers, it would likely have to wait until 2021 – should Hasbro decide to adapt it at all.
Its likely competition will be Uchuu Sentai Kyuranger (space theme) and Kaitou Sentai Lupinranger vs. Keisatsu Sentai Patranger (cops/robbers theme).
Ryuusouger will premiere in Japan in February 2019.
and now, Images from catologs (And I sense a Lego element here. Oh, an The T-Rex is a 0.5 Mecha...I think):