Hi again

I had to make a spontaneous journal entry, even though it is not time for the next feature yet. A nice surprise happened today: I got my second DD!

This time it is my Native American drawing, you can see it here: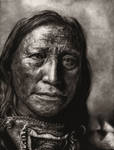 A big thank you for
SRudy
for featuring it, it was really a nice surprise! I'd also like to welcome all my new watchers, I have over 1000 now

I'm running with a big smile on my face around for the whole day now, I really appreciate all your nice comments and faves. In the next days I will answer all the comments, because they truly mean a lot to me, especially at the moment, as I don't feel that well today, thank you.

____________________________________________________________
Hi everyone!

Finally I have a sub again - I had to trick a bit, because it is not possible to buy a three month sub any more, and I couldn't afford a whole year sub -.-'
But know I am back again with my features

Artwise I am doing many sketches at the moment, I make anatomy sketches every day to improve my skills. Besides, I have bought me a beautiful, tall sketch book (size between DinA4-A3), which I currently fill in with... everything, sketches, ideas, whatsoever xD I am also planing a new "larger" work... you can be excited