I was tagged by
JM-Henry
(
I swear I don't know how you guys add links with the person's profile pic as a link! throw me a bone here guys!
) to give 8 facts about my OC Joshua from my... 'story' which apparently is very kept in the dark for a while now, due to various... changes and happenings you could say (BWAHAHA) Anyway, from here on out until its renaming, I will refer to this as "
The Story
".
[RULES]:
1), Post these Rules
2), Post 8 Facts about your OC/Character
3), Tag 8 other OCs/characters
4), Post their names as well as their owners
5), (( NO TAG BACKS XD ))

Okay! So let's get this started!

1. Joshua is of course, my "self-insert" character for The Story...
My first name is, of course Joshua, and as a younger kid I loved writing stories based on whatever the hell show I was addicted to at the time, be it YuGiOh, DBZ, Code Lyoko, Pokemon, Spider-Man and even my own original stories with no relation, and every time I did these little "fanfics" I wrote myself as the main character. I remember one classmate of mine in elementary laughed and asked me "
Why do you always become the main character and always get the girl
?" That was something that always stuck with me, and I guess the short of it is "
because I can
". But that didn't last long.
2. ...But I find myself moving away from him as me, and more of him as his own character.
Growing up and writing more stories that never got completed about my new love in media, I found myself writing The Story, which was for a long time called "The Raging Warriors" as my cheesy self loved. And for some reason I found that I didn't need to be THE MAIN GUY in everything that I wrote. However I still wanted to be a part of the story, and so my OC Josh was created once again for this universe. And of course, more time has passed since that inital creation, and I'm finding myself okay with "not being there". Josh can still represent me in many ways without having to be me. So that's the plan, and of course, he will have to be renamed. His appearance will stay mostly the same but I want to add quirks and traits that are unlike myself to further distance the author from the character.
3. He has ties to the dark.
Josh as a character has powers tied to the darkness and shadow, and this came from my fascination with using that as a power from watching too many anime and an interest in Riku from Kingdom Hearts. Anti-heroes and the like, being blessed with energies from the dark side or from things that no "good person" would use in a fight; and using them for the side of good. I liked the idea, so I gave this power to Joshua. However because of its origins, use, and the complexities of the power, things aren't as simple or as black and white as you may think. What this means for Joshua as a character... hmm... I wonder.
4. Dark clothing and open jackets are his thing.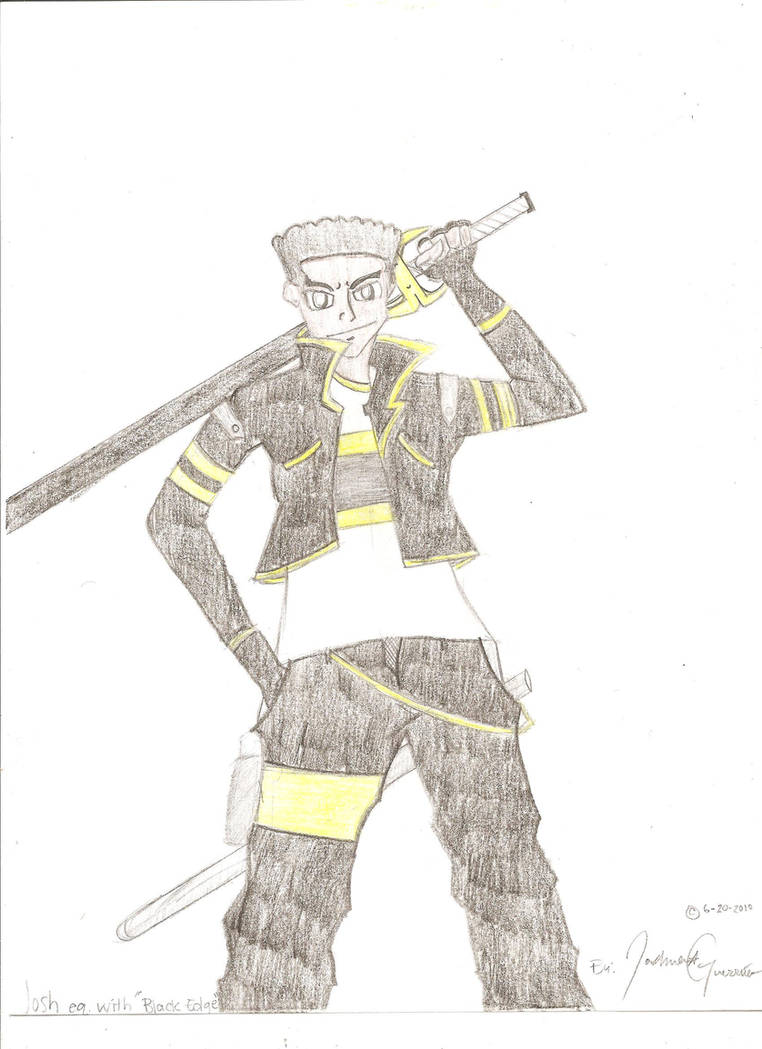 Man oh man, talk about broadcasting your powers with how you dress... this is an old drawing I did of him a while back in 2010 so I personally wouldn't say this is the best look at the Josh in my headcanon of The Story, but this will do.
(the funniest part about this image is the scabbard being shorter than the sword. Nice job, 16-year-old me.)
5. He's a smooth talker, and he's good with the ladies... or so he thinks.
Always the guy to make light of situation when things get too serious, Josh always seems to say the right thing, but this is all a coping mechanism for his own mental health. Talking others down is really talking himself down so that
he
doesn't freak out, and if it works for you, it works for him. When it comes to the ladies, Josh likes to think he can say the right things and be the guy to get the girl, but it's much easier said than done.
6. He is not as cool as he thinks he is,
I think one of the stupidest things about myself growing up was that I tried to look and be cool a lot. As a 21 year old I don't do that anymore because I know who I am, but once in a blue moon I find myself doing that and feeling pretty stupid about it. So why not give this flaw to Josh himself? The cool poses with the sword, the flashy open jacket, dark clothes with yellow tints to be snazzy? Yeah, this is all to boost his own self ego. He wants to be the coolest guy on Earth without really knowing it (
I would say Kaiser does this better than him, but that's just the card you're usually dealt as the main character
), and the people who really know him well love to point that out to him, usually as a joke.
7. But he's a better friend than he thinks he is.
I wanted to make Josh the kind of character that can effortlessly prove loyalty and reliability, simply because it's the kind of friend I want to be to others and the kind that I hopefully have around me. Josh may not see himself as the kind of person people can trust 100% with all their problems-- he's just there to enjoy the ride with them, but those close to him always feel he can be counted on.
8. He doesn't wield a sword anymore.
This hurt! I love swords and bladed weapons! But I wanted to take a different approach with Josh, along with the fact that I wanted him to use his powers in a way that did not need him to have to use a weapon most of the time. When things get physical, he moves and behaves differently, and I want to make sure I can evoke that in a way that supports that. And having a sword and dark powers is just too much, I think. Especially for someone who was originally a self-insert.
Well, I honestly did not expect to hit 8 there, but I did, and I'm happy with the facts I shared.
So, next to get tagged: (I only chose 4 because I honestly don't have many friends on here that I keep in contact with, and most of the peeps I watch are the big guys who crank out masterpieces, people who just wouldn't have time for silly stuff like this. Honestly, I'm not expecting even the peeps below to get to it, just tagging in the friendly spirit.
ShinguAmito
's Kent
Raichious-Muffin
's Keanu Ikazuchi
Riczilla
's Riczilla
Afu-Chan
's Cyan