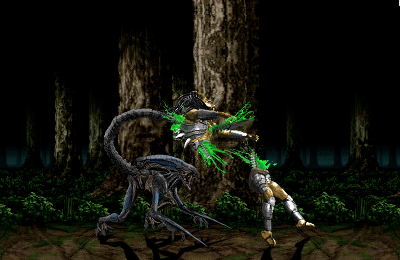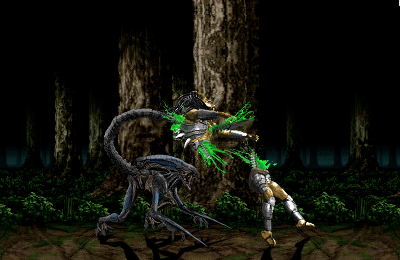 Watch
Finally finished this. The xenomorph was a from-scratch custom sprite and like most of mine, it turned out cartoony in comparison. If you couldn't tell, this is the Barakalien from MKX.

Perhaps I'll do another one (down the road) where Predator kills the alien.

Can you make a sprite sheet of all your MK characters in all their different poses? (These guys, too. White background please.)
Reply

I don't have time to make sprite sheets ESPECIALLY in the amount of detail I put into my sprite edits...
Reply

How about just Alien and Predator sometime in the future?
Reply

I'm 30 years old, 3 kids, wife, full time job, and getting my masters. That said, my life is pretty busy and I am lucky enough to just get a picture like the one above finished within a month's time. I'm only getting older, and less interested in video games as time passes. So for now, with the way things are going, there will be no sprite sheets, despite my best efforts to get one going previously (
blacksaibot.deviantart.com/art…
). So, I can say at least I tried.
Reply

Didn't need to be a bitch about it. Just said sometime in the future, didn't say you needed to do one now.
Reply

You call that being a bitch? I could have blasted your stupid ass like a whore getting raped with a cactus, but I WAS being nice about it. I was simply explaining my situation so you don't become one of those annoying pricks constantly bitching for sprite sheets because they're too stupid and incapable of producing their own art for their retarded MUGEN rip-off games. Now please, go fuck yourself.
Reply

What crawled up your ass? All I did was say to calm down about (Not that you weren't calm already) and maybe just do it sometime in the future. If you could just say if you could possibly say yes or no to doing one sometime, then this whole thing could be over like that! What kind of 30-year-old just starts raging his ass off at someone just asking a question? Did you just spend eight minutes in a match of Call of Duty?
Reply

Have respect for people ...
You apparently can not live in communities
So...
go back to the place where you should never have left
Reply
(1 Reply)

the kind of 30 year old who gets called a bitch for NO GOOD REASON. u had no right to get butt hurt over anything he said. he was being nice to u. if anything, YOU r the little immature butt soar FPS gamer here, not him. cloudguy, ur an ass hole, and u deserved every bit of BS's rage and more, in my opinion. and who cares if he's 30? when a little punk like u deserves a smack down, i'd be glad to see a 60 year old deliver it to u. now go somewhere were ur actually wanted
Reply
(1 Reply)

Reply

Reply

Reply

Nice!!! Would be nice to see their faces tho.
Reply