Chowking's 25th Anniversary
Going back...Photo spam starts now. XD
With
Joey Alarilla
, Social Media Editor of Yahoo! Southeast Asia.
This event was also a great opportunity to meet different people from
various industries. The big guys from Chowking!
And the winner of this competition was the lovely Geisha girl, Monique!
MorningMiracle
.
Monique
MorningMiracle
with her lovely mom~! She won an orange Polaroid digital camera that night!
Adorable Hye won an orange Swatch watch just by dancing the Orange chicken dance with Gian.
Gian and I testing out the new entree.
The event was held in a Chowking's biggest branch with 2 floors, at The Fort, Bonifacio Global City.
Confetti!! Thanks to my mom for this awesome photo!
While the program was going on, everyone was dancing to the tunes of Tik Tok by Ke$ha.
It was a great experience to be able to dance and bond with fellow cosplayers,
photographers and bloggers in the community.
Awesome photographers Gian and Richie!
Raymond of
CSCentrl.com
.
Homer
, Xandra and Aikia!
Kawaii Louella, the 4-yr-old cosplayer!
Me and Enma Ai cosplayer, Rafi!
The event was precise and everything ended quite on time
but I think a couple of cosplayers including myself weren't
ready to leave yet. We proceeded to the garden adjacent to
the building and conducted a mini impromptu shoot.
Here is Megatron cosplayed by Willie. And he just crossed the street!
We were afraid that if a car hit him, the car would shatter into pieces.
That's Megatron, dude!! Kidding! LOL
Mini impromptu shoot with
Cosplay Photographers Guild
!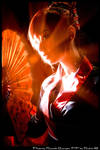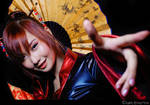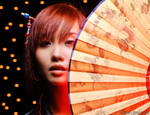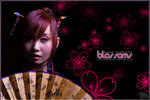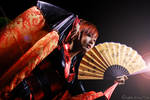 Tessa as Yui of K-On and Megatron taking an interest on learning how to play the guitar. XD
Dad (right) and a couple of guys observing our shoot...
Garry, Mom, Xandra and Obet!
The following photos are from
KiraHokuten
's
Album
:
Cykah as Lord Odin from Ragnarok Manga!
Ivan Valerio as Crab dude? o.o. He won a date with Jericho Rosales!
Caption pls? LOLCATS version. XD
Jericho!
Me and Mom!
Group photo!! Hye, Louella, Gian, Me, Homer, Dariru, Purawski, Ramyond!
Once again, thank you to the organizers for having us part of
this amazing event. And thank you to all the cosplayers, bloggers
and photographers who were able to make it there!
*suddenly wants to order Orange Chicken from
Chowking
*

OTACOOL 2 (cosplay book)
FOR SALE:Mini Camera Charms
NEW: PINK Camera Charms In-Stock!!

Click here for more info!