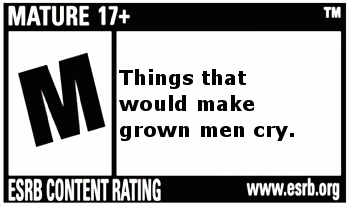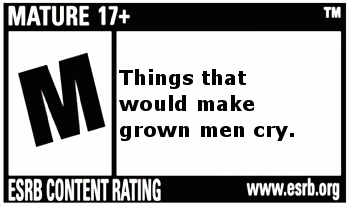 Watch
I thought up a few more things to put into the ESRB thing so I made it into a simple animation. Maybe I'll make a stamp later.

If you want to use this for something, ASK FIRST.
Enjoy!

The world itself should be rated at least M

As for video games, neither me nor my parents have ever payed attention to the rating. Apparently, it did no harm, today, I still don't particularly enjoy violent video games. It's the story and pretty views that matter.
The strangest thing about the ESBR is how gore, blood and murder equals M, while sex = instant AO. How is copulation and possibly procreation worse than killing people? The society is retarded. Or hypocritical. Or both.
Reply

I know this is old, but it's mainly because M is 17 and up. 18 and up is AO. It makes sense if you think about it. You can't order porn or of the like before you're 18. I mean you can if you have ways, but legally speaking. But, yeah, it's mainly because M rated games can be bought by 17 year olds and up.
Reply

Yes, it should.

Pity really.
Yeah, me neither, although I do often get the urge to kill something.

And the story is REALLY important to me too, as well as the voice acting. I've gotten burned on a few games like that, story too short or not written very well. "The Conduit 2," they messed up a lot on that game and was too short, just like the first game.
I don't know how the ESBR works in Poland but here in the states rated M games sometimes have sexual themes in them. And you're right, that isn't bad but what's in the game isn't that, it's just lewd raunchiness. What I don't get is how they can fit it into games like "Bioshock." How in the world can you fit something sexual(at least enough for it to count) into a video game that's like that? Or why!?
Reply

Reply

Well... I've yet to make it, sooo...

Reply

well i suppose doom with nudity mods would qualify for this stamp....
so basically a game with rivers of blood zombies demons pentagrams impaled corpses as decoration and an ending where you shoot satan with a bazooka with the option of going nude...(its actually been made.)
Reply

its for the shock value i think, (its all i usually hear about from an upcoming game) "did you see the new melee attacks in killzone?!" "hey did you see the new mortal kombat fatalities?" I myself dont think that lots of blood and gore make a good game(occasionally i turn the blood off on shooters)
except the old deaths on quake3 did make me laugh a bit
Reply

Yeah, quite a few games could have been a lot better than they are because of that. The melee attacks and whatever is just fluff; you can't build a game on fluff.
Reply

Reply

The E-rated games on the Wii console make more money than the M-rated games on the PS3 and Xbox 360.

Just wanted to clear that up for you and everybody else.
Reply

Oh, really? Huh. I imagine that has a bit to do with volume of games. That's not really the point of this though, it's that many rated M games and R movies have all their profanities and other crap just dumped in them with no real reason other than they're shooting for that "target audience." The half-wits.
Thank you for that bit of info.

Reply

Reply

Wouldn't AO be a more appropiate rating for all of those things?
Reply

Reply

Reply

Oh, yeah. Duh!

Yeah, you're right but the M-mature rating is more well known and the adults only rating is rarely seen. I don't know, and don't wanna know of any A-O rated titles. If M games get as bad as they do, the adult games must be unholy.
Reply

actually i think AO is the esrb version of "X" or at least NC17 I never see it on any games that are in stores anyway
Reply

That stuff isn't allowed in stores. Well,
certain
stores might have'em but no one with half a brain should set foot in a place like that.


Reply

Reply