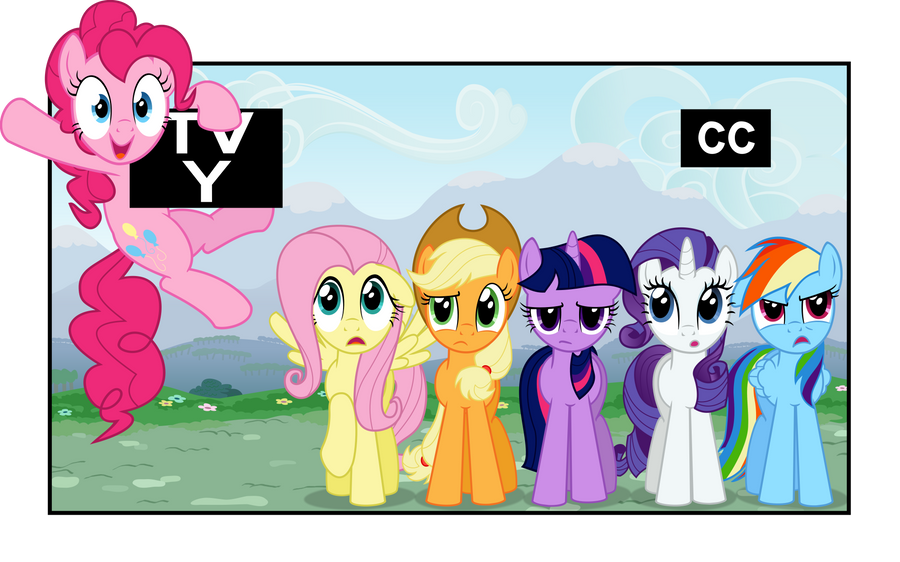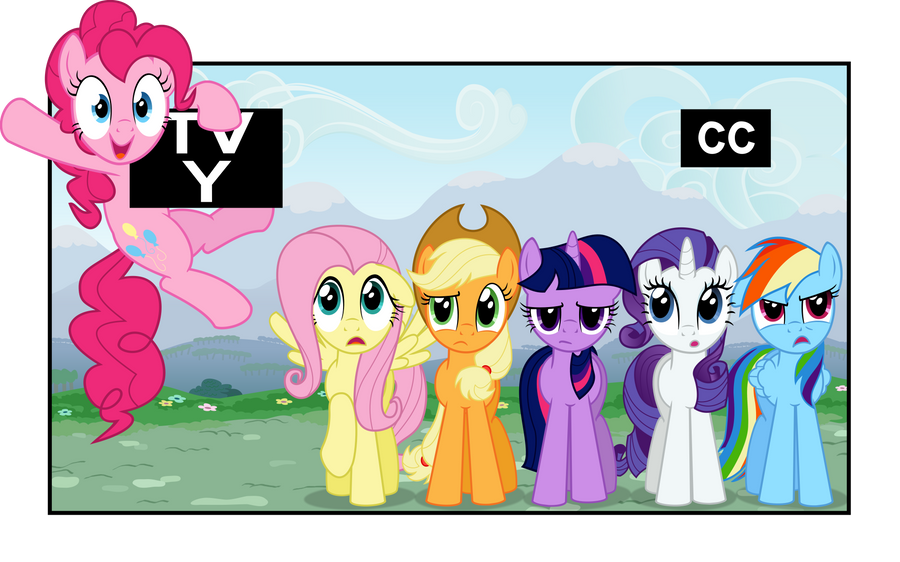 HI AGAIN!!! REMEMBER ME?!
So you know those annoying
TV
and
CC
things that pop up at the begining of virtually every TV show on air? Yeah, Pinkie Pie totally sees them...

CLEVER BRONY TIME!!

Question:
What are the characters thinking here?
What would you say to Pinkie Pie if you were in this situation?
Care to write it down?
Maybe a little friendly competition?
Ending in bloodshed?
Stay out of my shed?
What the heck is wrong with me?
Ok... I'll stop now...

EDIT:
WOW!!

3,000 faves in less than 24 hours?!

YOU GUYS ARE AMAZING!!!

Yeah, this took to long... But it's my first vector with all the characters! So LA!

Anyhoo, Kinda drew this to promo a new song BAASIK and I are collaborating on. So far, all we have is the teaser and that won't be ready until tomorrow... Still, I did just write a glitch/house song a week ago, so if y'all wanna listen to that insted, feel free!

[link]
Anyhoo, thanks for yer support an' all!
Hope everypony is doin' well!
As always,
I LOVE Y'ALL!!


©

&

Incredibly simple and creative composition, as well as being incredibly show accurate. It's original, keep up the creativity bro. your use of color is also very careful and professional.

I guess the only real flaw I might point out is that Pinkie's mane and tail aren't as active as the rest of her. They'd look a bit better in mid bounce or swung out with her legs to give the appearance that she's swinging, more than hanging, from the rating. Not to mention the angles get sharper the further down you go. Toward the bottom of the tail the lines no longer curve like they should.

Keep in mind I spent minutes searching for something that was more than just "uhhh it's pretty!" and they hurt the piece only very slightly if at all. I guarantee they escaped notice by most. I also guarantee that this image will stick in the minds of bronies everywhere, and probably end up as an example of what bronies can do, or at least of what Pinkie Pie does. Wonderful work indeed.
The Artist thought this was FAIR
262 out of 287 deviants thought this was fair.
You know ussualy I would say cool amazing and or great.....But this is ............how do I explain, super contagious awesome brain wrecking coolness!!!I mean come on she is hanging of something that wasn't drawn on the screen just oh look a picture gotta grab it.Face hoofs pinkie pie you smart funny pony.I really do think this vector took a long time any one or ( any pony ) who looks at this will probably favorite my only problem is Rainbow isn't looking at pinkie. is she looking away in disgust or envy? i really don't get it any pony care to answer my question please do well see ya'll later good bye my fellow bronies till we meet again.
The Artist thought this was FAIR
60 out of 70 deviants thought this was fair.