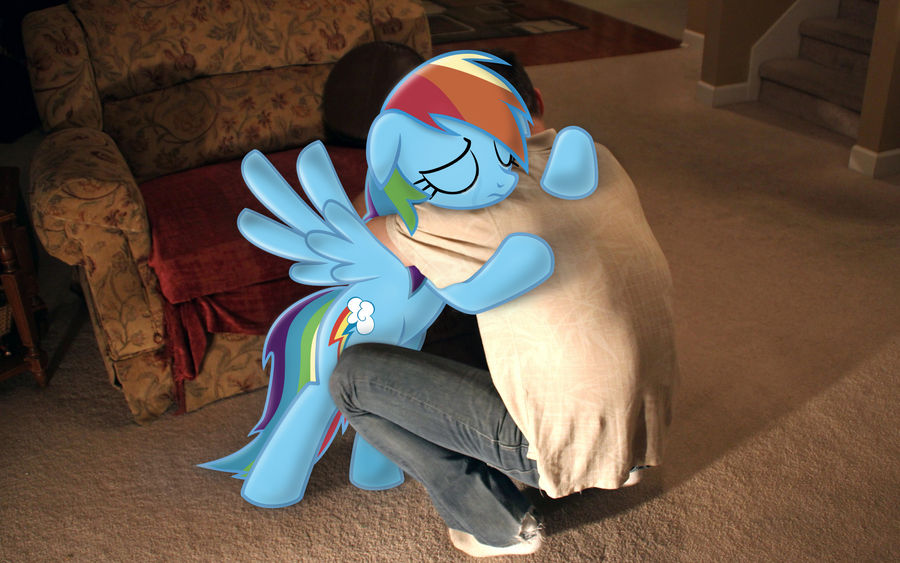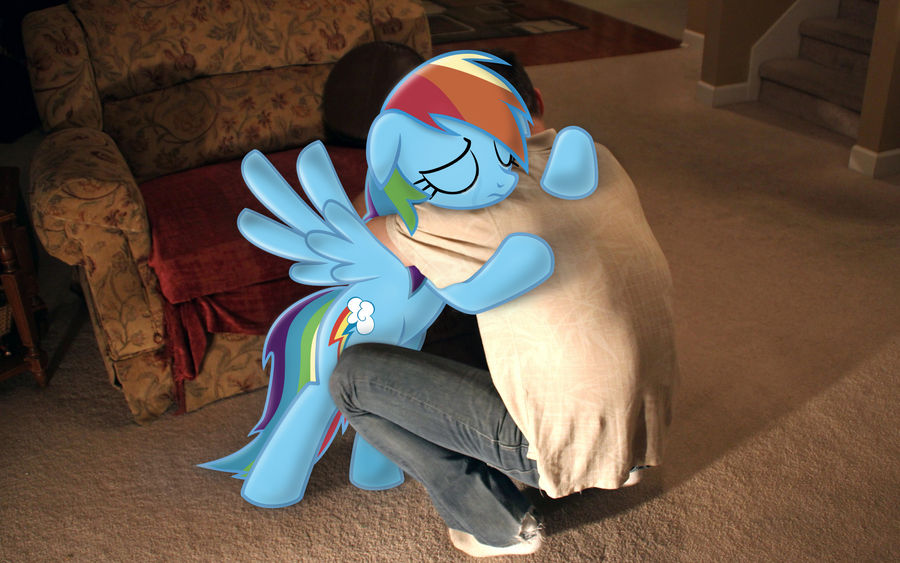 "I'll miss you, Daddy..."
Based on the Fan Fic
My Little Dashie
by

If you have not read this fan fic yet, you must... YOU MUST...
YOU MUST!!!
It is honestly one of the best short stories I have ever read, and I have read a few! For those of you who haven't read it though, here's the premise so that you may better understand this image:
Warning: SPOILER
Rainbow dash is found as a filly by a man who lives alone in the house his parents left him after they passed away. Over the course of several years, he raises her as a daughter, never knowing where she came from or how she got there. With the help of her adopted father, Rainbow Dash grows to become the mare we all know. They go through some hard times, they have some fights, yet through it all, their relationship grows ever stronger. On a summer day of the fifteenth year, Princess Celestia and the other five show up at his house to bring Rainbow Dash home with them, explaining that an accident had sent her to our world only a few equestrian days earlier. The final moments between Rainbow Dash and her adopted Dad are some of the saddest words I have ever read. Before twilight erases Dashie's memories of our world and takes her back to Equestria, Dash writes this letter:
Dad,

For fifteen years you took care of me. For fifteen years you loved me, played with me, and made sure I enjoyed my life in a world not meant to house me. I'm not a mare of many words, but even though I told you this in person, I felt you needed a written version of it so you will know it was all real.

I love you daddy. You helped shape me into the mare I am now. I'm not sure what is going to happen, if I will remember any of this or not, but I want you to know that you did a darn good job of raising me, even if I was a bit stubborn at times and short with you during others.

With Celestia's permission, I hope to allow you to keep our photos; our memories, with you so that you will never forget. Again, I love you, and thank you.

Your little daughter always,
Your little Dashie forever,
Rainbow Dash.
So everypony, if you haven't read it yet, please, for me,
READ IT
!! You may cry a little, but you won't regret it, I promise you.
THIS PIC IS DEDICATED TO

WHO GAVE ME A YEAR LONG PREMIUM MEMBERSHIP!! THANK YOU SO MUCH!!!


©

&

Well done. It's hard to put cartoons into real life without it looking cheesy (Looney Tunes: Back in Action, we're looking at you). However, you've done it quite well.

I was pretty much sick of hearing about My Little Dashie, but this brought back some of the emotions I felt when I first read it, a feat which is not common, since I'm an emotionally withdrawn person, usually. I'm willing to admit that I'm crying right now, even as I type this. Thank you for that (no sarcasm intended.)

Well done. I hope to see more such works from you in the future.
The Artist thought this was FAIR
160 out of 183 deviants thought this was fair.
The piece as a whole is absolutely heart wrenching. This is honestly one of the most beautiful pieces of art I have ever seen, and not just amongst the Friendship Is Magic category. The detail on Dash is incredible, right down to the tears on and just beneath her eyes. It must have been quite difficult to mesh the image of Dash with her "Daddie" as seen in the picture, but you've pulled it off masterfully. When I first saw this image, it had me in floods of tears, and I can feel them welling up once more as I type this. Well done.
The Artist thought this was FAIR
130 out of 149 deviants thought this was fair.