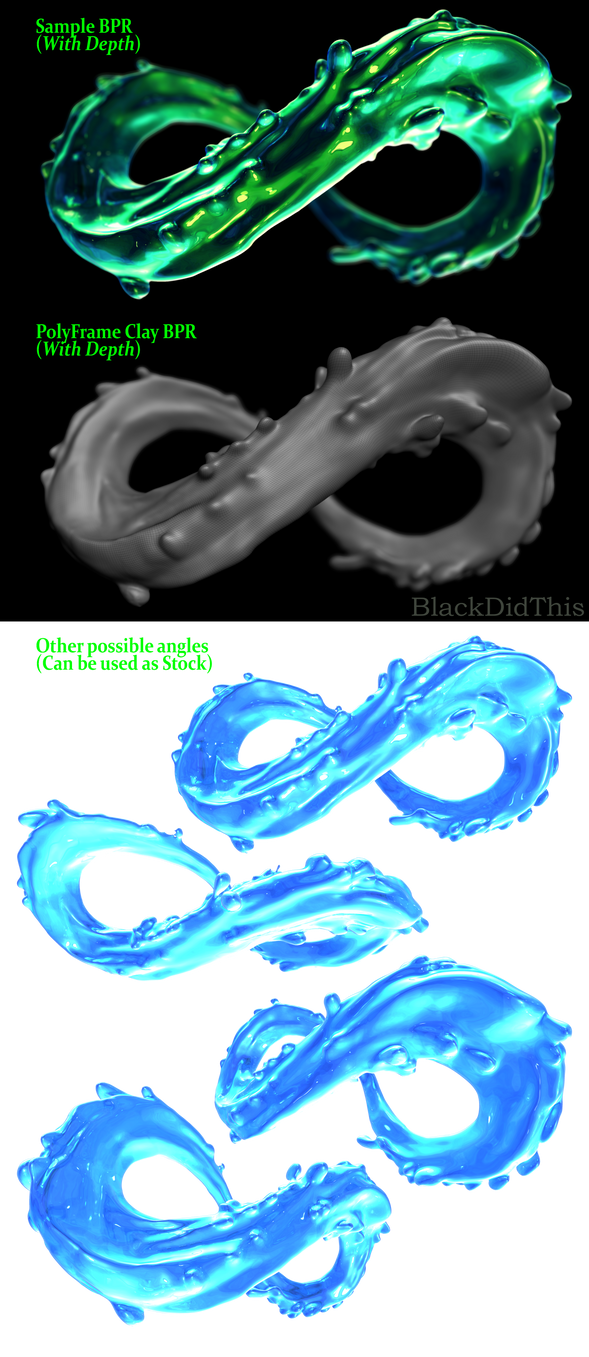 This was a 3D model I had sculpted out in ZBrush for a tattoo I had designed to a friend whom had a son they had had named after the sea.
So they had wanted a concept with infinity in in as well as the sea... So the idea had come up rather naturally.
The idea was later abandoned but so such I thin I might as well share it with those that would want to do anything with it.
You can download it from THIS LINK!
As stated: It IS a ZBrush model...
So you would need ZBrush installed to be able to use the ZTool.
But for those of you that DO NOT HAVE ZBRUSH:
I have also prepared *.obj files for you to download (
SubD2 = 4 times and SubD4 = 16 times as much geometry
)
For those of you that DO NOT HAVE A 3D application/software
(
Or don't know how to use it)
: I have included a few different views of it that I hope you can use for your designs some way.
(You would best opt to download the original image for it to have the transparencies available depending on your browser. I really do not know).
You can feel free to request any other angle of view for 2D usage. I will do my best to try match it. But it would be of much greater advantage to get yourselves involved with at least 3D model viewing...
I give you full rights to do WHAT EVER you want with these.
I so hope they prove of some use to you!

keyshot for the render of the top image or the green glass matcap?
nice Zremesh, very clean

Reply

Thank you... You are too kind.

I have never used Keyshot in my professional life save for a specific production studio I was called upon as an advisor. So such AS familiar as I am with the program: I lack sufficient experience to have it as my tool of choice.
In preViz as well as lookDev in order to save time I tend to rely heavily on Clarisse actually and that takes away much from my need for such second party software any ways.

But what you see here is actually the exact same MatCap you see in Blue actually.
I used rather old school post production methods via rendering out the shadow and depth passes separately.
As for the colours I also rendered out a separate Ambient occlusion pass that I burned/multiplied to the render pass with a second duplicate of the render pass on top of it putting it all together via soft light.
I changed the hue for both the bottom and top render passes.
Later in Photoshop I applied the depth data into a new Alpha channel and then used this as a source for depth mapping via the lens blur filter so as to get the Depth Of Field effect Keyshot tends to produce similarly.

Wow.. Reading what I wrote it just sounded so much more complicated than that it actually was :/
And it took much more time to write it than to do it in actually two/three simple steps.

As for the Blue matCap: I had had found it on the internet well over a decade ago and use it rather often for fast/dirty water-like renders.
I should actually redo a search for it to correctly credit the original creator.
Reply

Wow thanks for in depth process

Have never heard of Clarisse up till now, but VFX is way out side my very limited skill set

when it comes to 3D. Clairrsse looks like a up higher end After Effects program, but with

the real time elements and endless adjustments. Very cool

I'm still not great at render passes in Photoshop, and all the new stuff coming out is hard to keep up up

Thanks again!

Reply

That is really impressive !
Thank you for sharing this with us.

Reply

Thank you: You are too kind.
I owe a lot of any success I have to the internet... So such sharing with you is a mere triffle to what was shared 2with me.
I so hope it can prove useful for you!

Reply

You're always welcome !
I'm not really sure if I can use it for any of my work right now, but maybe later on.
Anyways thanks for this !

Reply