I hope you like it. Thanks for your comments and critiques !
Don't forget the
scrapbook
.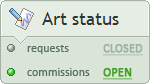 Terms of serviceCommissions List



[Warning]: You are not authorized to use any of my work for editing, tracing or any form of copy. You can only use my linearts as they are and colour them as you please if you credit me for the original work in the description of your deviation or, better, on your creation itself. Same goes if you want to share my work on another website.
If you have questions about this or want a special authorization, send me a note.
Any creation posted online that does not meet those standards is a violation of copyrights laws and potentially hurting my career as an artist.