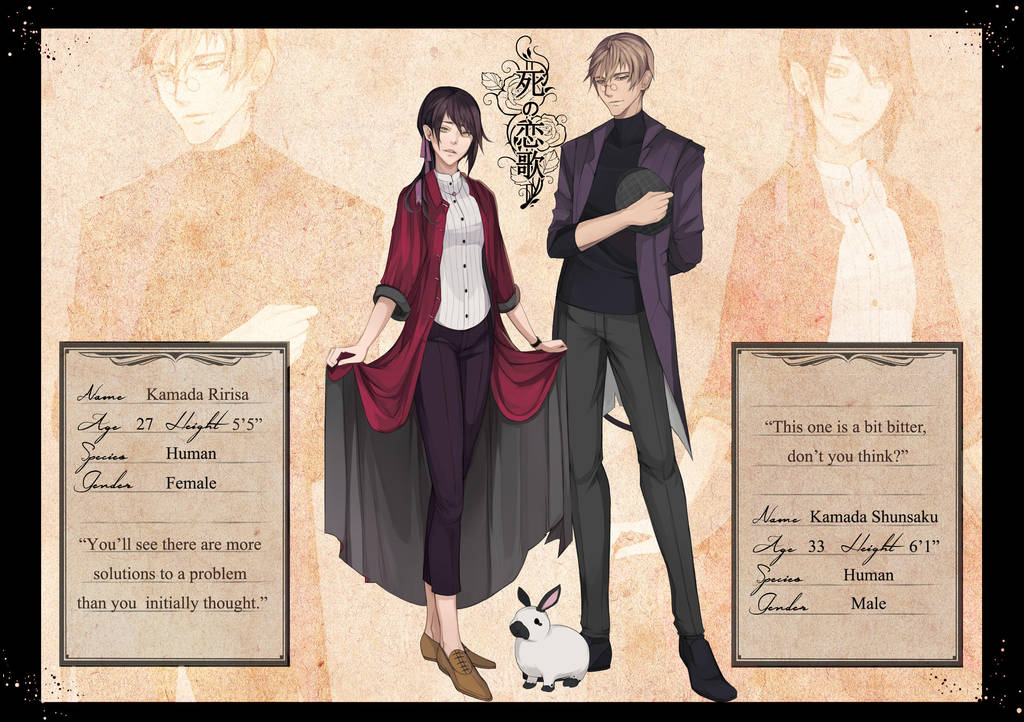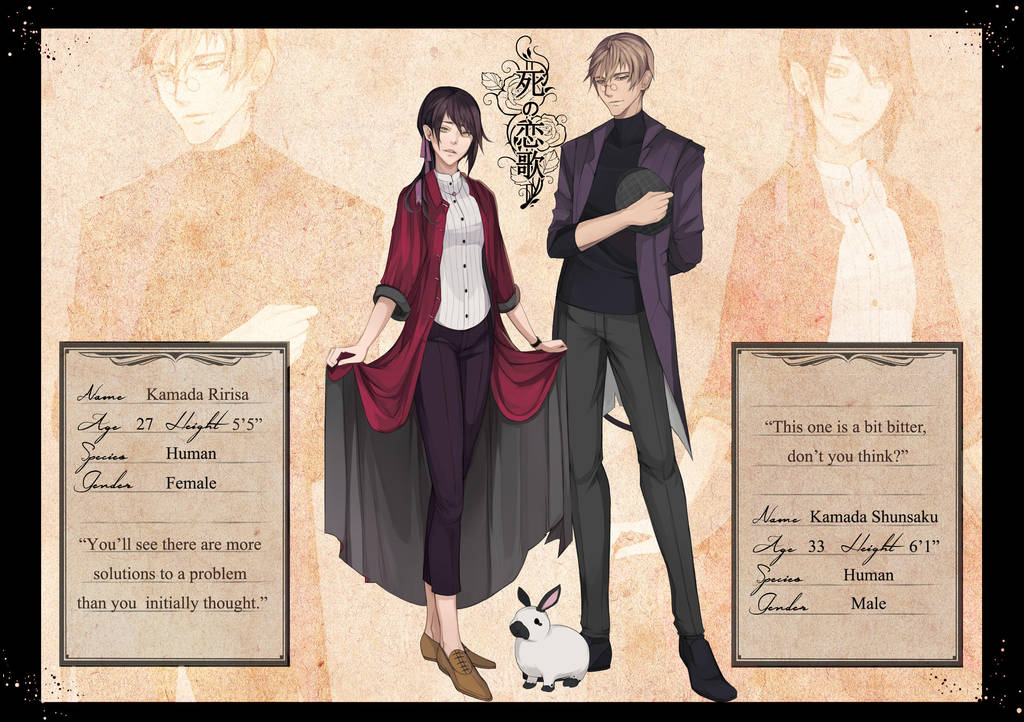 Watch

App is subject to intense change with development.
---
✦GENERAL INFORMATION✦
Name:
Kamada, Ririsa (Risa)
|Age:
Twenty-Seven
|Height:
5'5"
|Species:
Human
|Gender:
Female
|Profession:
Rice Wine Maker (owner/manager)
|Place of Residence:
Farming & Residential District
Personality
INQUISITIVE | ENDEARING | IMPATIENT | HARDWORKING | TRADITIONAL
Risa is driven by her curiousity for knowledge. Because of this she is very well known in the district for going up to anyone and asking them about one thing to the next if it piqued her interest. However, this comes off at times to be very nosy; commonly annoying people on a daily basis. From small inventive ideas to ambitious ones, or even the near impossible, Risa applies her knowledge to seek personal growth. She is generally open to ideas, but prefers to avoid ones which don't give certain gratification. On the flip side of her curiosity and hunger for knowledge, though, her personal morals are sometimes stuck with what she was brought up with: women doing the housework, the need to always seek approval from her husband, having to come as passive and so on.
Likes and Dislikes
+Black liquorice
+Traditional calligraphy painting
+Sudoku & crossword puzzles
+Meeting new people
+Agriculture
-Cold temperatures
-The smell of smoke
-Feeling stagnant or lost
-When people waste food
-The contamination
✦✧✦✧✦✧✦✧✦✧
NAME:
Kamada, Shunsaku (Saku)
|Age: Thirty-Three
|Height: 6'1"
|Species: Human
|Gender: Male
|Profession: Rice Wine Maker (QA tester)
|Place of residence: Farming & Residential District
Personality
STUDIOUS | NURTURING | DISCIPLINED | OBSESSIVE | FORTUITOUS
A man with fine tastes, it took a lot of studying to figure out the quintessential details that goes into making something exquisite. He'll spend countless hours digging for pieces of a puzzle, even if impossible, just to have something he deems worthy; perfected. Yet, he somehow remains humble about his passion. While he may not know when to ease this compulsive nature on his own, when with others he's very much in sync with how they feel, and would treat them like a true gentlemen to the best of his abilities. He believes by doing so he'll live a fulfilling life.
Likes and Dislikes
+Warmed up wine
+Hosting get-togethers
+Small details in peoples' work
+Sound of rain & thunder
+People watching
-His bad back
-Feeling useless
-Disrespectful people
-Neglectful animal owners
-Dishonesty
✦HISTORY✦
At The beginning

Born and raised on the island, in a quaint family of four, Ririsa was fortunate enough to be surrounded in its agricultural splendor. It was because of this that early on in her highschool days she discovered the want to contribute to the bright, rural community, to promote local goods and traditions. If it could be done, what she wanted to avoid most was a plaintive life much like how her mother and sister lived, housewives, which left her mule-driven father to provide all their funds. In fact she dreaded it, but was never encouraged to do something as ambitious as what she dreamt of. Sleeves rolled up, Risa did her own research and narrowed down what remained in interest; scattered in her room all the brochures of the island's trending tourist points to select not only what could thrive, but also what she was passionate about. Eventually it came down to their island's wine business. Rice wine to be exact. With such an abundance of land and rice being the island's second best produce, it had all the potential just waiting to be expanded.
Meeting The Second Beginning

Her new found path put into action, Risa began apprenticeship at wine making family almost immediately. They were a little deeper into the farm areas, but the extra commute never bothered her since they practically became her second family, staying with them for the rest of her highschool years as she trained during after-school hours. It was during this time where she met Shunsaku.
At this point the island's local wine business was steadily growing. Tours featured visiting the few wine making families and within that was a local born wine critic who had patiently waited for such a chance. By now he'd sampled all the island's wines, but to meet the makers in person was something he'd been less than fortunate to happen till then. It was when meeting Ririsa during one of these tours did he grow intrigued, impressed by her young entrepreneur skills and fine tastes in wine. It wasn't much longer did their relationship grow and connect their lives down the road. He supported her throughout her training until finally there wasn't anything left to learn.
Ririsa had taken the risk of not attending college to pursue this direction, and it wasn't until age 24 did she start her own business. With the help of Shunsaku micromanaging on the side of his critic career, their business boomed. They became first if not second most known as the island's rice wine provider, their brand exporting to most major cities in Japan as they could afford it. Soon they had enough to expand, hire workers for the field, and produce their own brand.
Set back
Before this Ririsa and Shunsaku were doing well as a combined force. It wasn't until the outbreak did things start chipping away little by little. Due to the 'soil contamination' business has slowed, especially exports, hindering the business to a near standstill. They're currently living on previous fortunes as well as Shunsaku's reputable critic career, though that's also lingering with the lack of local wine production. They anxiously await for researches to find a solution and hopes their business will eventually bounce back. Ririsa is keeping record of their rice fields' health and growth, paying more and more visits to the paddies as they can't afford nearly as many workers as before. In quick hopes to salvage what they have until things get better, majority of wines made before the contamination has been stored away to age and eventually sold as vintage.
✦TRIVIA
✦
✧
Dated for 4 years and married for 2, Shunsaku and Ririsa like to keep their displays of affection to alone time.
✧
Their shop/living space is separate from where their rice fields are located with a 20 minute commute by bike; under 10 mins by car.
✧
Miho, their pet rabbit, was found and adopted with an injured back leg among their rice fields. One of the workers had brought her to Ririsa since they had little to no room for a rabbit. Though now a pet for three years and fully healed, Miho still has funny wobble when she moves.
---
Kamada Shunsaku & Kamada Ririsa belong to:
BlackBunii

Wow these two look so sophisticated!

lol Haruhi will definitely purchase a bottle of their local sake XD
Reply

Thank you!
Just don't get Haruhi too drunk~
Reply

Reply

The layout and quality is elaborate
Reply

Your layout and texture are so beautiful!

When presenting new characters, clean close ups
of their heads would be be a nice addition, I believe.
Reply

Reply