Updates
School is back in session, I'm hoping I will be able to get more work up throughout this semester. I'm working on a landscape painting, I can't wait to see what comes of it. I also have another wallpaper in progress. More will come.
I have started a donation pool to help extend my Premium subscription for a year. And to start things off if you donate 10 or more points I will feature you in my journal for two weeks. Any and all donations will help a lot and are appreciated.

Featured Thumbs
Here is a friend of mine from school brandonluis Check him out and watch him for new stuff. And check out his flickr page. www.flickr.com/photos/38880652…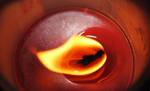 Other Features
These artists deserve your time.