Aright we are finally back here again
this is the most selected of the voting and this is the up-to date on how i draw fire, stone and water at this currant time
this are the older tutorials from 2012 and 2013
i have out-gown some of the ways i use to do things but some of the advise still apples in my book depending on where you are in your current art lvl.
the more important thing i learn throughout the time of drawing is i start now to focus more of the shape and value more
witch i wish i knew back then. but its never to late to learn and this 27 old me sure has improved from my older self.
i don't know what art program you use but i learn my way in Photoshop so if you can apply this skills elsewhere then this is more useful then within the limit that i use.
but know what you are drawing don't be afraid to use references, photos or resources others have provided.
you learn allot by yourself but you learn more by sharing with others.
so grab some art friends challenge yourself and have fun, art lives in your creativity, so feed it!
grab yourself some free brushes, some of them where use in this tutorial
i use to have old saying like: Shit happens, Getting creative etc
i still have them in the back of my head but now i like to go by a new saying,
to boost myself and my fellow art friends: 'You will always be better then yesterday and you can always improve for tomorrow'
-meaning even if you can see the different in improvement yet dose not mean you are visually training yourself to see the flaws and learn to see them and master them and there for improve yourself for the future to come -
i love you all and if like i mention in the tutorial if any questions feel free to ask me here
this is also something i mention
other people tutorials that has help me to based form my old tutorial. but its more to learn!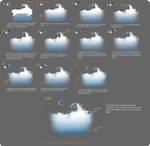 now have fun guys
and happy drawing
Image details
Image size
1643x7397px 48.85 MB