1K Favourites
78 Comments
9K Views
first commission out from the new price list that got to long lmao
(sorry it gonna have to get may smaller before i take on more thank you)
this is headshot type #5 on this list
the owner of this lovely commission is

thank you so much again!
you gave me a challenge and I love it!!
this character belongs to the commissioner

but the character designer of this character is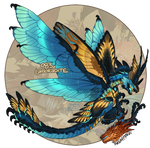 this is not the first time i've been commission character design by this artist
and i'm sorry for not directed the honour to this Artist before but man you got really awesome designs!
you should check both of them out!
have and awesome day my fellow artists
and i'm working my ass off to finish the commissions on the list.
the tempo i have at the moment will land possibly the list to-open up in about a month
cant really guaranty it but i hope so.
hug's to all and happy painting !!
Image details
Image size
1278x1203px 6.2 MB