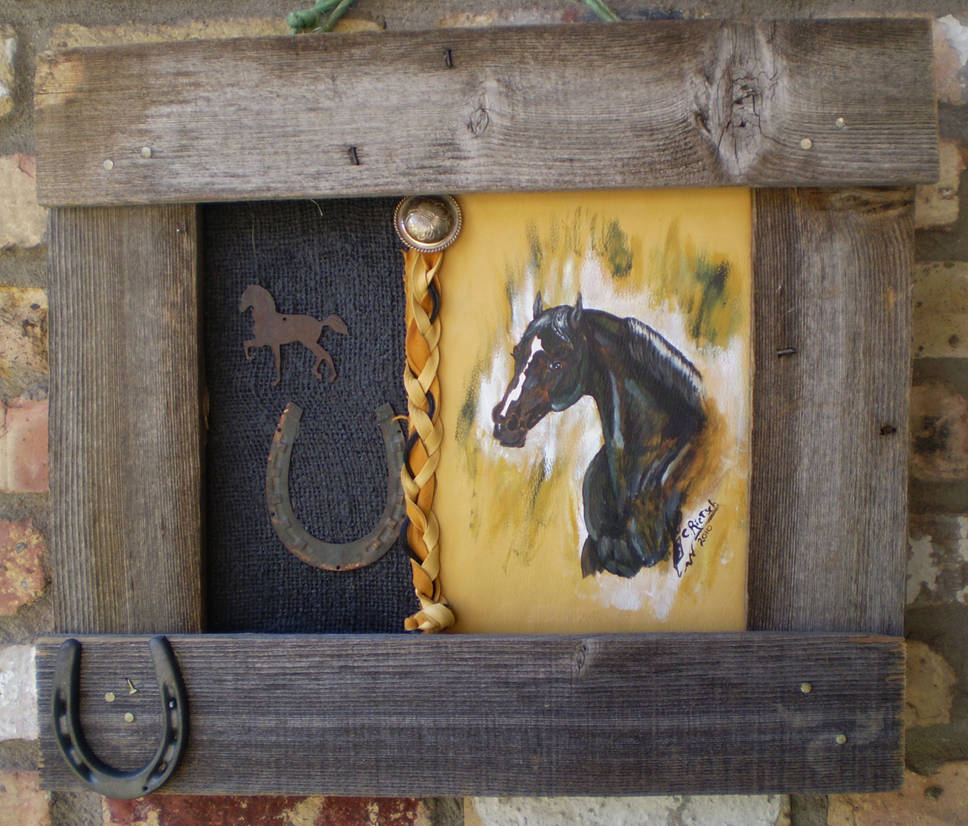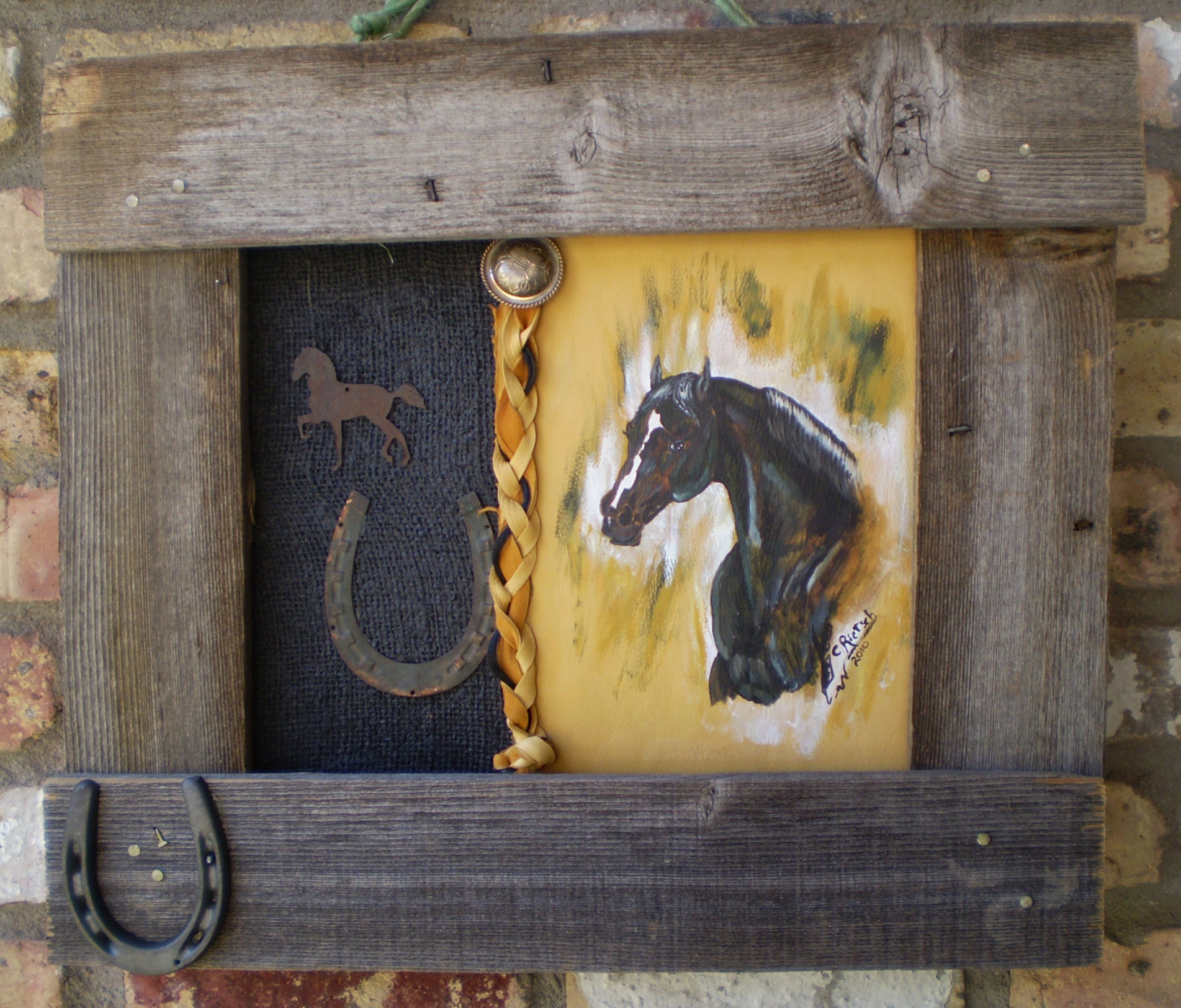 This is the finished painting of my mom's quater horse Sabre. I finished it with a hand nailed frame from old cedar boards, smaller housing nails, a horse shoe, and bailing twine. The painting itself is acrylic on buckskin layered over acrylic on burlap. There are metal accents. The painting is 11 inches by 17 inches without the frame. The metal accents are from an old wind chime that my step-grandparents gave to me as a kid. My mom hated it, threw it away (the centerpiece metal horse head was really ugly), and I still dug the whole thing out of the trash and kept it. I was 12. I'm 42 now--so those are some old metal accents!!! The horse shoe was from somewhere....and I would have nailed it to the cedar boards but they were so hard the horse shoe nails only went in so far without bending. I didn't have pinchers to cut the nail heads off to glue them in place--so I couldn't do that like I wanted. I had hope to have it be perfectly shod to the rough frame.
Still the look came out perfect. Bent nails, hammer marks, and old wood with knots, staples, etc. Everything added to how I wanted this picture to look. I didn't know if my mom would like it. She's very fussy since being an artist herself and a horse trainer for people like Roy Rogers and Jack Brainard of King Ranch. She herself paints a lot like Oren Mixer (who I studied back until I was 18). She turned down being a member of the Cowboy Artists Association of America back in the 1960's when she came to the US from Germany. Her schools had been art schools over there. I spent years being told I had no talent, so yes I was anxious. I think now her comments were to drive me further--and they have.
My mom loved the picture.

I got sincere compliments including "original" from her. (Had she said Unique I would have to crawl under a rock and let the worms eat me).
Sabre was an American Quarter Horse. I delievered him as a foal and he lived to be 25 years old. My mom had him put to rest in 2009. Arthritis had hit him so bad that he couldn't even chew anymore. It had settled into his jaw. Up until the very last month Sabre always looked like he was ready to go back into the show ring, and many days he acted like it.
His father was Robin Fax out of Triple Fax and Lani Robin (who hearkened back to Poco Bueno and King). His mother was a short little stock quarter horse mare named Kilkenny Penny who was also a granddaughter of Poco Bueno. Despite the double stock lines, there was enough of Triple Fax in this horse to make him taller and a little more refined. He didn't have a choppy gait like stock Quarter Horses did back then. What he did have was a ton of personality and looks. Blue black with a blaze, 2 socks in the back, and a lot of movement. He would run in the pasture with his tail flipped over his back like a skunk. He stole people's hats, shoved me in horse tanks, and pulled over antics which endured him names like "Wiener" "Sh*t Head" "You rotten so and so...." etc. We all loved him a lot.
I don't mind this picture spreading around, but please...no commercial use (unless there is a signed contract with me) and no editing of the image. Credit me back and let me see links if you use it on your site. This is a sentimental image for me. Thank you!!!

really amazing, i really really love it

Reply

I seen a lot of art type design here in the desert. Its really interested to see stuff like this. It shows more of like the Old West Culture. Really awesome piece.
Reply

OMG THANK YOU!!!
My mom turned down the Cowboy Artists Association when she came into this country in the late 50's. I have a different style than she does although as a teen I studied Oren Mixer and Remington. Still it was nerve wrecking to do a piece for my mom. She is extremely picky.
She received this picture this last weekend and told me to my face that it was original and I out-did her. That she couldn't do this. I thought I was going to faint hearing that from her.
Your comment gives me the same feeling.

Reply