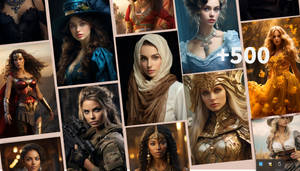 AI Female Photos Collection
This collection are over 1000 illustration to help you get inspired in filed of game/animation/illustration project. This artwork image was created using artificial intelligence and the Stable Diffusion production tool. I am delighted to share this beautiful female with you that I was able to create through this process. AI Art Cosplay and Beauties All images are made of AI . We will update regularly,welcome to subscribers!
---
Description
Watch out!! my fellow men, the big sis is watching, she knows all our movements, and reports back to our babymothers, wifes, girlfriends, and ex's

This also a thank you to all watchers of my work thanks.....
Image size
886x1251px 524.99 KB