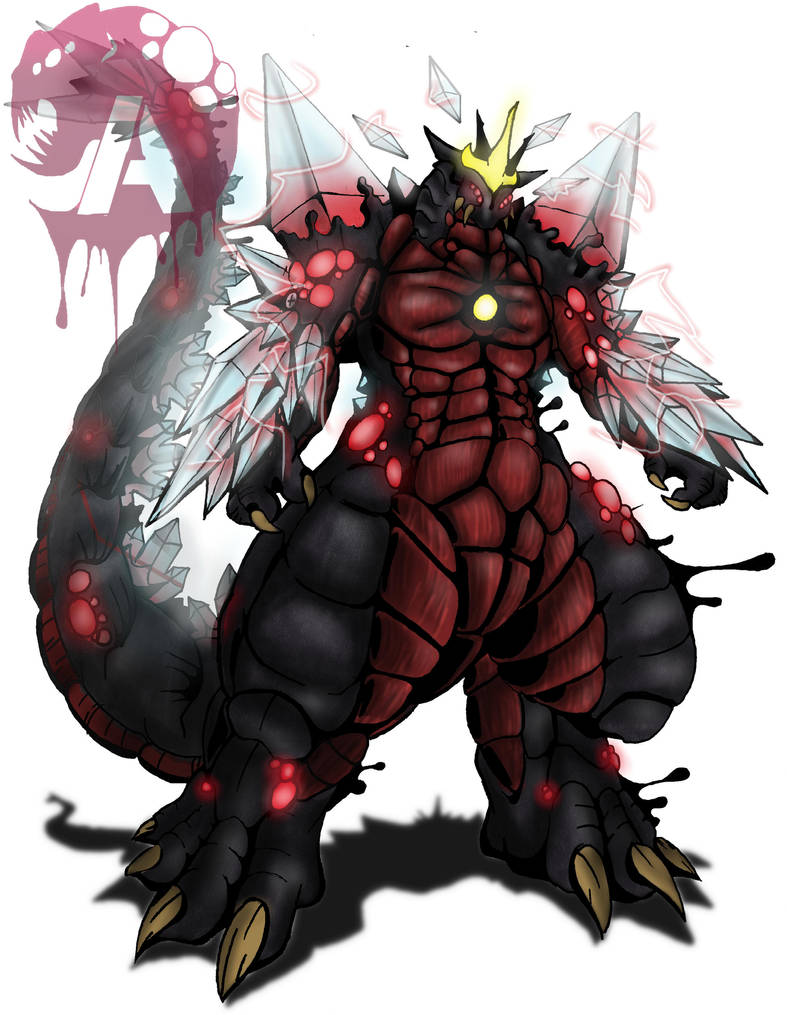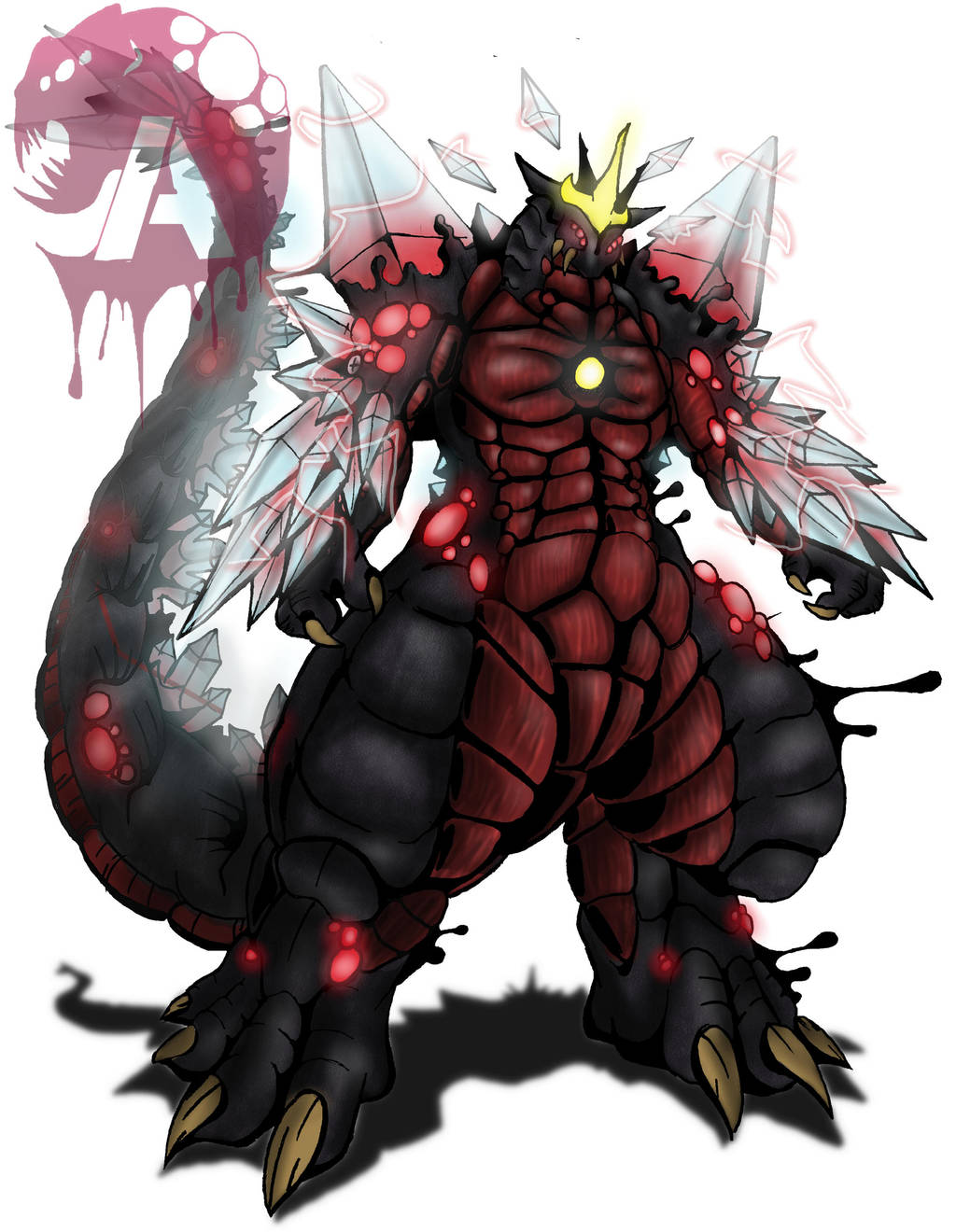 Watch
What used to be Godzilla roared, and blasted Armageddon off his feet with a dark beam. He turned towards Leviathan and readied another shot, only to be knocked to the earth by Kraken. Kraken bellowed in rage and pounded Spacegodilla with a flurry, but he was un-phased by the assault. SpaceGodzilla fired another blast at point blank range, slamming Kraken skyward. His charred body fell behind Leviathan and Kronos. They looked at it in shock, and then Leviathan roared in rage. They charged towards Godzilla, but he held out his hand and they flew into the air. He held them aloft with his mind for a moment, and then waved his arms and bashed the two kaiju together. He let them drop to the ground, and turned towards Armageddon's prone frame. Mimicking Apocalypse's horrible laughter Spacegodzilla floated towards the Earth Titan.
Kraken shifted under the rubble he was buried in and keened in pain. He looked over at his two unconscious "Fathers" and felt his rage returning. He shoved the rubble off of him and painfully rose to his feet. His ribs were shattered, and his face torn apart from the blast, but he was still breathing. He dusted himself off and waited a moment for his body to put his broken bones together. His ribs knit themselves back together, but something was wrong. His body was taking longer than usual to repair his injuries, but wounds had slowed him down before. He ran towards Spacegodzilla, and tackled him again just as he was about to vaporize Armageddon. He wrapped his arms around his torso and pulled tight, breaking his ribs and spine. Spacegodzilla dropped to the ground in a crumpled heap. His bones were shattered, but slowly he began to rise up. He held his body up with his telekinetic might, and then reached out towards Kraken.
Kraken shot up into the air, and felt something tugging on his arms. Spacegodzilla narrowed his eyes and with a flick of his wrist tore Krakens top left arm off. Kraken's eyes widened with shock and he bellowed in agony. Black blood spurted from the wound as his damaged healing system failed to stem the bleeding. Spacegodzilla studied him like a child pulling the wings off of a fly and with a casual flick tore off his top right arm from his torso. Kraken moaned as he began to black out, and slowly his eyes closed. SpaceGodzilla looked at him curiously, and shook him up and down in an attempt to wake him up. He narrowed his eyes in annoyance and fired another beam directly at Krakens head. The flesh on his face peeled off, and his jaw disintegrated. With one last rattle, what was left of Kraken's head flopped down to his chest.
Kronos' eyes shot open. His creation, his…son, was gone. His sorrow shocked him, but he realized he cared more for the mad monster than he thought. With a roar of fury he raised his arms and fired off an immense beam of crimson lighting. The bolt struck Spacegodzilla in the back, and he let Kraken's body fall to the ground. He writhed and convulsed, and finally he crumpled to the ground. His body smoked, and began dissolving like melted rubber. He looked at Kronos with hatred, and winked out of existence like his master.
Exhausted from his effort Kronos staggered over to Kraken. He held his limp body in his arms, opened a panel on his gauntlet, and teleported them home.
------------------------------------------------------------------------------------------------------------------------
NAME: SpaceGodzilla
HEIGHT: 90 Meters
WEIGHT: Unknown
FACTION: Aliens
POWERS: Space Godzilla is extraordinarily powerful. Possessing strong telekinesis, it can lift almost anything with ease and toss even the biggest of kaiju about like a rag doll. From the glowing crown atop his head, SpaceGodzilla can fire a beam of dark energy like that used by Apocalypse. using its telekinesis, SpaceGodzilla can lift itself into the air, essentially flying, at will.
*note* after reports of Apocalypse's turning Godzilla, and the glowing crown of crystals, some members of the GDF and media have taken to refering to SpaceGodzilla as "conquest", giving reference to the first horseman of the apocalypse
------------------------------------------------------------------------------------------------------------------------
let me just start off by saying an emphatic apology. I mean, technically I am on time with this, as it is not yet midnight on December first at time of posting. My internet has been down all day, and though the picture and story were finished, I was unable to post it until just now. anyway, we start off Kaiju Wars with SpaceGodzilla, Apocalypse's first Conquest. Continuing my recent pattern, what with Ghi-Darah and Godzilla, I decided to throw Toho (tm) canon out the window. This is the start of a great thing, ladies and germs. I hope your seatbelts are firmly buckled!
Up next: Gigantis, the fire monster.
blabyloo229.deviantart.com/art…