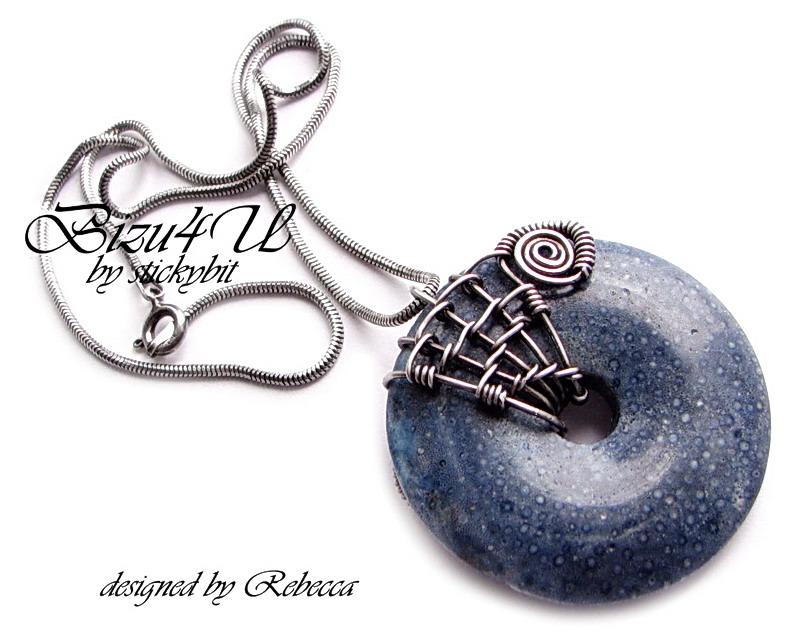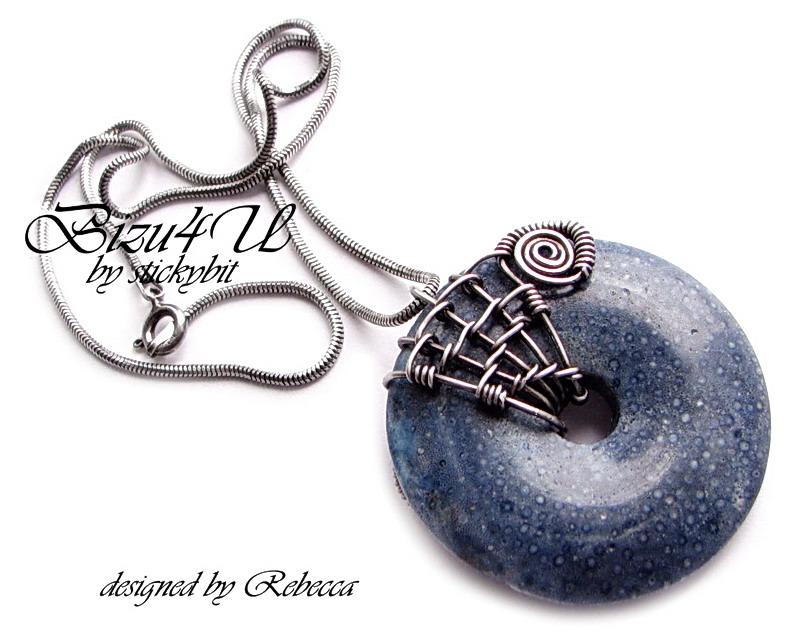 Watch
Wisior / pendant 'DIALEKTYKA'- MISTYKA
Ozdobny, oryginalny wisior- wykonany pracochłonną techniką 'wire wrapping'- w skład którego weszły najszlachetniejsze materiały: piękny kamień - ogromny donut cudownego korala błękitnego (o średnicy ok.3,9cm)- oraz cała masa oksydowanego srebra próby 930 i 925. Oksyda nadała całości antyczny charakter- uwypuklający piękno kamienia i precyzję ażurowych splotów.
Całość efektowna i bardzo wytworna- projekt, który zajął Artystce wiele czasu- niezwykle pracochłonny i szlachetny.
WISIOR JEST DWUSTRONNY- z każdej strony wzór zdobienia jest odrobinę inny w myśl dialektyki mistycznej- jednak z zachowaniem formy i równowagi (na zdjęciach widać każdą ze stron) . Możesz więc- zależnie od nastroju- nosić go odwracając dowolnie. Wymiary całego wisiora- ok.4cm/3,9cm. Wisi na oksydowanym łańcuszku (żmijce- bardzo ruchliwej i giętkiej o okrągłym przekroju) o długości ok.40cm. Waga całości- 19g. Wszystkie elementy w oprawie ręcznie młotkowane, oksydowane i polerowane. Na zapięciu łańcuszka bita próba. Rzecz jest niezwykłej urody i klasy.
--------------------------------------------------------------------------
Pendant with the chain- beautiful- hand-crafted by Rebecca- in fine silver 930/925, with beautiful donut of blue coral (diameter ca.3,9cm). Size of the whole pendant- ca.4cm/3,9cm. The whole piece was hammered, hand-wrapped, and oxidized. Total length of the chain- ca.40cm. Total weight- 19g.
--------------------------------------------------------------------------
Więcej tutaj:
WISIOR 'DIALEKTYKA'- z kolekcji Rebeki MISTYKA