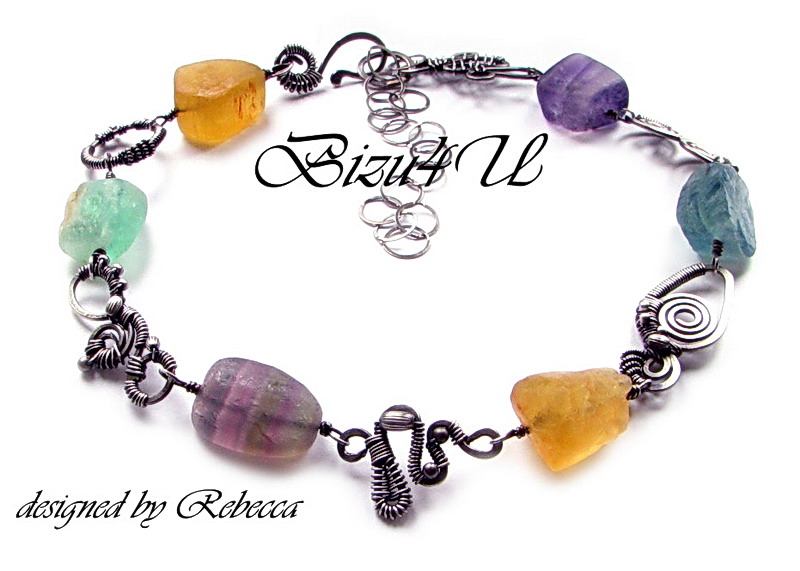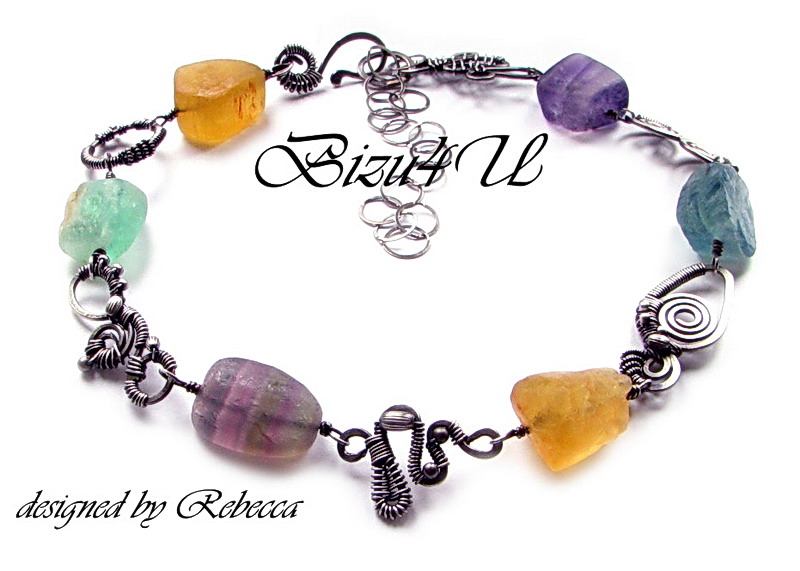 Watch
Naszyjnik / necklace 'DROGA ŻYCIA'- MISTYKA
piękny, ultrawytworny naszyjnik wykonany niezwykłą- pracochłonną techniką wire wrapping- w skład którego weszły same najszlachetniejsze materiały: przepiękne fluoryty tęczowe w naturalnej postaci- oraz cała masa oksydowanego srebra próby 999, 930 i 925. Oksyda nadała naszyjnikowi pełen wyrazu i głębi charakter.
Fluoryty- naturalne bryłki o wymiarach średnich ok.2,5cm/2cm. Kamienie są opracowane w ten sposób, że ich noszenie jest komfortowe- jednak bez utraty wizualnego wrażenia surowości. Pomiędzy nimi, swobodne formy wire-wrappingowe. Obwód naszyjnika jest dowolnie regulowany- zapięcie można zapiąć na każdym kółeczku łańcuszka przedłużającego obwód i w każdym innym miejscu. Z założenia naszyjnik powinien spoczywać tuż u nasady szyi- wtedy wygląda szczególnie efektownie- ale można go nosić także jako nieco luźniejsze korale. Największy możliwy obwód naszyjnika- ok.58cm. Rzecz jest surowa- niebywale piękna. Waga całości- 100g. Każdy element był ręcznie wypleciony, młotkowany, satynowany, polerowany i oksydowany.
---------------------------------------------------------------
Necklace- hand-crafted by Rebecca- in fine silver 999/930/925, with rainbow fluorites (size ca.2,5cm/2cm). Whole piece was hammered, satinated, and hand-wrapped. Oxidized. Total length of the necklace: ca.58cm. Functional S-shaped clasp allows any length adjustment. Total weight- 100g.
---------------------------------------------------------------
Więcej tutaj:
NASZYJNIK 'DROGA ŻYCIA'- z kolekcji Rebeki MISTYKA