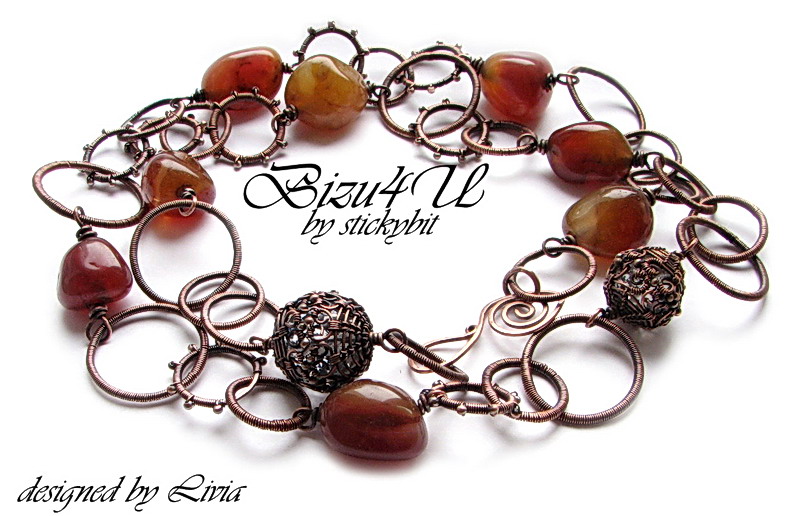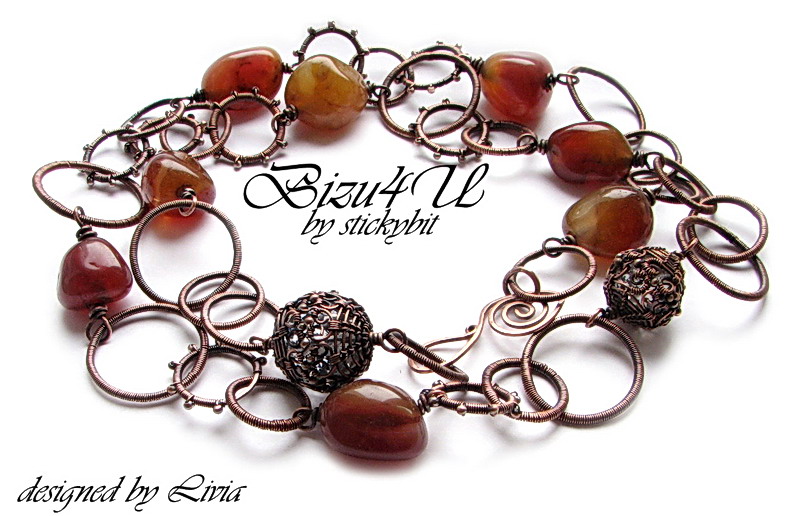 Watch
Korale / necklace 'ALCHEMY'- PHILOSOPHY
Świetne, ekscentryczne korale z cudownych, dużych agatów karneolowych o nieregularnych kształtach (tylko lekko gładzonych, naturalnych), dużych kryształów (wewnątrz koronkowych, ręcznie wyplatanych korali), oraz starzonej specjalną techniką miedzi- zaprojektowane i wykonane przez naszą Projektantkę.
Całość niezwykła- wykonana pracochłonną techniką 'wire wrapping'- misterna, wyjątkowa pod każdym względem. Każdy element opracowany drobiazgowo przy pomocy cieniutkiego jak włosek druciku, z którego Artystka wyczarowała niezwykłe koronki (zwracam specjalną uwagę na imponujące, wyplecione ręcznie korale). Oksyda nadała naszyjnikowi charakter antycznej biżuterii. Elementy są wykonane pięknie i bardzo komfortowo- każdy jest wspaniale i precyzyjnie wykończony- co gwarantuje biżuterii trwałość. Wykonanie tych korali zajęło Artystce wiele dni.
Całkowity obwód korali to ok.102cm- można go jednak swobodnie zmieniać- bo pozwala na to odpowiednie zapięcie umożliwiające każdą regulację długości. Możesz więc korale nosić blisko szyi owinięte dwukrotnie- lub jako długie, swobodnie wiszące korale. Każdy detal tego cudownego naszyjnika został wykonany ręcznie- wypieszczony, wypleciony, oksyda zaś nadała naszyjnikowi charakteru i ekscentrycznej siły.
Średnica wyplecionych ręcznie korali- z kryształami zamkniętymi w środku- ok.2,5cm oraz ok.2cm. Średnica ogniw łańcucha- każde oplecione ręcznie- ok.2cm. ok.3cm, oraz ok.2,5cm. Waga całego naszyjnika- ok.189g.
-----------------------------------------------------------------------
Necklace- eccentric, long and great- hand-crafted by Livia- in copper, with natural agates and pebbles (inside hand-crafted beads).
The whole piece was hammered and hand-wrapped- oxidized. Diameter of hand-crafted beads-ca.2,5cm and ca.2cm. Diameters of rings- ca.3cm, ca.2,5cm, and ca.2cm. Total length of the necklace: ca.102cm. Functional S-shaped clasp allows any length adjustment. Total weight- ca.189g.
-----------------------------------------------------------------------
Więcej tutaj:
KORALE 'ALCHEMY'- z kolekcji Livii PHILOSOPHY