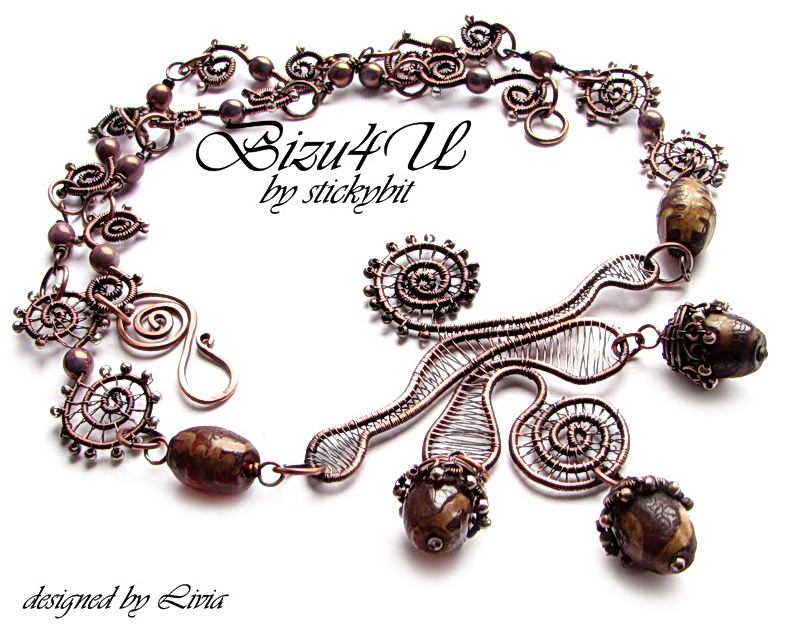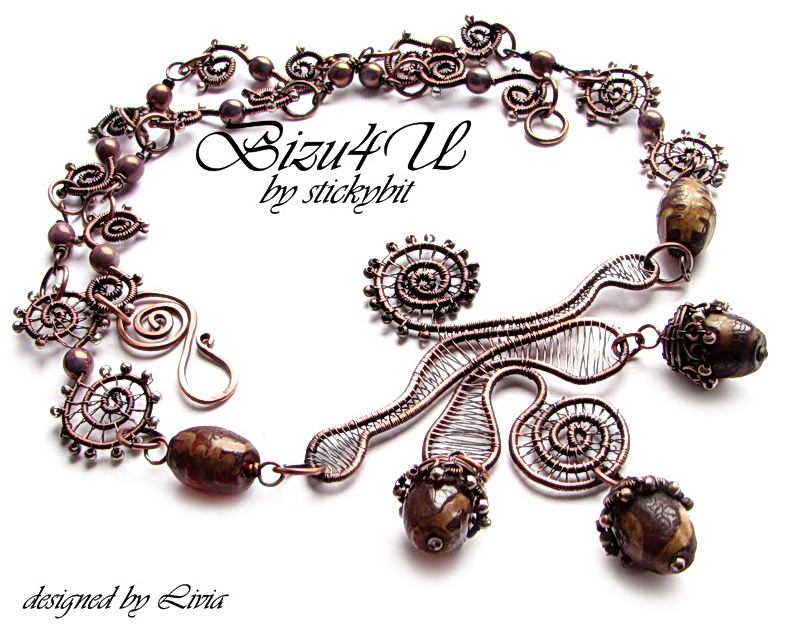 Watch
KOLIA 'DROGA WOJOWNIKA'- PHILOSOPHY
Świetna, ekscentryczna kolia z wypalanych, zdobionych antycznymi wzorami kabalistycznymi agatów karneolowych o wymiarach ok.2cm/1,3cm, oraz starzonej specjalną techniką miedzi- zaprojektowana i wykonana przez naszą Projektantkę.
Całość niezwykła- wykonana pracochłonną techniką 'wire wrapping'- misterna, wyjątkowa pod każdym względem. Każdy element opracowany drobiazgowo przy pomocy cieniutkiego jak włosek druciku, z którego Artystka wyczarowała niezwykłe koronki. Oksyda nadała kolii charakter antycznej biżuterii. Elementy są wykonane pięknie i bardzo komfortowo- każdy jest wspaniale i precyzyjnie wykończony- co gwarantuje biżuterii trwałość. Wykonanie kolii zajęło Artystce wiele dni.
Wielkość centralnego elementu z wiszącymi agatami włącznie- ok.9cm/7,5cm, wielkość bocznych elementów ze spiralami (większych)- ok.4cm/1,5cm. Przepiękne, ozdobne zapięcie. Całkowity obwód kolii to ok.62cm- można go jednak swobodnie zmieniać- bo na całym przebiegu kolii znajdują się kółeczka do regulacji jej długości. Możesz więc kolię nosić blisko szyi- na gołej skórze- lub na swetrze- jako długi naszyjnik z wisiorem. Każdy detal tego cudownego naszyjnika został wykonany ręcznie- wypieszczony, wypleciony, oksyda zaś nadała naszyjnikowi charakteru i ekscentrycznej siły. Waga naszyjnika- 57g.
-----------------------------------------------------------------------
Necklace like ancient lace- hand-crafted by Livia- in copper, with agates (size ca.2cm/1,3cm). Agates were subject to a thermal treatment and decorated with cabalistic designs.
The whole piece was hammered and hand-wrapped- oxidized. Size of the central element: ca.9cm/7,5cm. Size of elements with great curls on either side - 4cm/1,5cm. Total length of the necklace: ca.62cm. Functional S-shaped clasp allows any length adjustment. Total weight- ca.57g.
-----------------------------------------------------------------------
Więcej tutaj:
KOLIA 'DROGA WOJOWNIKA'- z kolekcji Livii PHILOSOPHY