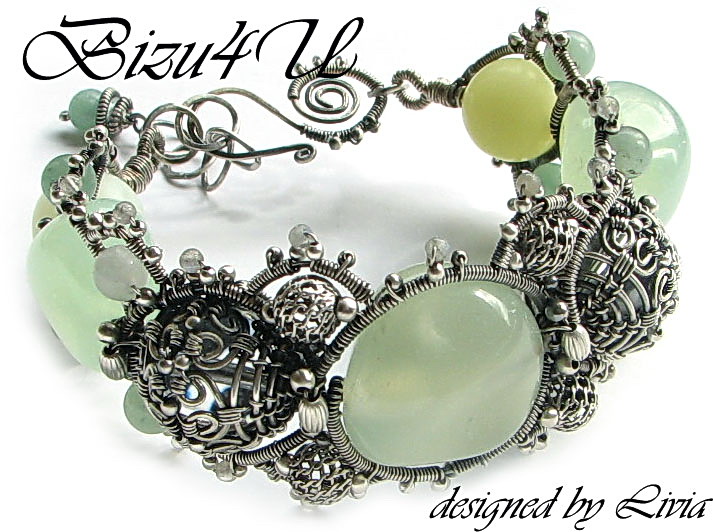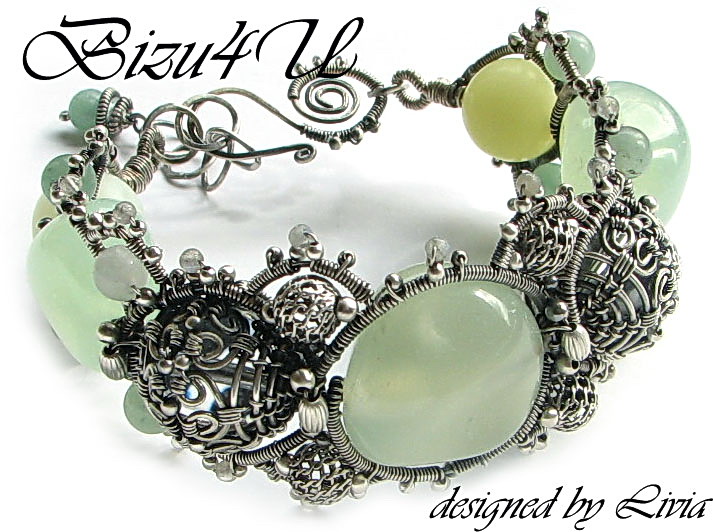 Watch
BRANSOLETA 'ODPOCZYNEK'- PHILOSOPHY
Piękna bransoleta z cudownych, winogronowych agatów, awenturynów, jadeitów i labradorytów, oraz kryształów górskich (wewnątrz ręcznie robionych korali). Całość precyzyjnie oprawiona srebrem próby 930 i 925.
Całość niezwykła- pracochłonna, misterna, wyjątkowa pod każdym względem- wykonanie tej bransolety zajęło Artystce wiele dni.
Wielkość centralnego agatu- ok.2,3cm/2,1cm. Wielkość mniejszych- ok.2cm/1,8cm. Średnica kul jadeitu- 1,5cm. Średnica kryształów górskich które są w całości oplecione misterną, ręcznie robioną koroneczką (tuż przy centralnym agacie)- ok.1,8cm. Średnica awenturynowych kuleczek- ok.0,6cm, zaś labradorytowych- 0,2cm. Waga bransolety- 72g.
Bransoleta pasuje na każdy obwód nadgarstka o obwodzie od 15cm do 23cm. Posiada zapięcie z łańcuszkiem- dającym możliwość regulacji obwodu. Zapięcie wykonane ręcznie- ręcznie młotkowane- a każdy element jest spojony na trwałe- tak, by zapewnić bransolecie długi żywot i dać możliwość przekazania jej nastę pnym pokoleniom

. Bransoletka jest absolutnie komfortowa w noszeniu- jest znakomicie wykończona przez Projektantkę, a w środku jest gładziutka.
--------------------------------------------------------------------------
Bracelet -hand-crafted by Livia- in fine silver 930/925, with grape agates (size 2,3cm/2,1cm and 2cm/1,8cm), jade (diameter 1,5cm), pebbles (inside hand-craftet lace beads- diameter 1,8cm), aventurines (diameter 0,6cm), and labradorites (diameter 0,2cm). Oxidized. The whole piece, together with the S-shaped clasp, was hammered and hand-wrapped. This bangle fits 15-23cm wrists. Functional S-shaped clasp allows adjustment of length. Bangle's width: ca.2,5cm. Total weight- 72g.
--------------------------------------------------------------------------
Więcej tutaj:
BRANSOLETA 'ODPOCZYNEK'- z kolekcji Livii PHILOSOPHY