Hello Journal,
At one point this past weekend I found myself saying "I've never kept a diary". That was true in that I've never kept a self-reflective journal for any length of time. I happen to come from the school of documentation == evidence, and there was a time in my life when I was pretty concerned with evidence, especially in its physical, hand drawn/written for that I was not able to hide behind a password. However my mind immediately wandered to all of the writing I've done over the years and how that has been in some way filled the role of diary or journal. It is that fact, among a couple of others that I keep publicly vague, that leads me to write this journal entry that I have been meaning to for some time.
As you all know I dabble in using a pencil for illustrative purposes from time to time. Awhile back I bought a relatively inexpensive, small Wacom tablet and am endeavoring to incorporate the new tool into my wheelhouse. It felt so awkward the first couple of times trying draw even anything rudimentary that I put it down and hadn't touched it until a couple of weeks ago.
The most recent addition to my gallery is the beginning of a sequence that I first started sketching 3 years ago, that I have recently been motivated to start working on again. So, I decided that I could benefit from trying to trace the more basic lines in this first image using the tablet. After some initial bumps that had to do with me thinking I needed to be using the pencil tool and getting used to how the cursor responded to me moving it.
I'm curious how many others out there found it suuuper unnatural at first to use a tablet. I'm not sure if it was the not looking at my hand but at the screen part, or if I was thrown off by the screen being larger than the tablet and thus a subtle movement of my hand seeming to account for more distance than I had expected.
The major thing I've noticed is that my lines are shaky. It feels a bit like this is partially a side effect of my lack of confidence while holding the pen, but also due to an absence of friction on the paper giving me feedback through the tip of the pencil.

I am curious if anyone has any tips or advice on how to go about sketching on a tablet. Any starting off pointers? One thing that I have noticed in my pencil drawing is that I tend to draw a little smaller than think I should, and this makes it tough when I try to navigate certain things I fumble my way through like hand details. Folks that use a tablet, when you are sketching, when are you zooming in? Do you like do a rough sketch at 33% and then zoom in to 100-200% when you start adding details like facial features and the like? What tool do you use when you are just sketching? Any guidance is appreciated.
On a side note, writing has been tough lately. I've become very busy, though I still do manage to carve out some free time for writing/drawing fetish art. But I think an increased amount of stress in my daily life has put me in a place where focusing on fleshing out a story is more difficult. Writing has always been a slow process for me, but it has become slower. Drawing has become a little easier to jump back into when I randomly find myself with short bursts of lessened responsibility. Writing will continue, so no worries if you have a WIP with me, just be patient. Also I changed the main character's name in the Groceries saga to Hannah. Don't ask why.
TLDR: Here are some versions of my latest drawing, at least one of these is a product of me using a tablet. I would really like to start sketching on this thing and have the option to not be filling notebooks full of horny drawings for other humans in my vicinity to stumble on and flip through. Leave beginner tablet-user encouragement

And for the sake of content, here is the original scan of the pencil drawing: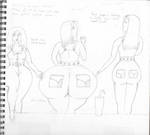 and the traced/redrawn version: