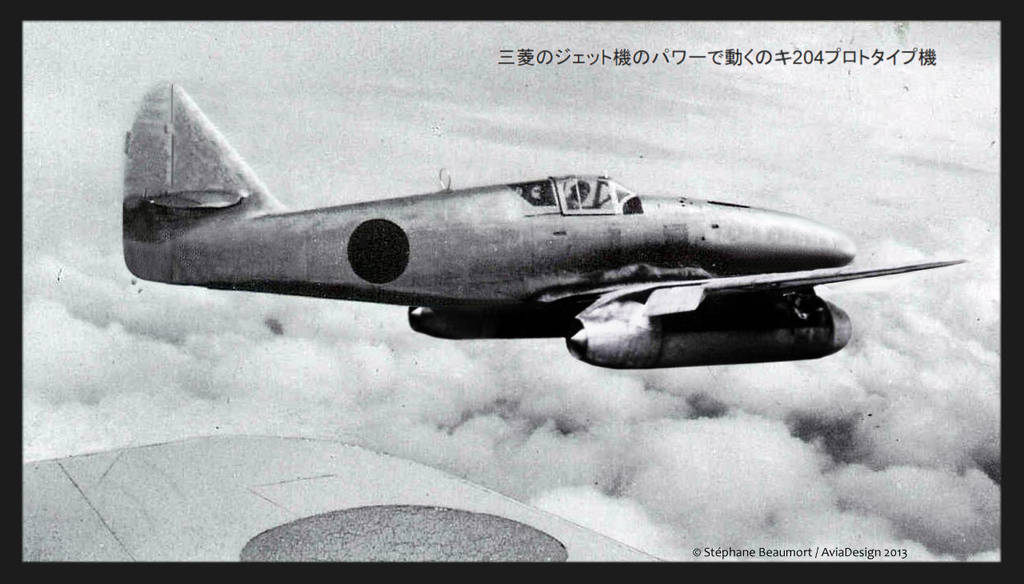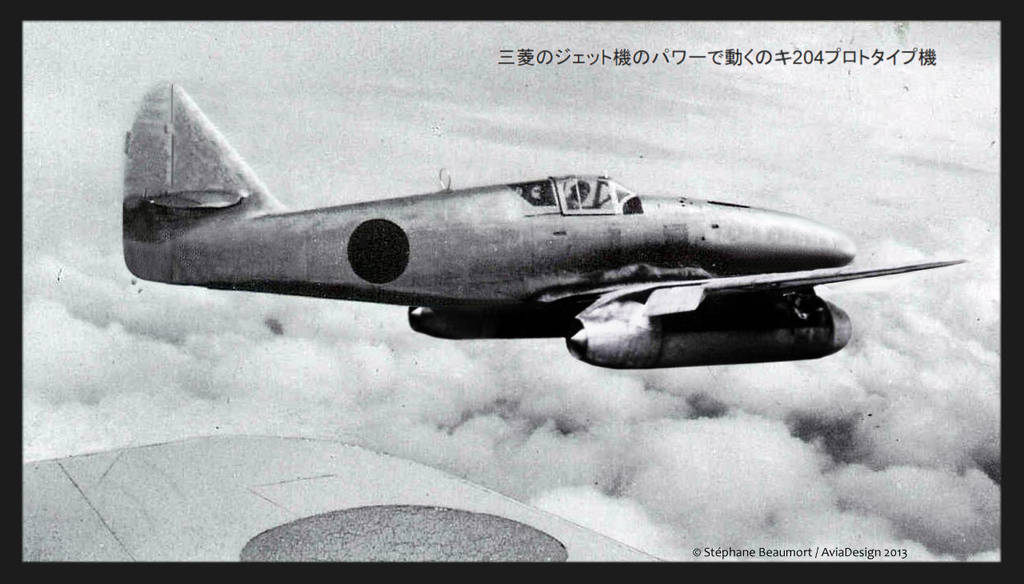 Watch
The famous Ki-61 "Hien" fighter (Allied codename: "Tony") was the perfect candidate for experimenting with jet propulsion. With the help of Messerschmitt engineers Kawasaki modified one Ki-61 into the sole Ki-204 "Hien-kai" to offer a Japanese equivalent of the Me 262 "Schwalbe" (interestingly both "Hien" and "Schwalbe" translate as "swallow"). The wings and tail were enlarged and modified, and Me 262 engines shipped and reassembled in Japan were fitted. The war ended before this remarkable aircraft could prove its value. It could not even be retrieved by the Allies as the facility that housed it was bombed.
"Don't believe everything you read or see!!"
© Stéphane Beaumort / AviaDesign 2013. This image depicts an imaginary model.
For more information on my works are created, join my Facebook group:
www.facebook.com/groups/181568…

Didn't the Japanese also have the Nakajima J9N Kikka?
Reply

Reply

Looks very credible indeed!
The oddest thing is, that Japan actually nearly got its hands on an actual Messerschmitt Me 262. A complete aircraft was part of the cargo of the U-234, a type XB U-Boot that left Kristiansand, Norway for Japan on April 16th 1945, but never reached its destination due to the German surrender on May 8th.
A couple of years ago I made a model of what such a
Japanese 262
might have looked like; I'm currently working on a model of the J8N which
did
fly as a companion piece to it.
Reply

Interestingly, Japan really DID try to make an equivalent to the Me-262. Called the Nakajima Kikka, it only flew once before Japan surrendered. It survives today in a sort-of-resored state in the National Air and Space Museum. Truth can be stranger than fiction!
Reply

I know about the Kikka and its Japanese Air Force equivalent, the Ki-201 Karyu, but thanks anyway...

Reply

Reply