hi folk!
my today deviation is "icedragon".... wait, can i put a picture here???
try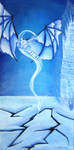 yeeeah!!!
i have learned something new....
so this is done for today. my lifemotto is "each day do something you like, somenthing you don't like and learn something"
this helps me getting everything done like washing clothes...
when i painted this picture i wasn't able to do this all day things and i need a lot of help from my family. so i think the dragons are standing for my family. they were so strong when i was weak. love them all <3!!
but painting recharched my power, give me a new strength and makes me much more self confident then i was ever. in this progress the lifemotto comes up to me and it really works

.
the dragons i paint have usally no legs. maybe this is to interpret that i can not stand or walk. when i overthink it now, i never intended it but it seems to be logical. each image tells something about the artist.
wait - each??
if when working on commisions - when colours, theme, contents are set - there is something from your heart, your style, your soul in this image. but don't worry, the most people will just see "like it" or "don't like it".
this is the magic what makes a image good and lovely. it's not alone a technique thing!
now i'm a little be confused. rereading the text i see the dragons maybe standing for my family, but also they standing for me.... think about....
interessting...
these gives me a completly new point of view on dragons.
when i started to paint dragons they where cool, nice, impressive and now they are so much more. THAT'S COOOOOL!
when i started to write thes journal i didn't know what about to write and what comes out wasn't in my mind before. to become a new sight of this picture in the process to write about is a wow-experience. when i paint dragons in the future i will do it with this new knowledge and i'm looking forward what comes up to me.
do you have such moments in life, where you don't think about there is a deeper meaning in something and you learn it when doing something else?
just tell me, i'm curious.
that's this week journal
thanks for all the favs, watch, comments and llama!

the b.