I uploaded the latest page here,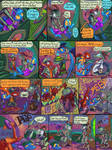 and you can view the whole thing up to that point from the beginning at my own website
bimshwel.com/ope/wud/?p=65
more coherently than you can here.
Does anyone who looks at these pages actually have any clue what is going on? I know that a few specific people do, but in general, is this comprehensible? I spent years and years on this, and it makes sense to ME, but I hate to be excessively conventional in my proceedings or obvious in my explanations, and I wonder if anybody is legitimately following it or if most of the few "Favorite" marks I get are out of simple habit, or worse, from deviantart front-page viewers who randomly favorite stuff they don't care about the slightest bit, trying to draw attention to themselves.
Also, if you don't follow these or do not understand them, please don't say you do to try and make me feel better. That really does not help anybody! I work too hard on this for pretend approval.
Thank you and goop muck.