Journal Entry:
Mon Nov 11, 2013, 12:05 PM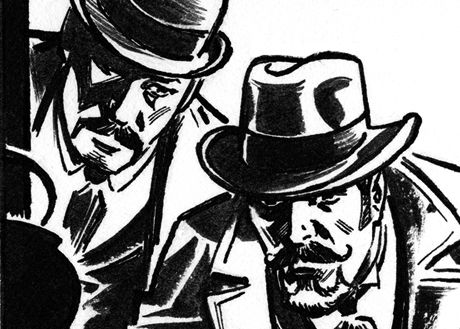 Van Helsing Vs. Jack the Ripper
Hopefully an almost yearly update on my journal isn't a trend

That said, I've been very busy this year drawing the graphic novel "Van Helsing Vs. Jack the Ripper Vol. 2" written by Jacques Lamontagne to be published by the French publisher
Soleil Productions>
in 2014. I'll be adding more preview images as I progress.
Preview Gallery>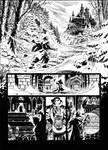 American Academy of Art 90th anniversary
I'm very honored to be included in my alma-mater's 90th anniversary exhibition! If you're a fan of American Illustration this is a must see show! Details below-
The American Academy of Art is celebrating its 90th anniversary and invites you to join us for the opening of the 1923-2013 Alumni Exhibition.
Opening Friday, November 15th
From 5 – 8PM in the Bill Parks Gallery at the
American Academy of Art
332 S. Michigan Avenue, Chicago, IL 60604
- Show runs from Nov. 11 -27
Exhibiting alumni artists include- Thomas Blackshear, Gil Elvgren, Douglas Klauba, J. Anthony Kosar (Face Off/Syfy), Aaron Miller, Jason Millet, William Mosby, Mitch O'Connell, Bill Reinhold, Alex Ross, Lynette Ross, Richard Schmid, Jason Seiler, Irving Shapiro, Ted Smuskiewicz, J. Allen St. John, Haddon Sundblom, Howard Terpning, Jill Thompson, Thornton Utz, Frank Young and many more!
DC Comics Guide to Creating Comics: Inside the Art of Visual Storytelling
This past Oct. my art was part of Carl Potts important book "The DC Comics Guide to Creating Comics: Inside the Art of Visual Storytelling." Published by Watson-Guptill October 8, 2013.
Amazon.com
In chapter twelve "Watching the Pros Work", Whilce Portacio, Bill Reinhold (me), and Phil Jimenez were asked to illustrate the same three page Batman story giving the reader a look at the different approaches. Each artist detailed their process for telling the story with notes, layouts, their finished page. Carl also made additional comments to each.
Gallery>
*******
Artist BILL REINHOLD
*******
ART FOR SALE!
Visit the
Bill Reinhold Inner-View Gallery Store
for many great examples of comic art I've been part of through the years.
Plus my "NEW"
COMIC ART SHOP
comicartfans.com.
Bill's Bio My comic book career listed on comicbookdb.com COMMISSIONS
Taking new commissions is on hold for some time. Taking new commissions is on hold for some time. I will update when my schedule is open.
e-mail me at
hedrawscomics@aol.com
and I will send details for pricing on various types of drawings from head sketches to color scenes.
VIDEO
•
Video of our time at the comic shop COMICS ZONE in Lyon, France!
•
~Speed Drawing/Painting Comic Book Art Video~
Time-elapsed art demonstrations by comic book artists Jill Thompson (Magic Trixie), Bill Reinhold (Batman), and Doug Klauba (Phantom).
•This is a short film directed by Alex Ross and featuring the characters of the Marvel series
EARTH-X.
DOCTOR SPINE ART
In early 2012 I did extensive on screen art BOOMSTICK FILMS Horror/Comedy
DOCTOR SPINE!
Written and directed by John Wesley Norton. DOCTOR SPINE stars Michael Wexler, Larry Thomas, Joe Estevez, Reggie Bannister, Jen Schmidt, Kris Desautels, Cyn Dulay, Renee Domenz, Xango Henry, Judy Tenuta, Lisa Loring
and many others.
I've uploaded much the art I did for the film both in the black and white inked original version and the final digital color I did for each piece. All together in a
DOCTOR SPINE GALLERY
~FrankRobbins~
One of my very favorite (if not favorite) comic and newspaper strip artists is
FrankRobbins
!
Frank Robbins' work on his newspaper strip creation "Johnny Hazard", and comic book characters Batman, and the Shadow continue to amaze me.
I wanted to make it easier to share with others a lot of his art so I put together a gallery of pieces gathered on the net, etc. through the years. This gallery is made up of art that he penciled and inked from the 1940's to the 70's.
picasaweb.google.com/BillReinh…
If you already love Robbins take a look and if you don't know it PLEASE take a look! Enjoy!