(Seems a yearly update on my journal is a trend)
Earlier in the fall I finally finished the graphic novel ~Van Helsing Vs. Jack the Ripper Vol. 2 The Belle de Crecy~ (Van Helsing contre Jack l'Éventreur T2 - La Belle de Crécy Relié ) written by Jacques Lamontagne to be published by the French publisher Soleil Productions in Jan. 2015.
I've added a few more preview images to the gallery. Preview Gallery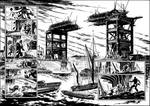 GREEN LANTERN/PARALLAX
I'm currently inking a two issue story drawn by my old pal Ron Wagner! It's for the DC Comics massive crossover "Convergence" set to launch April 2015, the 30th anniversary of "Crisis on Infinite Earths". "Convergence" includes the core storyline along with 40 two-part mini-series involving different characters (during which time the publication of regular titles will be suspended).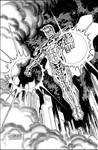 www.blastr.com/2014-11-18/more…
GREEN LANTERN/PARALLAX
(Writer: Tony Bedard; Artist: Ron Wagner and Bill Reinhold, with color by Paul Mounts)

Rookie Green Lantern Kyle Rayner gears up to battle invaders, but is he ready to fight Hal Jordan, also known as Parallax?
*******Artist BILL REINHOLD *******
ART FOR SALE!
Visit my ebay Bill Reinhold Inner-View Gallery Store for many great examples of comic art I've been part of through the years.
Plus my COMIC ART SHOP comicartfans.com.
My comic book career listed on comicbookdb.com
COMMISSIONS
Taking new commissions is on hold for some time. I will update when my schedule is open.
e-mail me at hedrawscomics@aol.com and I will send details for pricing on various types of drawings from head sketches to color scenes.
VIDEO

•Video of our time at the comic shop COMICS ZONE in Lyon, France!
• ~Speed Drawing/Painting Comic Book Art Video~
Time-elapsed art demonstrations by comic book artists Jill Thompson (Magic Trixie), Bill Reinhold (Batman), and Doug Klauba (Phantom).
•This is a short film directed by Alex Ross and featuring the characters of the Marvel series EARTH-X.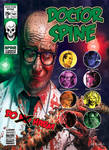 DOCTOR SPINE ART
In early 2012 I did extensive on screen art BOOMSTICK FILMS Horror/Comedy DOCTOR SPINE! Written and directed by John Wesley Norton. DOCTOR SPINE stars Michael Wexler, Larry Thomas, Joe Estevez, Reggie Bannister, Jen Schmidt, Kris Desautels, Cyn Dulay, Renee Domenz, Xango Henry, Judy Tenuta, Lisa Loring and many others.
I've uploaded much the art I did for the film both in the black and white inked original version and the final digital color I did for each piece. All together in a DOCTOR SPINE GALLERY
~Frank Robbins Gallery~
One of my very favorite (if not favorite) comic and newspaper strip artists is Frank Robbins!
Frank Robbins' work on his newspaper strip creation "Johnny Hazard", and comic book characters Batman, and the Shadow continue to amaze me.
I wanted to make it easier to share with others a lot of his art so I put together a gallery of pieces gathered on the net, etc. through the years. This gallery is made up of art that he penciled and inked from the 1940's to the 70's. picasaweb.google.com/BillReinh…
If you already love Robbins take a look and if you don't know it PLEASE take a look! Enjoy!