Bill Reinhold - email
hedrawscomics@aol.com
Check me out on
Facebook

Or Instagram

Currently working on a graphic novel written by Carl Potts titled "The FLYING COLUMN." It's set during WWII and is based on the events of early Feb. 1945 when the 1st Cavalry Division and 44th Tank Battalion fought their way through 100 miles of Japanese-held territory to rescue thousands of allied civilian prisoners in Manila.
A huge story and challenge to take on, but hey, that's how you do your best work.
You can preview more at my Flying Column Gallery.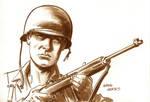 Check out my last graphic novel ~Van Helsing Vs. Jack the Ripper Vol. 2 The Belle de Crecy~ (Van Helsing contre Jack l'Éventreur T2 - La Belle de Crécy Relié ) written by Jacques Lamontagne was released Jan. 21, 2015 by the French publisher Soleil Productions !
You can see many pages in my Preview Gallery of Van Helsing vs. Jack the Ripper.
Line art by Bill Reinhold, coloring by Nadine Thomas, and cover by Gerald Parel.
Amazon France- www.amazon.fr/gp/search?ie=UTF…
Available digitally through ComiXology and now also available as a single book combining volumes one and two in Italian (black and white) www.editorialecosmo.it/ and German in full color www.splitter-verlag.eu/!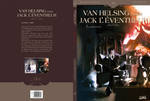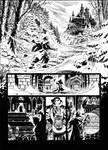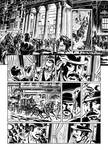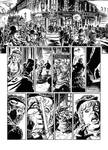 ~Artist BILL REINHOLD~

ART FOR SALE!
Visit my ebay Bill Reinhold Inner-View Gallery Store for many great examples of comic art I've been part of through the years.

Plus my COMIC ART SHOP comicartfans.com.
Bill's Bio
My comic book career listed on comicbookdb.com

** COMMISSIONS **
Taking new commissions is on hold for some time. I will update when my schedule is open.
e-mail me at hedrawscomics@aol.com and I will send details for pricing on various types of drawings from head sketches to color scenes.
VIDEO
•Video of our time at the comic shop COMICS ZONE in Lyon, France!
• ~Speed Drawing/Painting Comic Book Art Video~
Time-elapsed art demonstrations by comic book artists Jill Thompson (Magic Trixie), Bill Reinhold (Batman), and Doug Klauba (Phantom).
•This is a short film directed by Alex Ross and featuring the characters of the Marvel series EARTH-X.


~Frank Robbins Gallery~
One of my very favorite (if not favorite) comic and newspaper strip artists is Frank Robbins!
Frank Robbins' work on his newspaper strip creation "Johnny Hazard", and comic book characters Batman, and the Shadow continue to amaze me.
I wanted to make it easier to share with others a lot of his art so I put together a gallery of pieces gathered on the net, etc. through the years. This gallery is made up of art that he penciled and inked from the 1940's to the 70's. t.co/jQhwZi5D5n
If you already love Robbins take a look and if you don't know his work you MUST take a look! Enjoy!



The publisher is
Dead Reckoning. The graphic novel division of
Naval Institute Press.