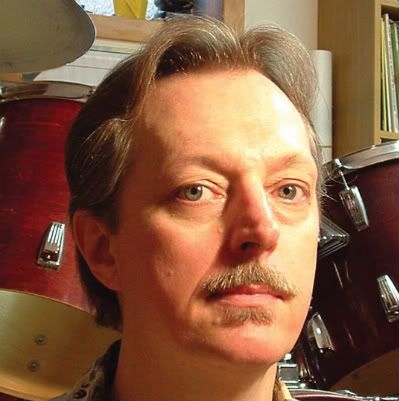 Hi, Bill Reinhold here.-
Here's a short
bio
of my adventures in comic art-

I'm a 1982 graduate of the American Academy of Art in downtown Chicago. I have been a professional Comic Book Artist since 1981. Working for comic book companies such as, Noble Comics, First Comics, Marvel Comics, DC comics, and Dark Horse. Drawing characters The Justice Machine, The Badger, The Punisher, Silver Surfer, Batman, Magnus Robot Fighter and more.
The bulk of my comic work doing pencils was with the great writer Mike Baron. In 1993 we co-created a series called SPYKE that was originally published by Epic/Marvel.
I've also done several pieces of art for the Upper Deck trading card game Marvel Vs. and a lot of sketch cards.

 As a comic book inker, I've worked with other artists on Marvel Comics books such as the Earth X trilogy, The Punisher, The Amazing Spider-Man, Daredevil, Wolverine and The Hulk.
At DC Comics I've inked books with characters Batman, Green Arrow, Green Lantern, Fate, etc.
Artists I've been fortunate to ink include- Jon Bogdanove, Doug Braithwaite, Steve Ditko, George Freeman, Ron Garney, Keith Giffen, Adam Kubert, John Paul Leon, Ron Lim, Lan Medina, Steve Rude, Ryan Sook, Jill Thompson, Ron Wagner, Ryan Sook, and many more.
In 2010 was the artist on Magnus Robot Fighter for Dark Horse Comics and in late 2014 Bill completed the graphic novel "Van Helsing vs. Jack the Ripper" for the French publisher Soleil Productions.
~ Chicago Comicon early days and my Pro start~
Several years ago before Wizard took over the show it was called the Chicago Comicon. Some history by one of the early organizers Joe Sarno can be found here-
home.earthlink.net/~joesarno/c…
I first attended as a fan in 1979. I had started art school that year, so it was a particular thrill to see pro comic artists for the first time. In (I think) 1980 I remember Bill Sienkiewicz, Howard Chaykin, and Joe Rubinstein all in the same room. I was star struck. Joe was particularly nice to me. He was happy to look at my work and offer critiques. That same weekend I went home and drew a Conan piece and came back to have Joe ink it. I learned so much that day watching an advanced pro magically convert my lines into a much better drawing.
The following year in 1981 was when I first found paying work as a comic artist. Before that I had done drawings for fanzines like the Comics Buyers Guide, Comic Reader, Comic Feature, Comics Journal, etc.
That year I had brought with me to the Chicago Comicon a story I had written, penciled, inked, and lettered for Charlton's Scary Tales #37.
www.comicbookdb.com/issue.php?…
Later published in 1983. I don't consider it my first pro work because Charlton Comics at that time was publishing only reprints and new submissions like mine for no pay.
I showed the Charlton story around as a portfolio to major publishers Marvel and DC. Got some good feedback but no work. Jim Shooter thought my work was more appropriate for Heavy Metal magazine, and I think DC sent me a tryout script which I never attempted.
Then I came upon artist Mike Gustovich. He had a table displaying the first published issue of his creator owned superhero comic "Justice Machine".
tinyurl.com/n3rro5
I showed him my art and almost immediately he offered me work. I first did a few pin-ups, one which he inked, and soon he sent scripts for me to draw. Pay was low, but it was pay!
So the Chicago Comicon means a lot to me in my start on this long road in the comics biz.
-Bill*
Art For Sale-
Some art that I have for sale can be found in my
eBay store
and
en.2dgalleries.com/browse/prof…
I'm married to lovely Linda Lessmann Reinhold, longtime comic-book colorist for companies such as Marvel Comics, and First comics. Much of my work was beautifully colored by Linda. We live about 50 miles northwest of Chicago with our kids Leanna and Mike, two cats, and a turtle.