Bill Reinhold email -
hedrawscomics@aol.com
Here's a short bio of my adventures in comic art-
Here's a short bio of my adventures in comic art-

I'm a 1982 graduate of the American Academy of Art in downtown Chicago. I have been a professional Comic Book Artist since 1981. Working for comic book companies such as, Noble Comics, First Comics, Marvel Comics, DC comics, and Dark Horse. Drawing characters The Justice Machine, The Badger, The Punisher, Silver Surfer, Batman, Magnus Robot Fighter and more.
The bulk of my comic work doing pencils was with the great writer Mike Baron. In 1993 we co-created a series called SPYKE that was originally published by Epic/Marvel.
I've also done several pieces of art for the Upper Deck trading card game Marvel Vs. and a lot of sketch cards.

 As a comic book inker, I've worked with other artists on Marvel Comics books such as the Earth X trilogy, The Punisher, The Amazing Spider-Man, Daredevil, Wolverine and The Hulk.
At DC Comics I've inked books with characters Batman, Green Arrow, Green Lantern, Fate, etc.
Artists I've been fortunate to ink include- Jon Bogdanove, Doug Braithwaite, Steve Ditko, George Freeman, Ron Garney, Keith Giffen, Adam Kubert, John Paul Leon, Ron Lim, Lan Medina, Steve Rude, Ryan Sook, Jill Thompson, Ron Wagner, Ryan Sook, and many more.
In late 2014 I finished illustrating the graphic novel "Van Helsing Vs. Jack the Ripper Vol. 2" written by Jacques Lamontagne and published by the French publisher
Soleil Productions>
in 2014.
Preview Gallery>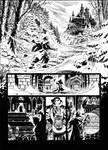 More details here-
billreinhold.deviantart.com/jo…
Current Residence: Chicago Area
Favourite genre of music: Hard Rock
Favourite style of art: American Illustration
Operating System: Mac
MP3 player of choice: My eMac
Favourite cartoon character: Bugs Bunny
Favourite Visual Artist
Too many!
Favourite Movies
Citizen Kane
Favourite Bands / Musical Artists
Beatles, Led Zeppelin, Who, Humble Pie, Mahavishnu Orchestra, Foo Fighters
Tools of the Trade
Bill Reinhold's tools of the trade are predominately Hunt Globe #513 EF pen point, Hunt #108 Crow Quill pen point, Raphael #8404 #4 Kolinsky brush, Higgins Waterproof India Ink, and Winsor & Newton Lamp Black Gouache.
Other Interests
My family, art, comics, film noir, drums