July 2012
Hey
You
Yes YOU!
Are you on Tumblr?
I'm discovering tumblr and I need friends.

Personal Blog
billiambabble.tumblr.com
billiambabble.tumblr.com
Inked Adventures
inkedadventures.tumblr.com
inkedadventures.tumblr.com
Adventures and Shopping (RPGs)
adventuresandshopping.tumblr.com
adventuresandshopping.tumblr.c…
Monster Hugs! -Bb. xx
---
Dice Mugs May 2011
Very quick update.
I've set up a little Cafe Press store:
www.cafepress.co.uk/billiambab…
Check it out for Monster T-Shirts and Dice Mugs.

Lots of fun, not the cheapest place in the world, but it's very satisfying seeing a proper mock-up of your own art on a bag.
I'm also still working on dungeon floor plans:
inkedadventures.com/main
... and have a silly games-related blog with shops n stuff:
adventuresandshopping.blogspot…
Was messing around tonight with About Me - set up a profile - very easy and fun:
about.me/billiambabble
Laters!
Bb xx
---
Happy Easter!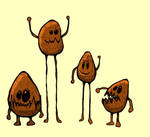 Bb
22.4.11
---
End of the Month of Marches AD MM+XI
I'm very proud to present my humble Dice Mugs!
Photo of mugs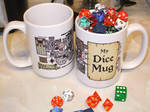 Original Deviation:
Buying Page:
www.deviantart.com/print/18051…
KERCHING
Diamonds by post only, please.

Dice Mugs are for tabletop gamers who need a multipurpose vessel for storing dice and for the consumption of beverages (unfortunately not at the same time).
These mugs are exclusive to YOU, gentle browser. There are few places on the net where these can even be
seen
, let alone purchased.
Buy now to avoid a dice-mug-less life:
www.deviantart.com/print/18051…
Happy Easter!

Bb x
---
Linkies...
(1.11)
Update:
Late January, early in the second decade of the twenty-first century
Browsers, please feel free to drop by my Inked Adventures web site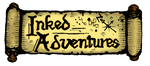 Click on Link:

h t t p : / / i n k e d a d v e n t u r e s . c o m / m a i n
- a site mainly concerning itself with the production of gaming accessories for table top role-playing games, and possibly some stock art. Lots of little projects are in the pipeline.
Incidentally my shop on DriveThruRPG is here:
rpg.drivethrustuff.com/index.p…
Also, I have a shiny new RPG games review blog - which sometimes features special offers:
Adventures & Shopping - a blogspot site
http:// adventuresandshopping .blogspot .com/
Feel free to "friend" me on Facebook also:
InkedAdventures BilliamBabble:
www.facebook.com/inkedadventur…
Also I have a "love of maps, dungeons etc" Page on Facebook:
www.facebook.com/pages/Fantasy…
Mail me!
billiambabble (at) yahoo .co .uk
Spam-linking over...
Good health!
Bb
_________________________________
Nov 7 2010:
*ROAR!!!!*
It's about time I made a fresh entry in my DA journal - as opposed to editing the old one.
I've been putting this off because at the moment most of my long posts on forums and in blogs are actually done at night, on my back, in bed via a smart phone. Unfortunately both of my phones struggle with normal DA and the mobile version seems very restrictive when it comes to browsing and answering posts (not sure why, but then I guess the nice art on DA should only be viewed on massive high resolution screens, lots of Flash and interlinked with every other social networking site, which is good. Nonetheless I really hope that they improve the DA mobile site.
This is my lousy excuse for missing threads and providing many month late responses. When it comes to DA chat, I'm "prone" kind of guy.

About me, what's going on? No, really let's talk about me.

Well, I can't possibly reveal anything about my real world life, which is sort of strange and hectic, but at least I actually have a day job which seems to be a rare thing if the news is to be believed! Real World gets in the way of ambitions most horribly.
I'm still trying to build a small empire with my Inked Adventures floor plans products:
inkedadventures.com/main/&nbsp…
of the Dungeon Cut Up Sections are selling very well. And the free downloads go like hot cakes!

People seem love that "old school game" look!

The Inked Adventures site also doubles as a sort progress blog
inkedadventures.com/main/
My Facebook (IA) identity is here:
www.facebook.com/inkedadventur…
- friend me! Stalkers welcome.

Some of my dungeon graphics are being sold as an art pack for the Dungeon Demon Map Editor - created by Rusty Axe Games.
www.rustyaxe.com/apps/dd/artPa…
If you like my monsters check out my DA portfolio page:
billiambabble.artworkfolio.com…
- there's a few monsters on that page which aren't currently in the gallery here (don't ask why, and maybe they won't EAT you)
Mugs: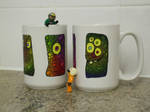 Go here to buy one:
www.deviantart.com/print/56913…
;

Almost no profit - mainly for fun.
I was thinking about doing some RPG gamer mugs for Christmas - jokes about die rolls and coffee addictions with parchment maps or something... but we'll see.
I tried again to colour in those book illustrations for AstralsLibrary

and my datapen with the files actually snapped! I know this sounds like "the dog ate my homework", but I'm telling you that that project is cursed.

The years roll by ....
I'm being a bit of a forum-botherer at the moment -some of the places where I hang out are listed on my "links" page under "Friends and Resources"
inkedadventures.com/main/?page…
I hope you're all well.
Feel free to drop me a line or random messages, even the spam bots don't talk to be any more - no matter how much Viagra I buy.
Eeee-mail:
billiambabble -a-t- yahoo - co - uk
Happy Diwali or whatever festival it is when you read this.
May all your monsters grow healthy claws and fangs.

Hugs and mawls.
Bb x (Will)