Journal Entry:
Fri Sep 24, 2010, 10:24 AM
Edit: Thanks so much those who donated!! We got plenty of time now before we gotta' worry about this again! 8D If you donated and have not contact me for your chibi thank you, I'll get on it as soon as you DO contact me and in the meantime you have my deepest thanks! <3333
~~~~~~~~~~~~~
DeviantDead
's subscription has run out!! Being broke I have no way of buying it a new one! SO For those out there dying for some Bili art now is your chance! Donate a subscription to DD and I will reward you with a Bili Chibi like this: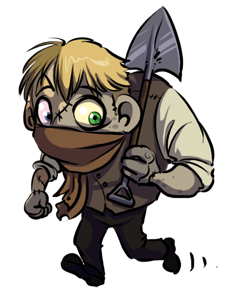 To own and huggle and love for your very own! Help keep the zombie party looking fabulous!
In other news, I managed to attach an external monitor to my laptop for now so at least I'm functional again. Still job hunting and cracking away on Grappling Guns! Hey Hollywood: Go get your funding for your projects so you can pay me, already!
Edit: THANKS SO MUCH
Starchasm
for donating three months! Six months total for now should take us to the end without worry and with plenty of time for any aftermath fun, so I will only be offering these freebie chibis until we've reached 6 months!
All Those Extra Parts:
Current Commission Queue:
A note: I will not start until references and payment are received!
Commissions will open again once the current queue is done.
falingard
PAID





Another Gleim thing (Chauction winner, that art whore!)
To Complete ASAP:
owed
mindsend
piccu #1:





Kiriban for
Mr-Tea-and-Crumpets





Kiriban for
rentabby





Watchmen Contest Prize:





:thumb34052303:
:thumb27702108: