Journal Entry:
Fri Jul 1, 2011, 3:58 PM
I have recently completed my sculpt of an Ankh Morpork City Watch badge! NOW YOU TOO can pretend to be under teh command of Sir Samuel Vimes! Interested in one for yourself? Check it out!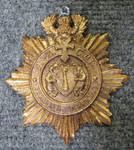 In other news.... so exhausted my god. Feel like I need to sleep for a week! More arts coming soon...
All Those Extra Parts:
Current Commission Queue:
A note: I will not start until references and payment are received!
Commissions will open again once the current queue is done.
falingard
PAID





Another Gleim thing (Chauction winner, that art whore!)
To Complete ASAP:
owed
mindsend
piccu #1:





Kiriban for
Mr-Tea-and-Crumpets





Kiriban for
rentabby





Watchmen Contest Prize:





:thumb34052303:
:thumb27702108: