Profile
|
Gallery
|
Favourites
This tag has evolved into a triple tag, Thanks you

!!!!

Jkjk XD
I got double tagged with the same one, so Imma do both!

______________________________________________________
Tagged by

And

Rules
:
1. You have to post these rules.
2. Each person has to share 13 things about them.
3. Answer the 13 questions asked to you and invent 13 questions the people you tag will have to answer.
4. Choose 13 people
5. You have to tag 13 people.
6. Tag-backs are ALLOWED.
7. Be creative with the title. No "I've Got Tagged" things.
8. You can't say you don't do tags
Q&A!

Ver
.
1. If you could live inside of a video game, which would you choose?
:bademoticon:
//majestically leaps into the world of
Rhythm
Thief.
2. If you could make friends with a character from any movie, who would you choose?
:bademoticon:
Hero
from
Big Hero 6
!!! Then i get to lay on Baymax XD

3. What is your favorite candy to eat?
:bademoticon:
A reaaaaally good Japanese Cream Candy! here's what it looks like~4.bp.blogspot.com/-FKT-pcQzTKA…
4. Are you a night owl or an early bird?
:bademoticon:
Kinda both XD I'll stay up late at night and get up early in the morning.
5. What is your favorite movie soundtrack?
:bademoticon:How to Train Your Dragon
asjldjklsajklsjkalfajsgorgeous!!!
6. What would you do if you were able to rule the world?
:bademoticon:
TO MAKE ALL CARS, ELECTRONICS, AND POLLUTION ILLEGAL WHILE ALL ANIME SHONENS ARE REAL!!
7. What is your favorite sport?
:bademoticon:
Swimming! I would say Futbol too...
8. Are you a fan of taking little naps or long ones?
:bademoticon:
Actually, no naps for me please~
9. Spaghetti or Noodles?
:bademoticon:
Noodles! Cuz I'm fancy like that

10. Do you like to do puzzles of any kind?
:bademoticon:
Yeeeeessss, I LOVE solving puzzles and riddles~ X3
11. On a scale of 1 to 10 (1 worst, 10 best), how would you rate school?
:bademoticon:
A solid 6 XD
12. What is your favorite fandom?
:bademoticon:
As of now, I'm knee deep in the
Miraculous Ladybug
Fandom.

13. One last thing, hugs?
:bademoticon:
HUGS FOR ALLLLLLLL!

_______________________________________________________

Q&A!

Ver
.


1. What is your favorite anime/cartoon?

:bademoticon:
I watch so much anime xD I'd have to say Ranma 1/2, that was the one that really get me into anime~

2. Salty or sweet?
:bademoticon:Saltah!

3. What is your favorite thing to draw?
:bademoticon:Steam-punk Lolita girls (i love the frills XD)

4. What is your current obsession?
:bademoticon:Forever Pokemon cards and anime XD

5. Who are your wifus and husbandos?
:bademoticon:
TwitchyKalgante
and
Miscolored
are fighting for that position.
*coughcough*
Miscolored
*Cough*

6. What drawing are you most proud of?
:bademoticon:Josephine actually XD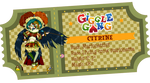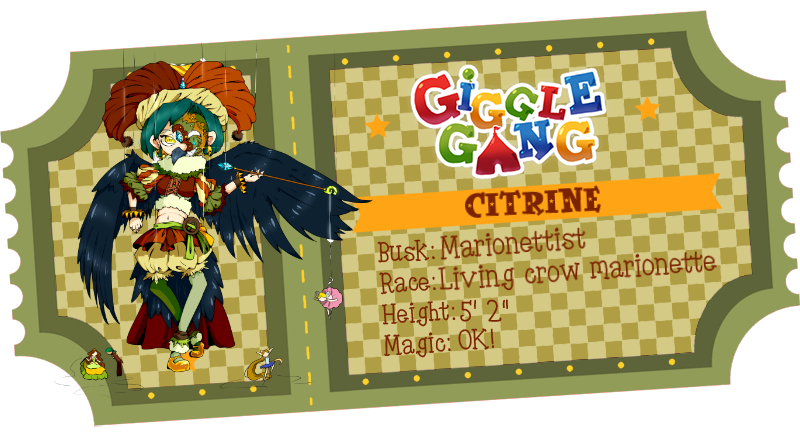 7. What is your favorite animal?
:bademoticon:Crows/Ravens and elephants~ (i couldn't pick one!)

8. Where is your comfy spot?
:bademoticon:In the trash On my bed X3

9. What is your favorite game system?
:bademoticon:
Ds/DsI!~


10. Out of your characters who do you feel like gets the short end of the stick (Ya don't draw them or write for them as much.)?
:bademoticon:0___0
*sigh* //goes through all neglected OCs//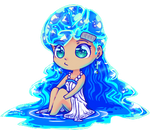 Poor Aqua ;n;

11. What is your favorite fictional world?

:bademoticon:
I-I can't. Too many, too much hope ;-;

12. What is one guilty pleasure when it comes to music or movies?

:bademoticon:
Classical OSTs of anything X'DD


13. What is your favorite scent?

:bademoticon:
Lavender with lemon~

Q&A!

Ver
.

1) What is your favorite fictional series?
:bademoticon:hmmm, books is Harry Potter, cartoon is SU, and anime is, uuuuuuuh, Pokemon!
2) Did you have a favorite doll or plush as a kid?
:bademoticon:
I had this 2 1/2 foot golden bear (which was HUGE to me when i was little XD), and i appropriately named him 'Goldie Bear' I such smrt kid

3) If you could only choose one out of these fictional storytelling mediums and the others would stop existing which would it be? video games, books, movies, cartoons, or anime. (note: would be paradox free, so all the impact from the others would still be there)
:bademoticon:
why dem, why must you hate us???
LONG LIVE THE BOOKS!
4) Do you have ocs? if so do you have a favorite? If you don't have ocs then who is your favorite fictional character?
:bademoticon:
My favorite OC would have to be my kitty Katt~

Drawing by Hyanna Natsu~

5) You have two options: you can play/watch something that either has an amazing story but has horrible graphics(stick figures?) or it can be something that has incredibly realistic/beautiful graphics but focuses on something boring, which would you go with?
:bademoticon:
I've played the most epic game that used just stick figures, so STICKS FOR THE WIN!! as long as its epic XD
6) Do you think there is such a thing as a positive lie?
:bademoticon:
I mean, if its like a surprise party, or a short term thing, then sure!
If not . . . Imma get you 0-0
7) Do you like animals?
:bademoticon:
yeeeesss, and insects!
8) What scares you?
:bademoticon:Change
honestly. when I know that the is a big change (growing up, going to college, starting a family) it really scares me that nothing will ever stay the same ;-;
9) Oh my you can make any character from anything come to life, personality and powers and such in tact, but only one, who would it be?
:bademoticon:Here comes Captain America!
10) If you could try any art medium that you currently have no experience in, what would it be?
:bademoticon:
Oil Paints would be amazing!
11) Have you ever gotten into a fight?
:bademoticon:
there was that one time a punched some little kid XD But I do fight with my sisters verbally.
12) Do you like horror stories/movies/games? or you you stay away from the genre as a whole?
:bademoticon:
//see genre and runs away
13) Favorite color?
:bademoticon:Royal blue, especially when the sky turns that color :bademoticon:

Time for my questions~

_________________________________________________________
1) What do you do subconsciously?
2) How many pets do you have/had?
3) What's your favorite boy-band? If not, girl-band?
4) If you could speak one language immediately, what would it be?
5) What's your favorite drink?
6) How well can you dance?
7) If all the fruit in the world were to vanish, which one would you want to keep?
8)
日本語を読めますか?

9) Who inspires you to draw?
10) What video game will make you toss aside your homework to play?
11) Why? just why?
12) If you could make one person in the entire world do something, who would it be and what would they do?
13) You're in the middle of a battlefield. On the left of you are Ninja-Aliens, and on the right are Pirate-Fairies. They both want you to join them, but you have to pick a side. Who would you pick and why?
I Tag:












aaaaaaaaand anyone who read this! :3