Anime of the month!
My Love Story! (Ore Monogatari!)
Currently at: Episode 24/24
Genre: Romantic Comedy
Non-Spoiler Plot Summary: Takeo is big for his age. A freshman in high school, he dwarfs even his teachers in size and is as inhumanly strong as he is thoughtful and kind. But while all the boys want to be him, the girls have never shown any interest. Instead, every girl who has ever caught Takeo's eye has instead fallen for his best friend, pretty boy Makoto.
However, after Takeo saves a girl, Rinko, from being molested on a train—and his first love story begins.
Why You Should Watch It: Most romance stories these days—and not just those in anime—focus on the "will they, won't they" type of relationship. So while two characters obviously have feelings for each other, something (often their own personal shortcomings or simple misunderstandings) keep the two apart.
My Love Story, however, bucks this trend. It is not the story of Takeo and Rinko admitting they like each other, but rather the story of their actual romantic relationship. This allows the show to focus on two teens trying to figure out how exactly a relationship works and on the problems that arise as they continue on.
This anime is also a great comedy, with gags focusing on the dichotomy of Takeo's intimidating physical appearance versus his kind, altruistic actions. It gets even funnier when Makoto and his good looks enter the mix.
Watch It If You Like: Chihayafuru
-Taken from Kotaku.com


Hello my fellow deviants!
First I'd like to apologize for up and leaving without saying much.
I have just started college this year, and it has been a wild ride so far!
I have been having a lot of fun, but have also been really busy.
When I first started, it was extremely hard for me to keep up with the work, which is why I pretty much stopped all online activity.
After a bit, I realized that I left everyone in the dark, including people that I was RPing with. If you are reading this, I'm so sorry for stopping without notice! I hope you're not mad, I should have explained it to you all. ;n;
As for now, I am slowing getting a handle on my work load, so I might be able to come on once in a while.
I just wanted to update all of my watchers and friends about the current situation. Hopefully I will get more free time soon!

Thanks for reading! Ja ne~

P.S.
I am extremely saddened by the shut down of Lotus Town, I was hoping to get to do Otsukimi, but oh well. ;u;



Featured Art!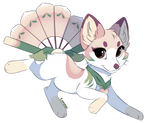 ~By

.
Fun Fact! The reason firehouses have circular stairways is from the days of yore when the engines were pulled by horses. The horses were stabled on the ground floor and figured out how to walk up straight staircases.
My Featured Art!
~By BijouBlue