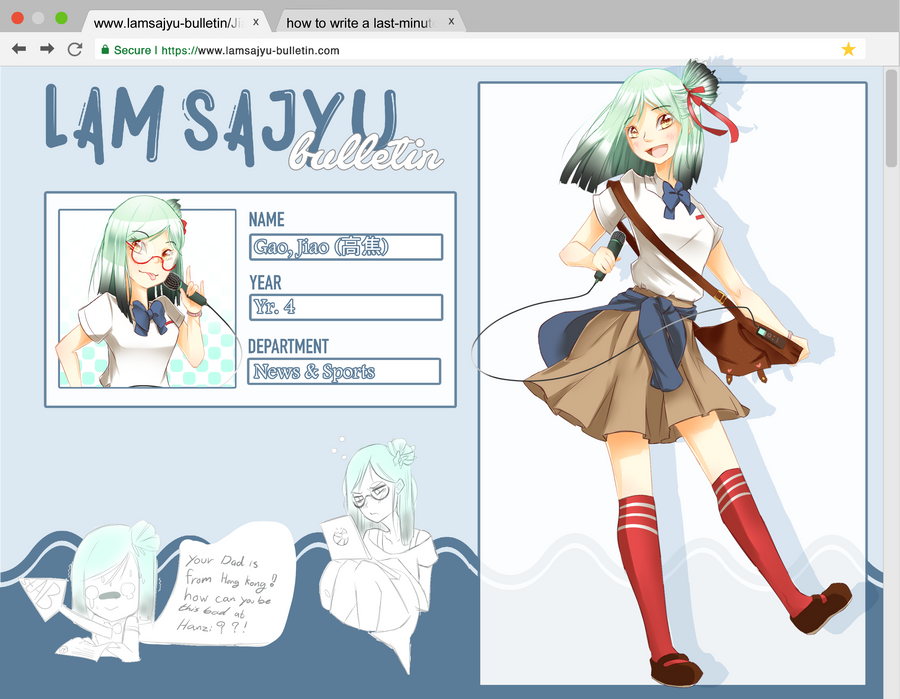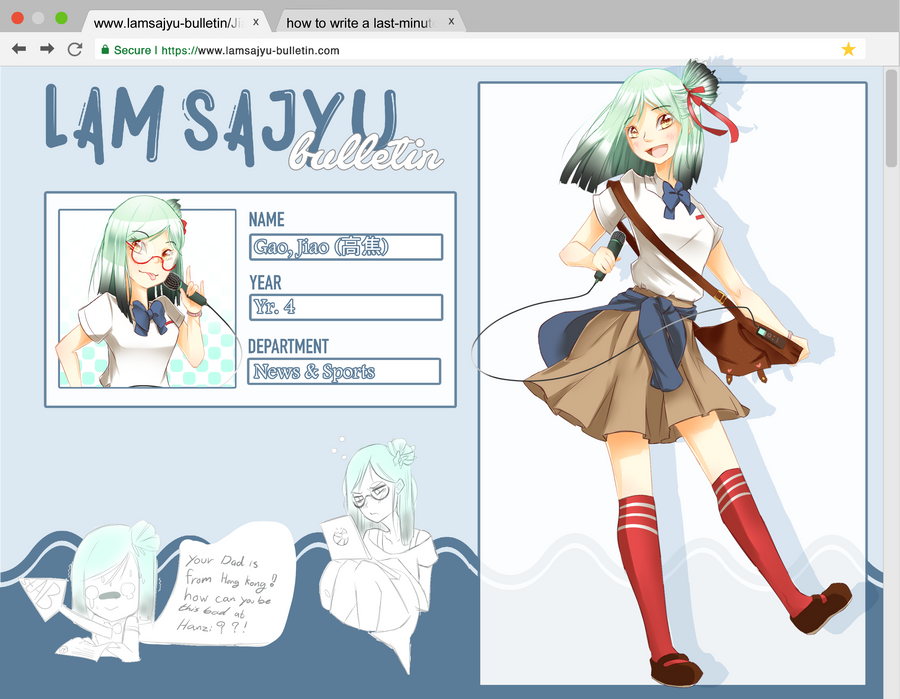 Watch
General info---------------------------------------------


Nickname: Ji, Seaweed, JIJI

Department: News & Sports (NS)

Ethnicity: Biracial (half American, half Chinese)

Personality---------------------------------------------

+Optimistic|+Kind|+Adventurous|+Witty|=Amusing|=Chummy| -Childish|-Forgetful|-Strong-willed|-Escapist
Jiao always tries to think about the positive side of things, remaining

optimistic

, but will unconsciously try to leave personal and overly emotional situations, giving into her

escapist

tendencies. She's

kind

to everyone that she meets, and will consider someone a friend the first time she meets them, acting

chummy

to anyone that doesn't mind her. Hiding her social awkwardness by using

witty

remarks to break the ice, Jiao is seen as

amusing

to others, often trying to make others laugh. She's very

adventurous

, itching to try new things and explore her surroundings. Jiao has a lot of

childish

tendencies, especially when it comes disagreements, Shell either ignore you or breakdown into tears. Her s

trong-willedness

doesn't help in those situations either, since once she sets her mind on something, she'll fight to stick with it.

Mostly due to her mind being filled with sports or games, Jiao often

forgets things of important, ranging from hanging out with friends to midterms rest in pieces grades.

Likes---------------------------------------------

Most sports, especially basketball

Loves her Qianbei (Senpai)

Korean dramas (she cries)

Dislikes---------------------------------------------

Insects, particularly small ones

When both her parents aren't home when she comes back from school
Skills---------------------------------------------

Speaks Manderin and English fluently

Hacking Extensive computer skills

Can down a whole pizza by herself
History---------------------------------------------


Reason for joining---------------------------------------------




She wanted to be apart of a team that shares her love of sports, both watching and playing them... and her parents wanted their turn on the Xbox wanted her outside more, instead of gaming all day.




What they can contribute---------------------------------------------




video/audio editing, extensive computer and tech knowledge, entertaining commentary and interviews, comical relief.
Age 3-8---------------------------------------------

As a little girl, Jiao was always moving between countries. With her father being an

athletic therapist and her mother working as a surgeon in America, Jiao's family would often move back and forth between the States and China. Until her mom got permanently transferred to China, they would always just stay with her grandparents. Jiao had been to a few different schools, and even transferred in the middle of the year at times. This didn't effect her too much, since she was pretty much moving between 3 schools at most. She started getting into sports when she was 6, liking that it made her seem more mature than other kids. She'd read about the different sports and rules of the games, and even gave commentary when they would watch it on TV sometimes. Her parents decided to get her a toy mic used for singing, and Jiao wouldn't go anywhere without it. It made her more social with other kids, and invoked a talkative side to her as well. Jiao wanted to learn more about sports the older she got, and eventually tried them, starting with volleyball and Basketball at 8yrs with friends and her brother. Jiao was hooked ever since then.

Age 8-14---------------------------------------------

It was soon after that that her mom was able to fully transfer to Hong Kong, and Jiao stayed at one school for the rest of middle school years. She kept playing sports, specifically bball, and wanted to be a sports commentator. Her brother went to college when she turned 10, and moved out, while her parents had to work harder to pay for his schooling. Jiao usually would come home to an empty house, with both her parents working late into the night. Jiao started to regret coming home, and would instead go to arcades with friends after school. Her like fore strategy fell in line with the games she played, and soon she started asking for gaming systems for her birthday. She started getting into PC games, and then in to computers in general when she wanted to know why her games were lagging. These new interest started making her sleep less and her grades were feeling it as well.

Present---------------------------------------------

Jiao wanted to transfer to

Kowloon Foo Yeen Tsan

for secondary school after finding the Lam Sajyu Bulletin's website. fascinated by how much the did on sports, Jiao promised herself that she'd be more committed to her grades and clubs before anything else, especially her games...maybe...hopefully.
Trivia---------------------------------------------


Jiao can play the ukelale and sing.

Jiao is blinder than a bat, and wears contacts to school.

She's always at sanic speed.

She likes playing basketball and wanted to join the team, but was too smol.

Jiao brings her recorder everywhere, and will interview people for fun.

She enjoys making orchestra versions of popular songs in her spare time.

She has a white pet bunny named 'Egg'.

She's really athletic for being a gamer, and will try any sport just because.

She has a giant stuffed shark.

Although she can read it just fine, Jiao can never remember how to write Hanzi correctly, rip.

Jiao believes in aliens.

Got a few high scores at the arcade that she's proud of.

She barely sleeps at night.

Very bad at cooking, can burn water.

Jiao speaks both english and madarin at home, because her mom never learned mandarin.

If you feed her she'll follow you home (do not feed the JiaoFeed the Jiao).

Canons---------------------------------------------
RP Preferences---------------------------------------------


Method: Hc rp | Rp | Semi-Lit/para

Reply

Reply

SOBS MY FAVOURITE REPORTER BBY
Reply

ASDFDSFSA
//cries and offers minyue best girl prize
Reply

Reply

Reply