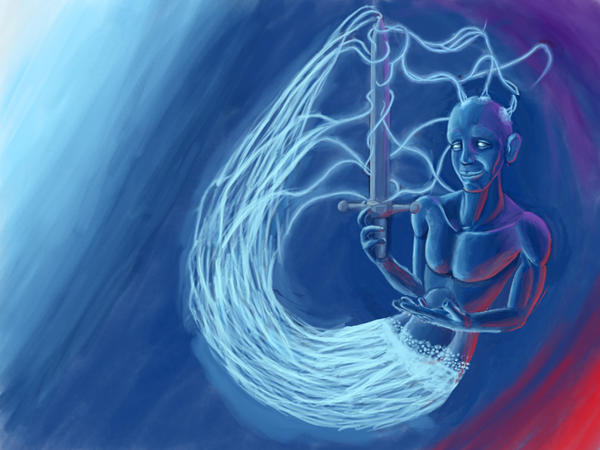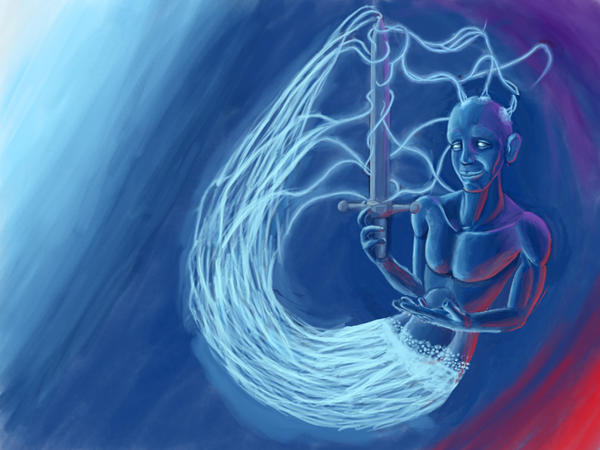 Watch
The essence of the sword comes out to form a being that can wield it. The fourth blade is how skilled you are with your three blades of mind, body, and spirit.

Nice work and a great use of colour.
Why only suggestion for work is the shoulders - try and think of them as connected to the chest rather than a separate attachment. You want a smooth sinewy transition rather than the extended attachment you seem to use now.
Reply
made the shoulder seam different...
Reply

it's more of a case of how to handle the forms.
While it's advantageous to consider the shoulder muscle and chest muscle as solid masses it's also worth considering them as the anchored muscles they are. Technically speaking the muscles of the chest are achored into the sternum and clavicle across onto the arm to give strength to the forward motion of the arm.
If you take this relationship into account as you draw it your shoulders wil look more natural. Look up some anatomical reference to give you a better understanding of the mechanical structure itself if you can.
Reply